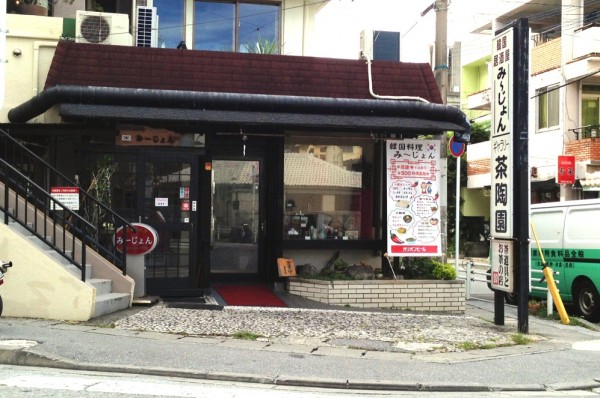 CONTRIBUTED BY JAMES PARKER
Editor's Note: James knows where to find a LOT of Korean restaurants on Okinawa. Here he shares a few of his favorites, and he's also been kind enough to include a directory of others around the island. See where it takes you! (And if you have one to add, let us know!)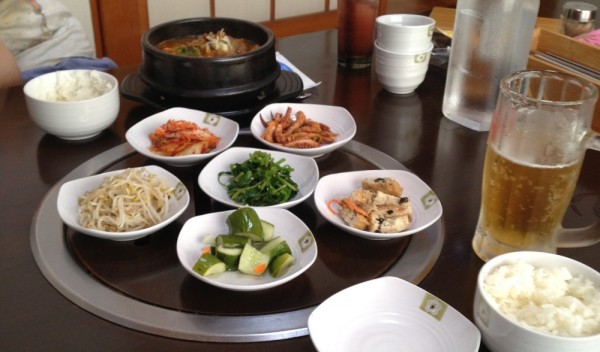 My wife is from Korea, and I lived in Korea for a total of 10 years while stationed there with the U.S. Army, so we love Korean food and we were very excited to find so many wonderful Korean restaurants here in Okinawa.
Out of the Korean restaurants that we have eaten at so far, we placed Mi Jeong among our favorites based on the combination of food taste, atmosphere, and location. Mi Jeong is located just one block away from the famous International Street in Naha, and the decoration and atmosphere inside the restaurant puts your mind and stomach in the mood for some delicious Korean food. Our favorite dish there is the "Sam Gye Tang," which is a combination of chicken and ginseng in a pepper-flavored rice broth. I like to pour the broth over a bowl of rice and let my rice soak in before eating the rice. It comes with a little salt and pepper mix to dip the chicken in or sprinkle in the broth.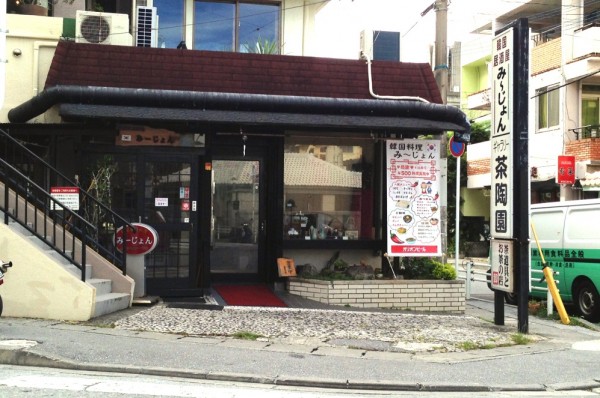 The word Annyunghaseyo is Korean for "How are you," and the name of another of our favorite Korean restaurants in Naha. My wife and I were very impressed by the hospitality of this restaurant from the moment we entered until we left. We had our 1-year old daughter with us and they were quick to make sure we sat at the most comfortable table for our daughter. I recommend the "Galbi Tang", which is a beef rib soup. That's what I ate there and it was very delicious, especially if you put your rice in the soup.
The first Korean restaurant we ate at in Okinawa was Insadong, which is the name of a popular tourist district in Seoul flooded with traditional Korean shops and restaurants. The food at Insadong in Naha was very good, but we were surprised that they charge extra for the various side dishes, called "ban chan" in Korean, that normally are included with every meal free of charge in Korea. However, that seems to be the norm for Korean restaurants in Okinawa.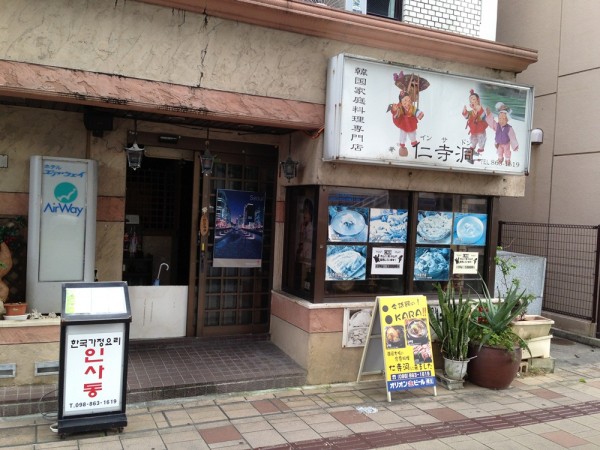 Suraksan is my favorite restaurant out of all of the Korean restaurants we have been to so far. The entrance feels like you are entering a Korean family's home. That's mostly because you are entering an actual home, which one side is used as a restaurant and the family that lives in that house/restaurant all work there. So if you want to experience a real Korean "home-style" meal, this is the place to go. I had the "Bulgogi" here and it was delicious. They also have a young boy that played with our 1-year old daughter while we ate dinner, giving my wife and I some much needed time to enjoy our meal. The only downside is the place is a little difficult to find without a good GPS or iPhone.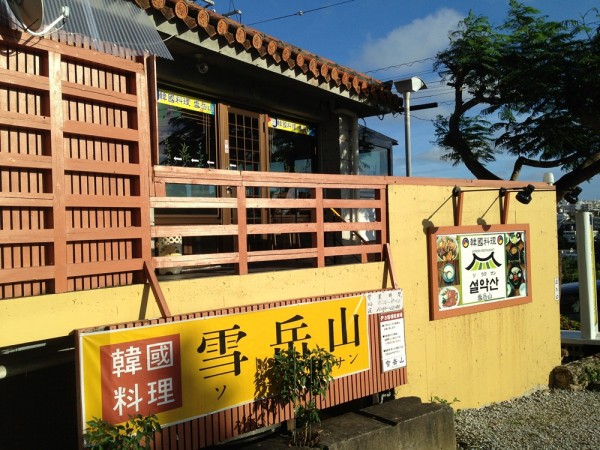 Last but not least on our list is GEJOL, which means "season" in Korean. It's in Ginowan, so you don't have to drive too far from base to get there, and the food is good. We ate the "Bibim Naeng Myun" which is spicy cold noodles mixed with vegetables and a boiled egg, and we also had some "Duk Bokki" (rice cake in spicy and sweet sauce) and "Kim Bap" (a sushi roll of vegetables & rice wrapped in seaweed). The owner is Korean, and there is a TV with Korean shows playing, giving you the feeling of being in Korea.
If you are just looking for Korean BBQ places, of course there is Myung Dong and Hanil Gwan, both of which are chain restaurants with a couple of different locations. There is also a place near Araha Beach in front of Camp Foster called Bokuke or "Park Ga" in Korean which means "Park's House". He has a Facebook page and a Japanese website. This place is mainly for those who like to drink Soju (Korean rice wine similar to Vodka) and eat some BBQ Spare Ribs or Samgyupsal (Korean-style three-layer bacon that you cook at your table). It's not a fancy place, but the simplistic tables and chairs make you feel like you are in a Korean "Pojang Macha" or Street Vendor "Soju Tent" type place.
James' Directory of Korean Restaurants (in alphabetical order):

Annyunghaseyo 안녕하세요 (アンニョンハセヨ) **Reported as Closed**
Hours: Tuesday-Saturday 11:30 a.m. – 2:30 p.m. (Lunch) & 6:00 p.m. – 12:00 a.m. (Dinner)
Phone: 098-860-9077
Address:

Bokuke  朴家 박가
Hours: Tuesday-Friday 6

:00 p.m. -12:00 a.m., Saturday-Sunday

 6:00 p.m. – 3:00 a.m.

Phone:

098-926-2989

Address: 〒904-0116 沖縄県中頭郡北谷町北谷2-20-1
Busan Gak 부산각 (釜山閣)
Hours: Daily

11:00 a.m. – 2:00 p.m. (Lunday) &

2:00 p.m. – 10:00 p.m. (Dinner)

Phone:

098-938-4798
Dae Jang Geum 대장금 (大長今)
Hours:

Tuesday-Thursday 6:00 p.m. – 12:00 a.m., Friday-Sunday 5:00 p.m. – 1:00 a.m.

Phone:

098-878-0041

GEJOL 계절 ***Reported as closed***
Hours: Monday-Saturday 11:00 a.m. – 9:00 p.m., Sunday 2:00 p.m. – 8:00 p.m.
Phone:

098-874-9180

Goryeo 고려 (高麗)
Hours: Daily 5

:30 p.m. – 12:00 a.m.

Phone:

098-987-1355
Hanil Gwan (Awase Branch) 한일관 (韓日館)
Hours: Daily

11:30 a.m. – 3:00 p.m. (Lunch) & 5:00 p.m. – 10:30 p.m. (Dinner)  

Phone:

098-938-2945
Hanil Gwan (Ginowan Branch) 한일관 (韓日館)
Hours: Daily 11:30 a.m. – 3:00 p.m. (Lunch) & 5:00 p.m. – 10:30 p.m. (Dinner)
Phone:

098-893-0955

Insadong 인사동 (仁寺洞) ***Reported as closed***
Hours: Monday-Friday 11:30 a.m. – 2:30 p.m. (Lunch) & 5:30 p.m. – 12:00 a.m. (Dinner), Saturday & Holidays 5:30 p.m. – 12:00 a.m.
Phone:

098-863-1619
Mi Jeong 미정 (みーじょん)
Hours: Daily

11:30 a.m. – 2:30 p.m. (Lunch) & 6

:00 p.m. – 12:00 a.m. (Dinner). Closed Thursdays.

※ Need reservation for lunch

Phone:

098-863-7736 

Mrs. Han 미세스 한 (ミセスハン)
Myung Dong (Makiminato Branch) 마키미나토점 (牧港店)
Hours: Daily

11:30 a.m. – 12:00 p.m.

Phone:

098-876-2074 
Myung Dong (Naha Branch) 명동(明洞) 오로쿠점 (小禄店)

Saranghae 사랑해 (サランヘ)
Hours: Monday-Thursday 5

:00 p.m. – 12:00 a.m., Friday-Saturday 5:00 p.m. – 1:00 a.m. Closed Sundays.

Phone:

098-927-9169
Seoul Jung 서울정 (ソウル亭)
Hours: 

 Daily 6:00 p.m. – 12:00 a.m.

Phone:

098-850-5040

Suraksan 설악산 (雪岳山)