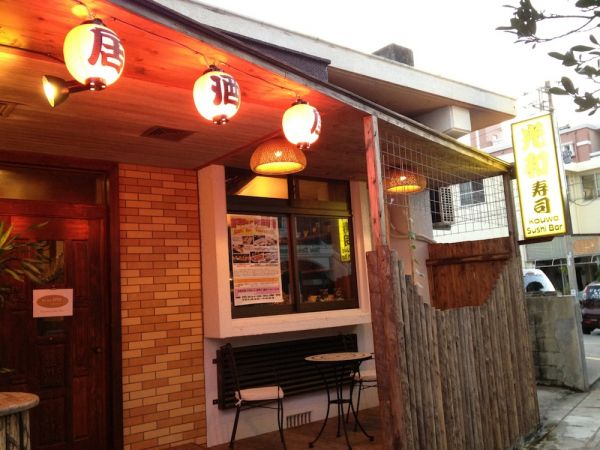 CONTRIBUTED BY MCKAY KINGRY

Kouwa Exterior

Kouwa Weekly Specials
If you ask me, one of the best parts of living on our gorgeous little island is FRESH SUSHI, and there certainly is no shortage of restaurants in which to enjoy it. However, I'm here to tell you all about the newest (and in my four years of experience, the best) sushi bar: Kouwa Sushi, near the Sunabe Seawall. Kouwa opened early this year and my husband and I have been coming here once a week since then. It's THAT good.
They have a full menu (in English & Japanese), with Weekly Specials; sushi & sashimi (with raw, seared, and cooked items); two full pages of delicious sushi rolls; fresh, crisp salads (try the avocado salad!); various appetizers such as fried squid tentacles (our favorite), assorted tempura, and pan-fried scallops; chicken/beef/salmon teriyaki dinners for the non-fish eaters; champuru (Okinawan stir-fry); and even Okinawan steak. They have a full drink menu with Orion and Asahi beers on tap, hot & cold sake, awamori, wine, and various spirits. It's a great place to have sushi and a few drinks before starting a night out on the seawall!

Kouwa Assorted Rolls

Kouwa Seafood Salad
Back to those sushi rolls…never have I ever seen such a creative and delicious assortment! My husband and I often order a few to share (okay, the whole left side of the menu…) and they are all so different and tasty! One of our favorites is the Fire Roll, with tempura (read: cooked) shrimp inside, avocado on the outside, topped with a delicious dab of sauce, a piece of salmon, roe, and the icing on the cake (no, not literal icing) a toasted garlic chip on each piece, just like the ones at CoCo Ichibanya curry restaurant! The flavors all meld together SO well and every bite is such a little taste explosion! Must be why they call it the Fire Roll! Other favorites of ours are the South Beach roll, the Delaware Roll (with Mango sauce!), and the Las Vegas roll. Don't be afraid to experiment, you won't be disappointed!

Kouwa Fire Roll

Kouwa Salmon Eel Sushi

Kouwa Interior
The owner and head sushi-chef, Cho-san, is very welcoming and speaks enough English to welcome you and engage in friendly conversation if you choose to sit at the sushi bar. They also have "regular" tables with chairs, tatami tables (with the space below for your legs, not the kind where you have to sit cross-legged and lose circulation in your toes!), two two-seater tables outside, and a bar top if you just want to stop in for a drink. It's not a big restaurant, but I have seen parties as large as 8 in there at the tables. The prices are very reasonable for Okinawa and definitely cheaper than the other very-popular sushi restaurant on the opposite end of the seawall.
Directions:  If you live on the Sunabe seawall, congratulations, you can walk there! If you don't, you won't regret making the drive and there is ample dedicated parking available just one block away. Kouwa is located just one block north of the "main" road that leads to the seawall. Heading from Kadena gate one you would turn left out of the gate and immediately get all the way over to the right to make a right at the first light (near the Family Mart). Follow that "main" road down until the last stoplight and make a right. You'll see Kouwa immediately on your left. To get to the parking lot, go up one more street and you will see the parking sign. Make a right there and the parking lot is on the left.

Kouwa Sign
Payment:  They accept US Dollars and Yen. They are in the process of getting a credit card machine but don't have it yet.
Hours:  They are open 7 days-a-week from 17:00-22:30 and we've never had to make a reservation.
Phone:  098-926-4663.
They don't have a kid's menu and I've never seen a highchair, but I think it would be just fine for a child that was okay with not being able to get out of their seat and run around. It's totally non-smoking.  Itadakimasu!!!
This post was featured in Stripes Okinawa!