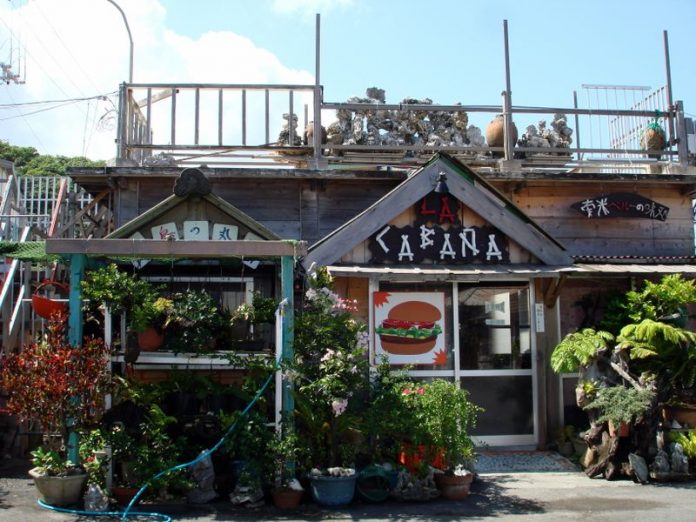 CONTRIBUTED BY HEATHER GELORMINE
Let's say you're staying at Okuma and you've run out of food in your ice chest, or perhaps you can't stand the thought of eating at the Surfside Restaurant one more time.  Maybe you're driving through on your way to Cape Hedo and you're hungry but there's no McDonald's in sight.  Where do you go?  What do you do?
Maybe you could do what we did: drive around the little town outside of the resorts and look for something that's open.  Maybe you'll strike out. Or maybe, just maybe, you'll happen across something unexpected. Something like La Cabana.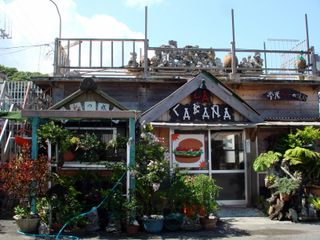 My family and I didn't quite know what to expect when we stepped inside this restaurant.  The inside was small.  I mean, there are four tables: two that seat two people, one that seats four, and a low round table with four stools around the perimeter. Plus three stools at the small bar.  Our group of four adults and two small kids squeezed in at the four-seater and took a look around.  My father gasped in delight.
La Cabana is owned and operated by a Japanese family, but who have obvious ties to Peru.  There are pictures of Peruvian sights on its walls, and they serve two types of Peruvian beer and a golden Peruvian "cola".  My dad was in heaven.  Last spring he went on a hiking trip up the High Inca Trail to Macchu Pichu and was able to experience this type of cuisine.  He didn't expect to travel to the opposite side of the globe and find the beer he'd consumed a year earlier. He wasted no time in trying it out again.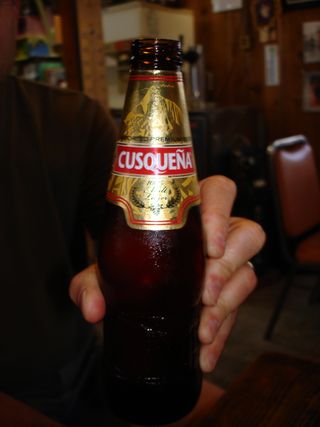 The menu is small, and consists of items you'd find in most hamburger joints: 200¥ hamburgers, 300¥ cheeseburgers (the meat which was labeled 100% beef but tasted suspiciously like seasoned pork), and a 300¥ cut-up hotdog and French fry appetizer with ketchup, mustard and mayo decoratively squirted on the top.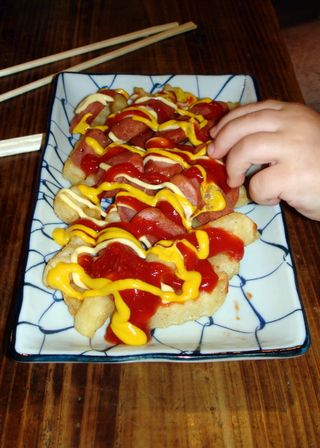 Please pay no attention to the little hand trying to swipe a fry before I had a chance to take the picture…
My husband ordered a more traditionally Japanese dinner set: breaded and fried chicken cutlets with rice, miso soup, salad, and dipping sauce.  There were similar beef and pork sets to choose from as well.  All of the sets were priced in the 700¥ range.
Is the food outstanding?  No.  Were the portions huge? Nope; the burgers were on the small side and fries and drinks were a la carte.  Would it be easy to fit a large group inside the restaurant?  Certainly not.
Is it tasty?  Yes.  Inexpensive?  Yup.  Would I stop here again with my little ones, even knowing there's no highchair to seat a toddler who would rather try out all the stools than sit still for five minutes, (please just five minutes!)? Yes again.  The music alone was enough to entice me back; I found myself jamming to Criss Cross's Jump Jump, as well as other varied selections from the past few decades, and even caught my 88-year-old grandmother bopping her head too.  (And she's not much of a hip hop fan, if you can imagine.)
So if you're in the area and want to try something new, take a swing by.
Hours: They're open from 1700 to 2300 (I'm not sure if that's every day… you may need to check back and be sure they're not closed on Tuesdays or another day during the week).
---
La Cabana
Payment: We paid in Yen. I'm not sure if they take $ or cards
Phone: 098-041-2357; call ahead to make reservations, or to see if they're open
Website (Google Translate): https://www1.ocn.ne.jp/~lacabana/index2.html
Address: 126 Hentona, Kunigami
GPS Coordinates: 26.7457433, 128.17752960000007
Directions: Travel north on 58 north past the intersection for the Okuma AFRC Resort.  Take a left at the Central Hentona intersection and drive for about 1/4 mile.  La Cabana will be on your right, though you'll have to crane your neck to see it when coming from that direction.  It shares a small parking lot with a coffee shop and other small shops.