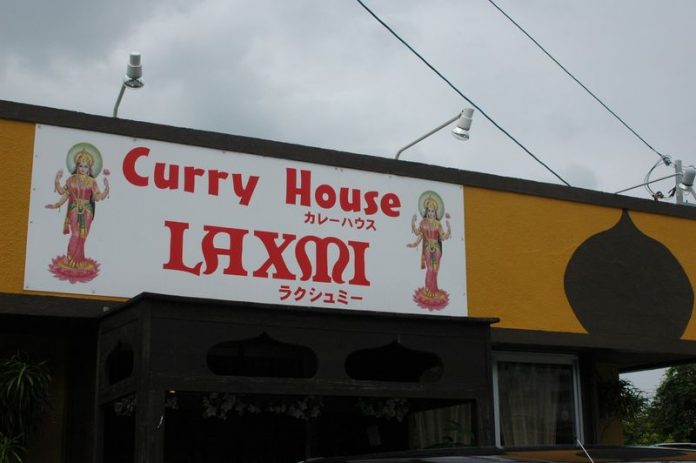 CONTRIBUTED BY LARISSA TRAQUAIR

When I was introduced to curry during my first visit to Okinawa, back in 1998, I didn't realize that there were so many curry options to enjoy.  You have Japanese curry, Thai curry, Indian curry, Nepalese curry and more that I'm sure I am not aware of.  Coco's curry is a great place to enjoy Japanese curry, Somchai is great for Thai curry, Spice Kitchen for Nepalese curry and Krishna is a favorite with many on-island for Indian curry.  Laxmi offers yet another spin on one of my favorite foods.
Their curry is stewed for 3 days and is not made with water or flour.  Instead, they use plenty of onions and tomatoes to make their curry.  Thousands of years of Indian history pass along that their spices are believed to cure and prevent sickness.  I'm not sure I can tell if that is true or not after one visit to Laxmi but I can assure you that my hunger for something great was cured – if for at least one afternoon.
Like so many great places to enjoy a meal on Okinawa, Laxmi offers several different types of curry to choose from.  Today's special was the pumpkin curry but the everyday choices were Chicken, Keema, Beef or Bean.  My absolute favorite, in my humble opinion, is the White curry.  This is an original recipe from the owner made with yogurt.  Yummy!
Their curry plates run between Y840 and Y1,380 – the price varies depending on if you choose a plate or a set.  For Y1,380 you can get your curry plate, yellow rice, salad, a choice of drink and dessert.  You can also order Nan bread for Y280.  From the menu you can also choose salad, cheese topping and cakes separately.  Their yellow rice is made with Japanese rice and turmeric – this is what gives it the yellow color you see.  All curry plates are served with a hard-boiled egg.  I didn't think to ask about it as this is Okinawa and they serve egg on a lot of dishes.  If you are not a fan it is easy to dish the egg out of your curry since it is cooked!
We ordered Lassi for our drink choice and we got to choose from plain, pineapple, peach or orange.  You can also order soft drinks or iced coffee.
Best of all, we enjoyed the calming influence this restaurant possesses with their creative way of decorating and separating the tables so you can enjoy both your meal and some conversation.  Our waitress was very nice and helpful as this is a family ran business and they take great pride in their food.
Happy eating!
---
Laxmi
Payment:  This restaurant takes Yen and American Dollars
Hours:  11:30 a.m. until 9 p.m.  Closed on Mondays.  Lunch is from 11:30 a.m. until 2:30 p.m.
Phone: 098-931-0141
Address:  709-15 Shimabuku, Kitanakagusuku
Google Maps Coordinates: 26.3235969, 127.80045070000006
Directions:  Take 330 from Foster and make a right at the intersection of 330 and 22.  You will pass Awase Meadows Golf Course on your left and go to the 3rd signal, which is also the last signal before you get to the bottom of the hill.  You will pass the large gorilla on the left – this is an ad for a salon.  At the 3rd signal, right past JiJi's Cafe, make a left.  Follow this street down a little ways and you will see Laxmi on your left.  Parking is right in front.