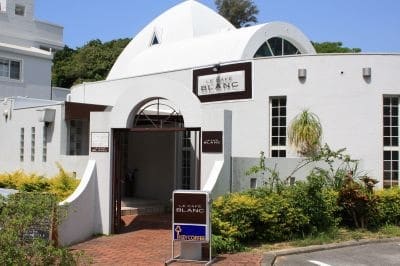 CONTRIBUTED BY MARY RICHARDSON
You may have seen this odd white igloo-like building while driving north on the 58.
Le Café Blanc is a great restaurant serving tasty lunch and dinner sets. I paid a visit with a friend a few weeks ago and was pleased with the food and atmosphere inside.  The interior is light and airy, and all the décor is white. There are windows that overlook the park and greenery outdoors.
The cafe serves 3 choices of lunch set, one of which is a daily special for 1,050 yen. On the day I dropped in, it was seared tuna in a balsamic sauce, and it was not a small piece of fish!  The second choice is called the "ladies" set (850 yen), which comes with a colorful healthy salad and a basket of different kinds of homemade bread. The last option is rice bowl or curry lunch (900 yen).
Lunch sets include a self-serve drink and soup bar with a yummy consommé. The drinks included apple and orange juice, coffee, and tea.  You also get a fun salad before your entrée. I love how they give little tastes of different items on the salad plates.
These potato wedges were seasoned with black truffle oil!
Seared tuna with balsamic sauce
My friend and I always have room for dessert, so we paid another 250 yen for one dessert that we shared. The sweet treat of the day was a really nice cherry blossom chiffon cake.
From 11:30-2:00, they serve lunch. After 2:00, the menu goes to a tea and snack menu serving pasta and cakes. Dinner is reservation only, and they serve set meals for parties of 4 and more starting at 1,500 yen per person. However, you can customize a dinner for 2 people by telling them how much you would like to pay and they will plan a special menu according to your tastes and budget.
---
Le Cafe Blanc
Phone: 098-956-8834
Hours: 11:30 to 7:00, with last call at 6:30. Closed on Mondays.
Address: 315 Kadena, Kadena
GPS Coordinates: 26.3676945, 127.75504410000008
Directions: Drive north on 58 towards Yomitan. You'll pass Kadena AFB on the right. Keep going straight and you'll eventually pass route 74 on your right (look for signs overhead). Before you go over a small bridge, you'll see a long sign on the left side with Le Café Blanc on it. Turn left there and the restaurant is tucked in the corner.