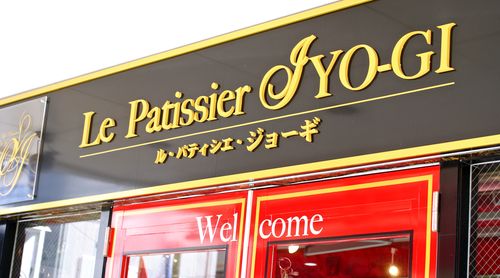 CONTRIBUTED BY JENNIFER SHUE
Tucked away along with all the other little gems in the Shintoshin area of Naha (the same area where you can find Cheers Cheese Shop, DFS Galleria, Naha Mainplace San-A, the Prefectural Museum, Shintoshin Park, Smokers Shop, Okinawa Beans, Import Foods, Cafe Cucina, En Okinawa, and so much more) is Jyo-gi.
I had driven by this place countless times, their red and black exterior always catching my eye. I had a little inner chuckle at their excessive Christmas lights display, complete with reindeer and climbing Santa light-up figures. I am always intrigued by the possibilities of what can be created with flour and sugar, so, while walking around Naha one morning I decided to stop in.
I was not prepared for what I found. Inside, this tiny little shop is like a dazzling museum of miniature, edible works of art. Blessedly, everything tastes as fabulous as it looks. Row upon row of perfect, miniature sculptures of fruit and sugar and cream rest in the refrigerated case, waiting for some lucky soul to come and scoop them up.
They do have cakes and what appears to be chocolate sculptures as well, but I have not had occasion to buy those just yet. Average price for a work of cake art seems to be about 3,000Y, though they are a bit small by American standards. However, the main draw for me are all the individual pots and servings of delight. My starting point is always with the wonderful creme brulee, I then build my order up from there. Please don't look in my cupboards to see my collection of the little ramekins they come in. I'm sure by the time I leave here in the next few months it will be a slightly shameful (albeit, delicious) collection.
They also have a good selection of delightful gift sets starting just under 1,000Y. Sorry, I don't have any pictures of those, but when I go in there I tend to get a mild case of tunnel vision for what is under the glass.
The individual creations are about 250-350Y each. Certainly not cheap, but worth every yen. Part of what is so decadent about this place is that you feel as though you are eating something too beautiful to be eaten. However, if you sit and admire it too long, the beauty (and freshness) will fade and be lost forever. Eat it while it is beautiful!
Hours:  Daily 10:00am-8:30pm, closed every 4th Wednesday.
Phone:  098-868-7393
Website:  http://jyo-gi.main.jp/ – it is in Japanese, but you can at least check it out and drool over the pictures and see the exterior a little better and some views of their gift sets.
Directions:  To get there, take 58 South into Naha. After you go over the big (long) overpass after Kinser's last gate, take a right turn at the first light. About 2 blocks down you'll see Import Foods on your left, then about 2 blocks later you'll see Ji-Yogi, also on the left. Keep an eye out for the red and black doors and facade – but don't blink or you'll miss it! They have about 3, maybe 4 parking spaces out front, but when the spots are full people just do that little park-in-the-right-of-way-with-your-blinkers-on maneuver.
Payment:  As far as payment goes, I believe I saw a credit card machine in there, however I can't say for sure because when I go in there I am on a strictly cash only (preferably coin purse only) policy with myself.