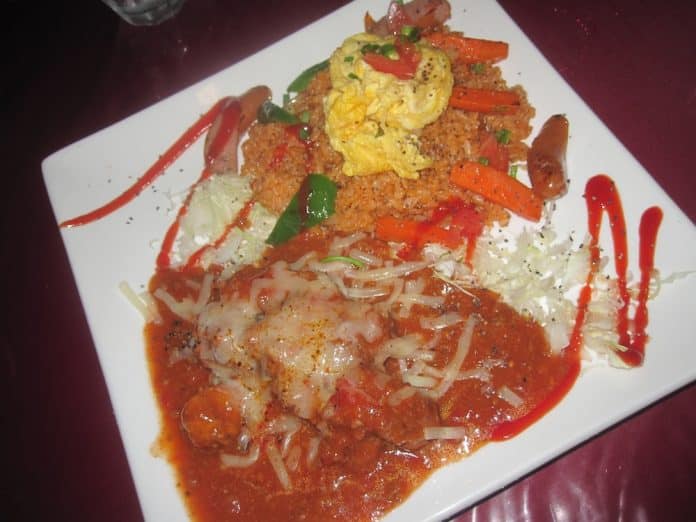 CONTRIBUTED BY MONETTE EAMES


Lima Sign
Lima… the capital of Peru, overlooking the Pacific Ocean. Imagine my surprise when we found a place called 'Lima Restaurant' one day after church! Ever since discovering a Peruvian restaurant near Okuma, I knew I had to find one closer to home. I was so excited to find Lima, assuming it was a Peruvian restaurant. However, when we got to the entrance, I found that right outside, it said, "Mexican Restaurant." I was ready to turn around, disappointed after not even trying it out. However, since we were already there and found it semi-full of Japanese people, we decided to try it out. Latin American food is always good and if there's a bunch of people in any restaurant, that's always a good sign.
We went in and sat in a booth, not knowing what to expect. The interior of the restaurant did not match the modern look it had outside. Inside the restaurant was deco from old style Latin America. Pleather booths, with clear plastic covering the tablecloths, yellowed stained-glass chandeliers. Our waiter did not speak any English, but they did have an English menu and he understood what we wanted.

Lima Food
The menu had three different types of cuisines. We discovered that it wasn't just a Mexican restaurant, they also had a French and a Chinese section in the menu. I can't say how the French and Chinese food tasted because our hearts were set on some kind of Latin American cuisine, and once it arrived it was delicious. I'm not an expert on the various types of Latin American food, but I do know that although some things are similar, there are distinct differences depending on the different spices that are available from nation to nation. We ordered a chicken stew and rice, which reminded us of a Peruvian dish. We also ordered tacos and enchiladas. We were not expecting much based on the old looking décor, but quite surprisingly everything was simply boasting of freshness and was very delicious. We literally licked our plates clean.
Not exactly what we were looking for initially, but we were pleasantly surprised and departed as very satisfied customers! This place gets a big thumbs up from our family – especially from our 3 and 6 year old sons who loved the Mexican-style fried rice with bits of hotdog and an absolutely delicious sauce!!!
Directions: Go out of Kadena Gate 2, turn right onto Rt. 330. After going about 1 km, Lima Restaurant will be on your right.
Hours: Lunch Monday to Saturday 11:30- 14:30, Dinner Monday to Saturday 17:00-22:30, Sundays 12:00-22:30
Phone: 098-933-3234