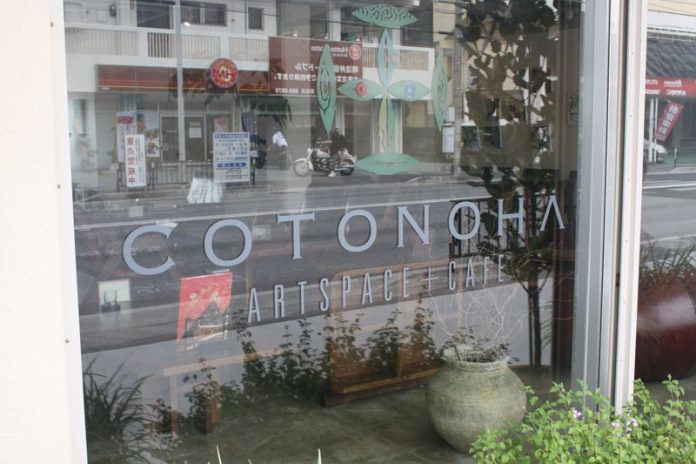 CONTRIBUTED BY MARY RICHARDSON
Looking for different nightlife in Okinawa? Interested in collecting unique art? A few weeks ago, my husband and I checked out an art gallery called Cotohoha Artspace and Café. It's a relatively new venue that features local and expat artists in Okinawa.
 The owner is Daryl Mitchell, a Baltimore native, who's been living in Japan since the 1990's. Daryl, a musician, wanted to create an environment where patrons can enjoy his three loves– art, music, and food.  He created a beautiful open airy space and customized everything inside from the floor to furniture to the sound system.
During the day, the gallery serves light lunches, afternoon cake sets, and dinner. We went on a lazy Sunday afternoon and enjoyed a blueberry cheesecake and coffee for 800 yen. It was a perfect place to relax and drink coffee while listening to music.  
For nightlife, each month or so, the gallery hosts an opening party with entertainment and food for a different artist. That artist's works then adorn the walls and are available for purchase. In fact, the featured artist right now is military spouse, Holly Pitsch. 
Some of the previous exhibitions have included photography, painting, and sculpture. Take a look at Cotonoha's website to see pictures of the gallery and the event schedule. The website is in Japanese, but I was still able to recognize the dates and times.
Additionally, Mitchell uses the venue for music parties and concerts for his own steel drum and jazz band as well as local Okinawan musicians. In fact, the evening of July 4th, the gallery is having a World Jazz music party.   Music will run from 9:00 to 11:00 pm. Cotonoha will also host a Samba concert on August 22.
After meeting Mitchell, my husband and I were really excited about his desire to create an alternative to existing nightlife in Okinawa. Don't get me wrong, I love Chatan too! But it's fun to have choices, right? We really want to help Cotonoha succeed, so we plan on attending the concerts and future gallery exhibitions. Hope to see you there too!
---
Cotohoha Artspace and Café
Hours: Open from 2:00- 11:00 pm Tues through Sunday
Website: http://cotonoha.com
Phone: 81 98-893-7299
Address: Akamichi 1- 5 – 7, 1丁目-5 赤道, 宜野湾市 沖縄県 901-2205, Japan
GPS Coordinates: 26.272307, 127.77080550000005
Directions:  The gallery is in Ginowan City, 2.7 km from the Futenma Shrine. Take the 330 towards Naha. You'll pass a Union supermarket and Mr. Donut on your right. Keep going straight and you'll see a Hotto Motto on the left. That's your landmark. Across the street on the right side is Cotonoha. If you get to Boss Music store, you've gone too far. Free Parking is available behind the gallery.