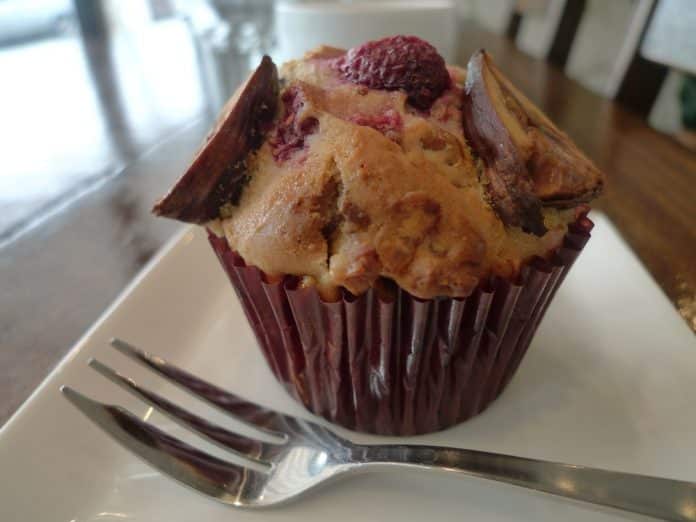 CONTRIBUTED BY ANGI BRZYCKI

LOrange Exterior
I first found out about L'Orange Patisserie (オランジュ) from the feature in CalendOkinawa. I could not believe how beautiful the muffins looked from the photos. I had to see for myself. The first time I went to L'Orange, the muffins had just come out of the oven. It was hard to decide which one to order. After serious contemplation I chose the chestnut and raspberry. Mainly because it looked the most fascinating to me. I almost didn't want to eat it and just take pictures of it.

LOrange Muffin 1
It was obvious to me that the muffin top was going to taste amazing- which reminded me of the Seinfield "muffin top" episode, where character Elaine opens up an exclusively muffin top bakery because it is the only tasty part of the muffin (sorry- tangent). Lucky for me (and you) the entire muffin was moist, full of flavor, and filled with chucks of chestnuts and fresh raspberries. I was surprised by how reasonably priced everything was too. The assortment of muffins and scones range from 130 yen to 300 yen. Inexpensive considering they are all vegan and made from fresh ingredients. No eggs, milk, or animal butter are used.

LOrange Muffin 3 4
During my second visit, I had the Okinawan tankan (similar to a tangerine) and chocolate chunks. I ordered it from the counter rack but the owner toasted it in the oven (perfectly) before bringing it to my table. Again, the entire muffin was delicious. A mix of melted chocolate and sweet orange chunks.

LOrange Muffin 2
The third visit was during my lunch break from work, I had the sweet potato and black sesame. The sweet potato and black sesames were mashed and mixed through out the muffin which gave it a dense and hearty texture. I felt a bit guilty for enjoying it all to myself, so I took a ordered a bunch of muffins to-go so that I could share them with my co-workers. I loved watching them excited and delighted by the presentation and flavor of each one.

LOrange Muffin 5 6

LOrange Interior

LOrange Drink Menu
Each experience has been pleasant and slightly indulgent. L'orange has a nice atmosphere, located on a hill overlooking Okinawa in the direction of the coast. The small space is filled with the aroma of something baking in the oven and there is usually a faint sound of french music playing (ex. Amelie Soundtrack). If you're in a hurry take out orders and gift boxes are available too. The pastry menu is in Japanese but the drink menu is in English. Each muffin is adorned with toppings and are easy to identify, but the owner will gladly tell you about the muffins and scones in English too.
I've heard from friends on a few occasions L'orange sold out on their muffins for the day. I hope this doesn't discouraged you from going back if this happens during your visit. It hasn't happened to me, but when I heard from friends I was a bit worried for their business.

LOrange Petite Ble
I wanted to make sure that it would still be worth the visit if they were sold out- so I tried the scones. To my delight, they were flavorful too. The larger scones consistency is similar to a country biscuit, made from scratch, dense and crusty on the outside; fluffy and soft on the inside. All of the scones are infused with natural herbs.

LOrange Scone
Directions:  L'Orange is located on the 81 directly across from Camp Foster. The 81 can be reached from the 58, the 330, and the 130. If you are familiar with Cafe Union  it is located south about 3 blocks. (see map) L'orange is located next door to the European style pottery store rocq: 69 and about 2 stop lights away from the 58.
Address:
L'ORANGE (Orange) 

Kiyuna 1-21-5
Ginowan City Okinawa
宜野湾市喜友名1-21-5
Phone: 098-893-1377 

Hours: Open 12:00 ~ 19:00 Wednesday thru Sunday. Closed 
Monday and Tuesday
Payment:  Accepts Yen