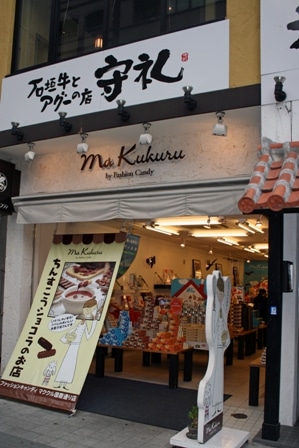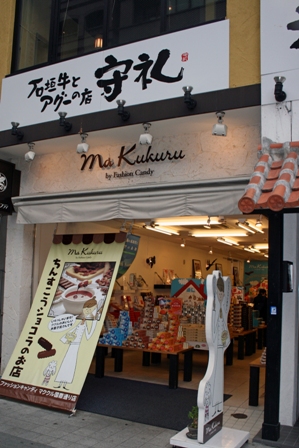 CONTRIBUTED BY HEATHER HANSEN
Two weeks ago, I took my parents to Kokusai Street. I love taking trips there because it's where my favorite chocolate shop, Ma Kukuru, is located. I'm somewhat obsessed with their chocolate. Since I don't go to Kokusai very often, every time I'm there I stock up and then inevitably my stash dwindles and I start rationing it.
Ma Kukuru is a store filled with nothing but chocolate… Here that sigh? *sigh* That's me contemplating a large room of chocolate. Oh, wait. Sorry. I get distracted thinking about it.
I know the sign says "fashion candy," but it really should be called fashion chocolate. The taste is distinctly Japanese, meaning, there's very little sugar in the desert. It's not like eating American or European chocolate where you can taste the richness of it. This chocolate is more bitter and focused on what they place with it. For instance, they have several different varieties over fancy cookies or (my favorite) chocolate filled with things like green tea and plum.
You can't eat a lot of it at a time. It's more like a taste experience, where you just want a little on your tongue verses those times where you crave a candy bar.
When you visit the shop, don't be afraid to try things. The girls there will let you try everything. They keep samples handy (if ones are not out in the section you'd like to try), all you have to do is ask.
Another thing I like about their chocolate is their packaging. It's so pretty! It's perfect for gifting, especially to those stateside.
I've heard rumors that this company is local, or at the very least from the mainland. I can't find any evidence online to prove or disprove that, however. The girls in the store speak very little English (only enough so that I can point and try out the samples I want – ha) so I wasn't able to ask them. Does anyone know? And also, does anyone know if this store has another location? I'd like to replenish my stash next time without going to Kokusai, if I can.
---
Ma Kukuru
Approximate Address: 2 Chome-1-13 Makishi, Naha
GPS Coordinates: 2 Chome-1-13 Makishi, Naha
Directions: For directions to Kokusai Street, please head to this post.