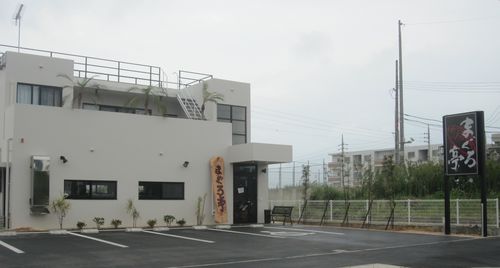 CONTRIBUTED BY MONETTE EAMES
Another grand opening for another restaurant here in Okinawa.  But you won't find beef, chicken, or even veggies here—except the usual tsukemono fare.  All you'll find here is fish, fish, and more fish.   Fresh fish, specifically maguro, or tuna.
When I first visited the restaurant, it was a day after their grand opening.  I walked to the door and a Japanese lady greeted me and pointed to the sign which said they opened at 11:30.  It was only 10:30.  I didn't want to buy anything, I just wanted to take a peek inside the restaurant and maybe the menu.  With the bare minimum English she knew, she said "Open 11:30.  Don't speak English.  Speak Japanese and little Spanish.  You speak Spanish?"
My thoughts? "Mi llamo Monette.  Y'tu?"  Yes, four years of Spanish in high school and that's all I could muster up, and not even out loud.  Maybe a few more words here and there, but not enough to order anything.  I asked for the menu and she did not seem to know what I was talking about.  She looked at me with that sweet smile, semi-scrunched eyebrows, and the semi-head-tilt that Japanese people give you whenever they don't know whatever you're talking about but don't want to be rude.
I smiled, nodded, said, "O.K."  and started on my way back to my car. However, I would be back—armed with someone who could understand and read Japanese.
Well, that day came today.  There is a new teacher at my school, and she is Japanese!
We went in and found the restaurant cute and quaint with three Japanese style tables and the rest of the restaurant with American style seating.  The menu had the lunch specials and all eight items were in Japanese.  I didn't even know which way was the right way to turn the menu to at least 'pretend' I was reading.  Oh, well.  I was armed with my new friend.  She described the dishes to me.  Tuna donburi, baked fish—different kinds, sashimi.
It was a pretty simple menu.  The dishes were delicious.  The fish seemed so fresh and simply prepared, probably with the bare seasonings.  The workers seemed polite, but shy.  Here's the menu with the translations my students gave me:
Saba mirin set meal
Tuna Donburi set meal
Sashimi
Maguro Set meal
Sashimi Set meal
Tuna Donburi Set meal
Grilled Fish Set meal
Boiled Fish Set meal
1500 Y, with dessert
Payment:  Yen
Hours:  Lunch – 11:30 to 3:00  last order is 2:00, Dinner – 17:30- 23:00  last order is 22:00, Closed Wednesdays
Phone:  098-943-2213
Address: 208-16 Minamiuebaru, Nakagusuku
Google Maps Coordinates: 26.2538137, 127.77545809999992
Directions:  At Exit 3 on the Expressway, take a left at the stop light.  Drive approximately 4.9 km.  You will pass two Lawson's driving to the restaurant.  At the second Lawson's, take a left.  This street is called Minamiuehara.  Drive a short 0.1 km. and on the left, you will see Maguro Tei.