Contributed by Semibalancedmama
Perfect choice for those looking for Ramen or Soba
Walking down BC Street, aka Park Avenue, in Okinawa City you have plenty of choices when it comes to where you will eat your next meal. But, recently a new restaurant, Mahoroba, opened and I assure you that it will quickly become one of your favorite "go to" spots for noodles.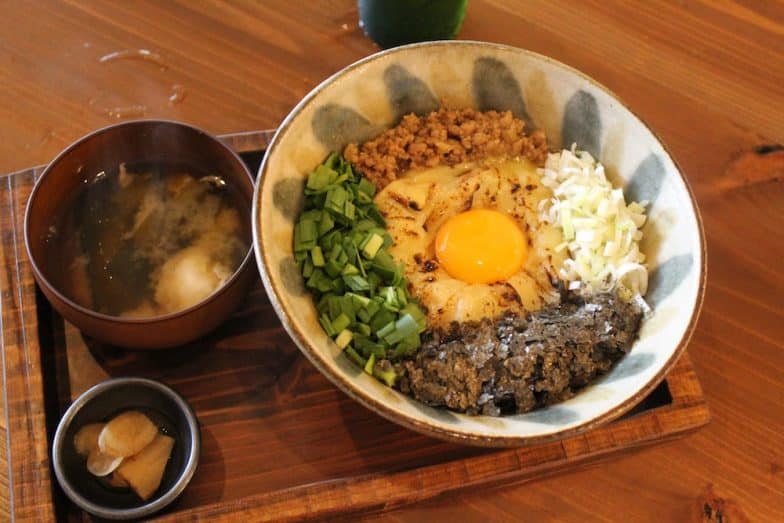 Where to Park
Noodle Restaurant Mahoroba has had a location opened in Naha for some time, but they recently brought their delicious dishes to Okinawa City and we are happy they did. This cute, contemporary restaurant is situated right in the heart of Park Avenue. Don't forget about the large public parking area nearby, look for the big signs with the "P" on them and follow the arrows. From there it is a short walk to the restaurant.
Menu Options
The menu is in Japanese and English and very easy to read. All dishes come with a cup of miso soup, one of the best I have tasted on island, and the noodle dish boasts some amazing noodles, meat sauce, chives, seaweed and an egg. You can get just the noodle option, the noodle with charred cheese or the spicy option of the two. You can choose your level of spice as well as the size of your noodle dish. All ingredients are served on top of the noodles and you mix together before eating. I opted for the stir noodle with the charred cheese and I was floored by how good this dish was. The cheese mixes well with everything and the seaweed was just enough to add some good flavor. When I visited they were offering a seasonal dish which was chilled noodles, tomato, cooked egg and lots of coriander. This dish was AMAZING. It was so refreshing and had such a smooth taste to it. I hope this "seasonal" dish stays around for a while because it was so good. They also have an extensive list of sides to add to your noodles, I highly recommend the fried garlic.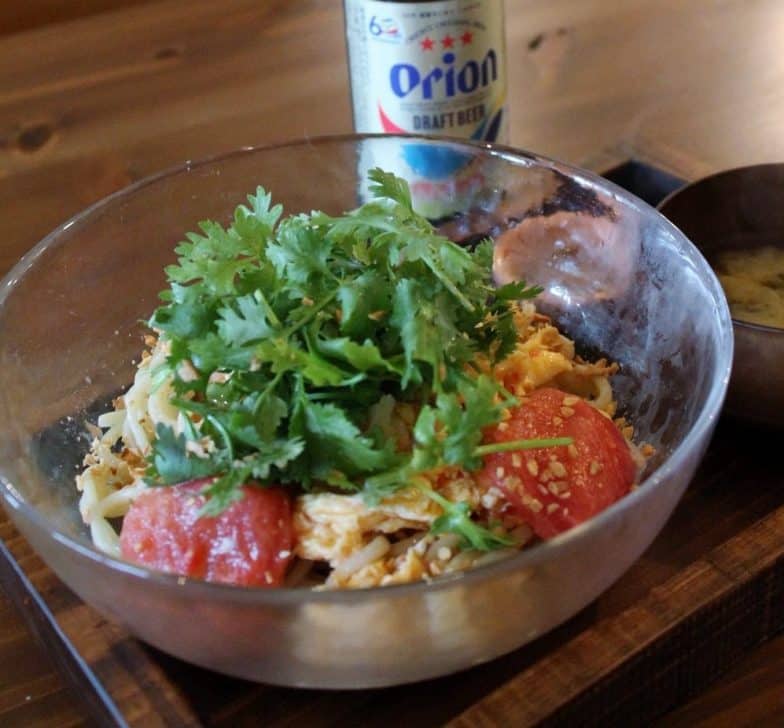 Finish With Rice
Once you finish your bowl of noodle deliciousness, there is often times some left over sauce. When I saw this I was slightly disappointed at the idea that I had not monitored my noodles to sauce ratio more vigilantly. But there is a answer. They will give you a scoop of rice to add to your sauce which recharges your bowl and allows you to finish.
The Layout
There is an open kitchen, quite a few tables and plenty of bar stools up for grabs inside. Even with the few small steps at the entrance, I would consider this restaurant to be stroller friendly. They offer high chairs for the kids, but there is no kid menu. Though, the portions are quite large and could easily be shared with your little one.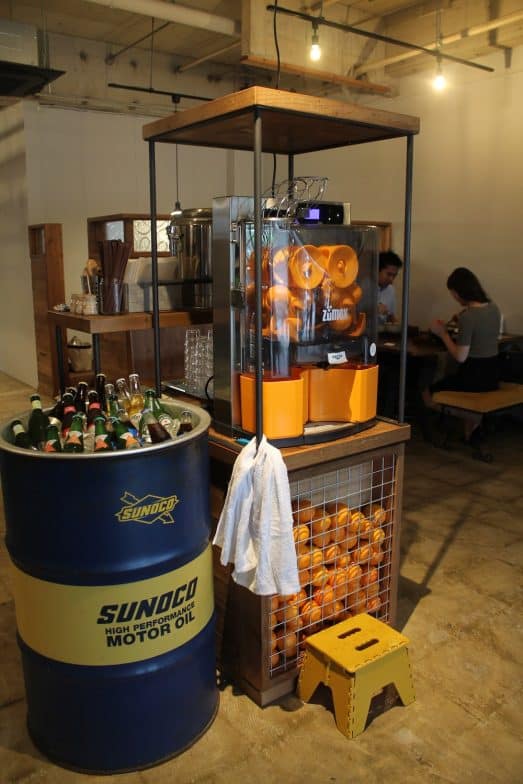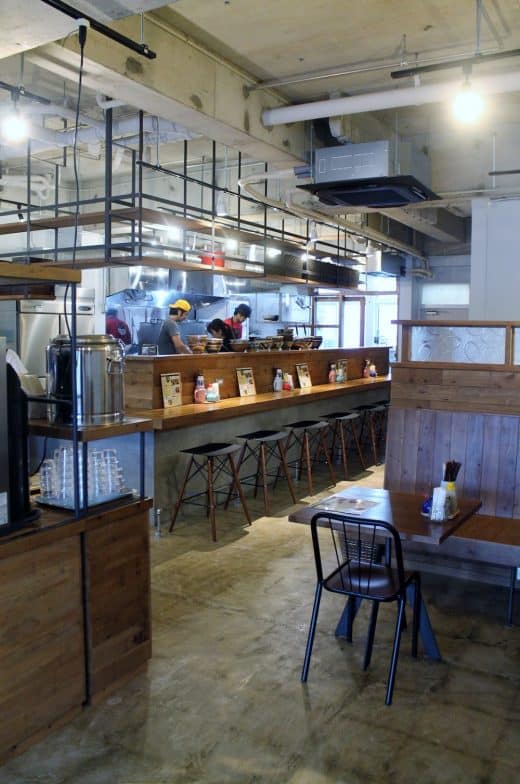 Another fun addition is the fact that some of the tables have outlets that you could plug your phone into charge while you eat. I thought this was a nice feature for an area that is popular with traveling tourists. They also have fresh squeezed orange juice, which is sure to be a hit with your kids since they allow you to put the oranges through yourself and watch the juice being squeezed. Beverage area has self-serve water station, and a drum barrel full of beer and ginger ale.
Yoshio san
Yoshio san, the owner, opened his first shop in Naha near Kokusai street 5 years ago. He perfected his recipe through trial and error using different flour blends to make the exact noodle taste he wanted. Now with a successful shop in Naha, he decided to pursue his dream of making a restaurant in the U.S. by first opening a shop in Okinawa City. By doing this, he is hoping to make American friends and introduce his delicious recipes. He has already made one, me, and I'll add this place to my list go to places. All in all this restaurant was a pleasant surprise. Please make sure to try Mahoroba soon and let us know what you think!
Instagram – noodles_restaurant_mahoroba
Shop Hours – Closed Tuesday, Open from 11:30 am – 22:00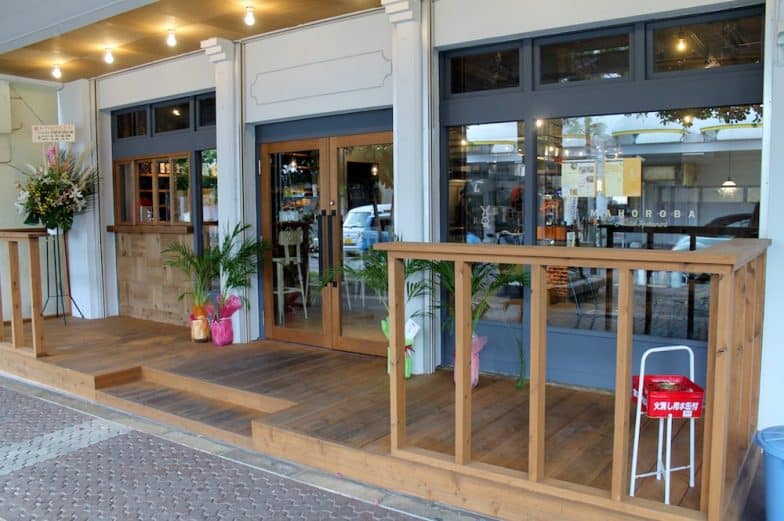 This map is approximate since the shop is new and has not been listed to Google yet. We will update when it does.

Here is a link to their Naha shop as well. It's located right off of Kokusai street and has the same menu. If you are in Naha give them a try. But the Naha restaurant is much smaller so be prepared.