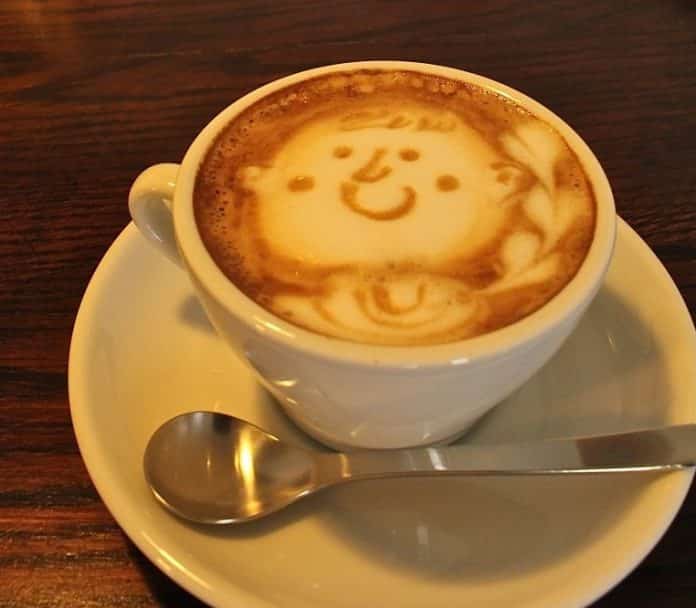 Mahou Sign
CONTRIBUTED BY CHRISTOPHER DONG
Lazy. That's what she called me… I mean, sure, I was in no position to argue the facts, lying face down, wrapped comfortably in the covers crepe-style (burrito took a bit too much effort at the time). Lazy though? Too strong, even as a passing joke. Energy-less, maybe, or my favorite Japanese "my-pace" I could accept. But with such a long list of to-do's eyeing me from the kitchen counter, it was probably time for me to get a move on. First things first though: coffee. And we knew just the place.
The 'bucks, McDo, Climax; all great places for a quick cup o' Joe. But if you're looking for something different, something a bit more "my-pace", then Mahou Coffee is worth a gander. If the shop's energetic arrays of colors don't awaken your senses, then surely the deliciously smooth blended coffees will. It's subtle perfection; while this small, affectionate shop is devoted to serving quality "pick-me-up" beverages, its decorative atmosphere provides the perfect place to gather and relax.

Mahou Cuppa

Mahou Interior 1

Mahou Seating
Tucked away behind busy highway 34, Mahou Coffee has been converted from house to shop by owners Akio and Aoi. Like pulling into the driveway of a dear friend's home, you are greeted by blue fence, worldly antiques, and cacti. Park the car, step through the yellow brass-knockered door, and take a seat in one of four rooms that can only be described in Japanese as Omoshiroi (Interesting)!

Mahou Prep
This trip we decided to sit near the front counter, next to the rack of assorted magazines, set of soccer player bowling pins, and of course, life-sized iced coffee slooow-drip contraption. Akio mentioned that the day's batch of iced coffee takes six hours to prepare. Slow-drip is right, and the difference is very tasty. My Mahou blend coffee was dark, smoky, and just enough nigai (bitter) to give me a mellow second-wind. That's the point, says Akio. "I want to offer a place where people can enjoy good coffee at a decent hour." From his hands to your cup, no assembly line required.

Mahou Drip
Mahou Coffee's blend beans are specially selected and roasted in Japan, then freshly ground and brewed into complexly flavorful and aromatic elixirs. Order hot or iced, latte'd or expresso'd, sit back, and drift along with the inviting jazz standards crooning in the background. Aoi excellently pairs the coffees with Mahou sweets, a menu which is updated weekly. Standards include a rich and creamy Choco-Cheesecake, and a refreshingly bittersweet affogato.

Mahou Dessert
After two cups of coffee and a slice of pumpkin pudding cake, I was promoted from lazy to coolly wired. We set off to conquer our errands, knowing that despite the convenience of drive-throughs, a trip to Mahou Coffee would always be worth the experience. Till next time.
Eat, drink, see: Today's Cake, Mahou Latte, "hippo in trouble".
Hours: 0900-1800 Tue-Sat, Sunday and Monday Closed, Takeout OK
Payment: Yen
Menu: Japanese (though easy to explain)
Directions: From Camp Foster commissary gate, take a left and head South on highway 58. Continue through Ginowan, pass Sam's by the Sea to your right, McDonald's to your left. Once you reach Ojana Crossing (Intersection of highways 58 and 34) take a left onto highway 34. Continue up the hill for about half a mile, until you see a Lawson's convenience store to your right. Continue one more block, and be alert for a small driveway to your left, blue Mahou Coffee sign anchored by yellow brick standing at the corner. Turn left, and continue straight through the blue fence.