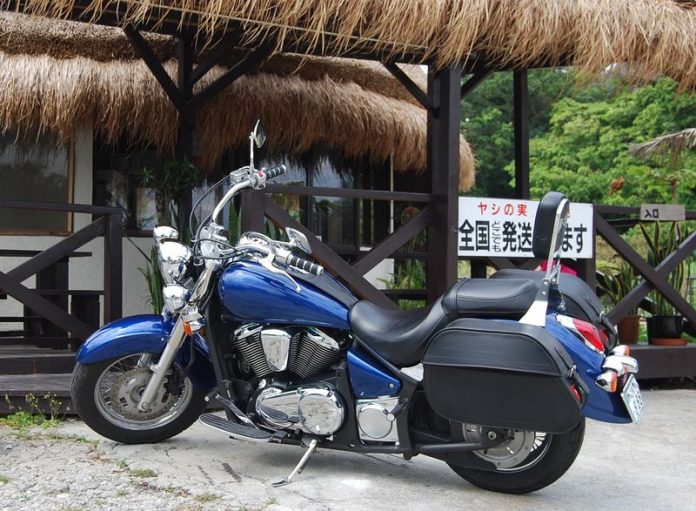 CONTRIBUTED BY LISA THOMPSON
Awww, the empty nest… what's a person to do with it?  Why, jump on the back of a royal blue Kawasaki Vulcan 900 (with pipes so loud they'll rattle your teeth) and explore Okinawa of course.

We miss our little bird, but rather than sit around lamenting our sad state of affairs and how quiet the house is without her little chirps… we get out of the nest and make noise, man… and eat… there seems to be a lot of eating.
Today was a beautiful sunshiny spring day in Okinawa.  The nice weather, mingled with the sounds of empty tummies, just begged for a bike ride in search of food.  So with the song "Born to be Wild" running through my head, I jumped on the back of that Kawasaki to "head out on the highway lookin' for adventure."
We live on the northern end of the island very near Camp Hansen so we thought we would venture a bit south and see what's kickin' in our neck of the woods (adventure is sometimes best close to home when you're hungry).
Not too far from us, just past quaint little Onna Village we discovered a great new place to eat.  It's a "Sandwich Hut" called "Manza Submarine Sand and Coconut Dining."  Now I ask you, is that not a great name for a sandwich shop? Beats the heck out of Subway!

The shop has only been opened a little over a month and is well worth stopping by to check it out.  Mr. Takashi Omido is the very amiable and welcoming owner/chef and he speaks some English.
The hut is exactly that… a grass thatched hut-looking building (hmmm, grass thatching for empty nesters looking for adventure, the irony is not lost on me I assure you).  It has a great island vibe with an artsy twist to it.  It's clean and shiny and creatively decorated with assorted local art prints on the wall and little chachkeys that add to its visual appeal.
Now down to the nitty gritty… the grub.  In a word, "mmmm".  In two words, "mmm, mmm".
Upon entering the restaurant, we were greeted warmly by Mr. Omido.   You should note that the dining area is very small and will only seat 15 people.  As we were seated we were handed our menus (they are in English and Nihongo) and given our water glasses.  Right away I knew we were in for a treat as the glasses were hand blown beauties from the glass shop just up the street and the water was delicious and infused with (I think) mango juice.

We ordered two appetizers, one drink and one and a half sandwiches.  The appetizers were… potatoes (French fries with a terrific tasting spice on them), and  something called Shrimp Ajillo which is shrimp and mushrooms served in a piping hot dish of garlic and oil that had a buttery taste of yummy proportions. The shrimp is served with toasted baguette slices.

My husband, Mike, ordered the Manza Sub, which is a sausage sandwich with roasted red and yellow pimentos, onions, and crisp lettuce.  He was very pleased with the size of his sandwich and even more pleased with the taste.

I ordered the half sandwich (I eat delicate little portions and it will do you no good to point out that I just ate a mountain of French fries and sucked all the melted butter out of the shrimp dish… I am ignoring that little tidbit of information).  Where was I?  Oh yes, my sandwich was the Smoked Salmon with Avocado sauce.  It was yummy.  Mr. Omido makes his own smoked salmon and it's fresh tasting, plump and moist without being overly salted.  The avocado sauce is so good that I know I will have visions of it dancing in my head.

Also on the menu are assorted juices and drinks.  I had a virgin Mojito, which is a drink of club soda, limes and fresh mint.  It was very "minty", "limey", "soda-y" and very good.
Mr. Omido is a very creative chef who uses fresh ingredients in every dish.  We know we will return.  Our whole dining experience cost us just around 3000 yen… great value too!

---
Manza Sub Shop

Hours: 11:00am-8:00pm, seven days a week.
Phone: 098-966-1050
Address: Japan, 〒904-0404 Okinawa-ken, Kunigami-gun, Onna-son, Serakaki 国道58号線
Google Maps Coordinates: 26.5069072, 127.8617800
Directions:
-Head north on 58 (so that you're going towards Onna village). Make sure you keep on 58, 58 will veer to the left a little bit and you'll start heading away from Kadena, if you keep driving alongside Kadena on your right that means you've merged onto 74, and you don't want that.
– Keep on 58 for a while and when you see the Renaissance Resort on your left, you know you are on the right track.
– Soon after the Renaissance resort the road will split off into several, just make sure you stay on 58.
– After that you will pass several other resorts and then…
– You will have to turn left at a large intersection (with 4-way stop lights) to stay onto 58.
– You will then drive through downtown Onna, you will also pass the ANA Intercontinental Manza Beach Resort on the left (you are getting very close once you pass this).
– You will lose sight of the ocean on the left at this point and the round grass hut will be on your right
Directions for Northern Camps people: Head south on the 58 just past Seragaki beach, and past the big red palace-looking place that makes purple yam cookies.  Once you pass the purple yam palace it will be about a mile up on the left.