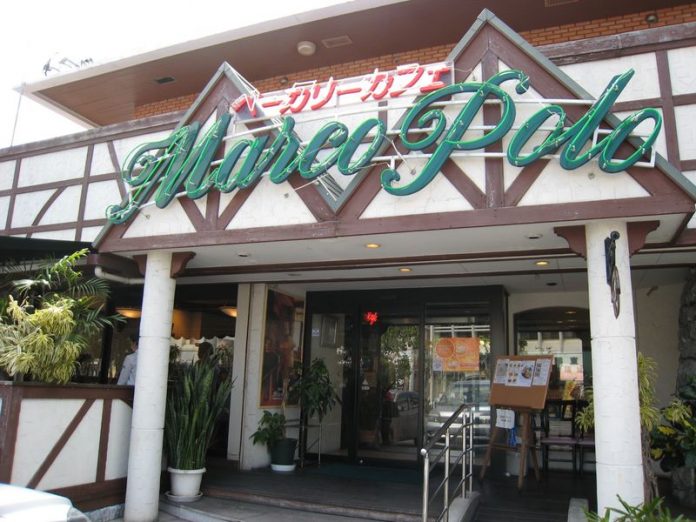 CONTRIBUTED BY LARISSA TRAQUAIR
Combining a café and bakery isn't a new concept, especially in Okinawa. However,  Marco Polo delivers one unique option not many restaurants can boast – breakfast, off-base, at 8a.m.!  For breakfast you have a variety of sets to choose from with your choice of soup or drinks.  Soup for breakfast might sound unusual, but it is common for a Japanese breakfast.  You'll choose between French toast (with a salad and potato salad) and various sandwiches, including tuna and a hot egg and cheese sandwich.  Your choices will run you between Y400 – Y600.
We went for lunch and their menu is extensive.  We chose several of the lunch sets and were not disappointed.  You can enjoy the pasta with meat sauce, by itself, for Y650.  Or with your choice of tea or coffee, Y700, or enjoy the entire set for Y1,100.  Your set includes soup, salad, dessert and choice of tea or coffee.
I was told the soup of the day was potato and though it didn't taste like any American potato soup I have ever had, it was FABULOUS!!!!  The dressing on my salad was incredible and hard to describe.  The pasta was good, though perhaps not the best I have had on island.
The daily special was a white meat fish piccata in tomato sauce.  For Y680 there is a choice of rice or bread and a drink.  Since Marco Polo has a bakery inside their café, their bread was really good.
They do serve 35cm pizzas for Y1,500, though their calzones seem to be the option that brings their regulars back.  Several of our ladies ordered this monstrosity and it measured in at 30cm.  This is when a picture is worth a thousand words.  The calzone takes 20 minutes to cook and will run you Y1,200. I would describe this calzone as the kitchen sink of calzones – there were all sorts of ingredients inside including cabbage.
Definitely worth trying!  Our ladies were not disappointed despite not knowing the exact ingredients.
Once you've enjoyed your meal you must take a look around their extensive bakery.  There was no shortage of breads and desserts to tempt even the most disciplined eater.   And, if you like to eat outside, they have a beautiful patio area!
---
Marco Polo Café and Bakery
Phone: 098-921-1820
Payment:  This café/bakery takes Yen and American Dollars.
Hours:  Open 7 days a week.  Monday – Friday they are open from 8 a.m. until 9p.m.  Breakfast is served from 8a.m. until 11:30 a.m. and they will take the last pizza order at 7p.m.
Address: 5 Chome-1-39 Takahara, Okinawa-shi, Okinawa-ken 904-2171, Japan
GPS Coordinates: 26.3242697, 127.82266529999993
Directions: Go out Kadena Gate 2, go straight and cross 330.  You are on 20. You will cross 329 and start looking for the Mac House Jeans store, on the right, and then Marco Polo is right past the jeans store on the right as well.  If you get to 85 you have gone to far.  The restaurant is less than 5 kilometers from Kadena Gate 2.   There is parking directly in the front of the restaurant and they also have a huge parking lot behind the restaurant.  To get to the parking lot, pass the restaurant and take the small driveway that runs alongside the restaurant – don't go to the signal, you'll have gone to far.