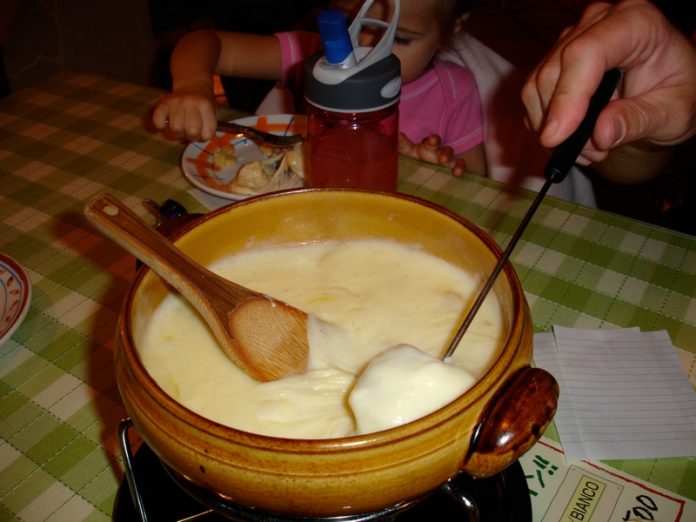 CONTRIBUTED BY KELLYERACE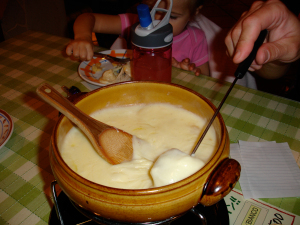 Here we have a big pot of cheesy fondue,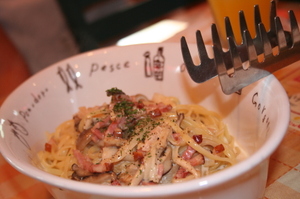 a bowl of mushroom and bacon pasta,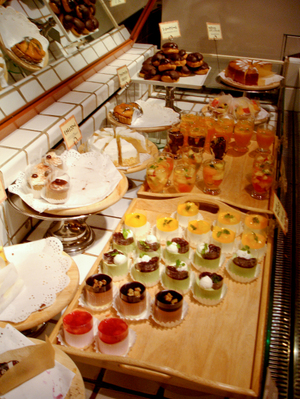 and a buffet of tiny deserts.
All of these are to be had at Marino's, an Italian restaurant down by the San-A off route 85 (there's also one in the San-A Main Place, Naha). I dig Marino's. It satiates my tummy when it needs carbohydrates. Like pizza (wood-fired!) Like pasta. Like cheeeeese. There's cheese galore. I mean huge wheels of it. When you order the "pasta parmenara" the waiter brings the wheel up to your table and mixes your pasta up right inside of it. Love that.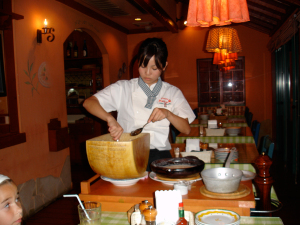 And when you order your pasta you get to pick what kind of noodle you want. Green? Curly? Twisty? Your waiter will bring around a little basket with pasta examples inside so you can get a good visual of the different styles. (Well, today the waitress just pointed to what kind of noodle we were getting, so maybe I'm wrong about the getting to choose business? In any case, it's a pretty touch.) Here's a picture from today at lunch. There are only a few types here. At dinner you get a better selection, if I recall.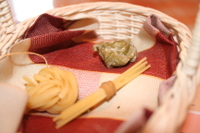 Marino's is good for groups and good for families. The dining room is divided into several little rooms, so you don't have to worry about the whole restaurant seeing your kid act the fool. And the menu makes ordering easy, as there are meal sets for two, three, or four people. You all get the same thing, just split the bill and there you go. Today, for example, my friend and I got the "cheese fondue lunch set" which included a "country soup", our choice of either a pizza or a pasta (we got the mushroom and bacon pasta, but there's a long list of varieties to choose from), cheese fondue, and desert. For desert, you can select three items from the desert bar. There's also a beverage station with tea, juices, water, coffees, etc. which you can refill as often as your heart desires.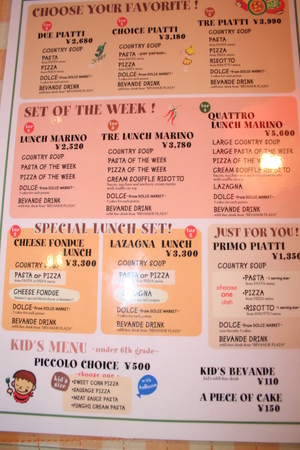 This is just one page from the lunch menu. The dinner menu is more extensive and has some different items included in the sets, like caesar salad.
Marino's is in a red-tiled mediterranean looking building right in front of San-A. If you have time, pop over there and check out Valetta, the cool clothing store recommended by Kaho a while back.
Thank you, Aviva, for the big fondue, desert bar and cheese wheel pics. By the way, Aviva recommends the pasta arrabiata, her hubby's favorite.
And couple more random pics: dining room, nice customer holding my kid, and the pizza oven.
Phone: Gushikawa Branch (Near Gate 2 of KAB): 098-974-9110
Kyozuka City Branch: 098-871-3329
Naha Main Place Branch (Near Okinawa Prefectural museum: 098-951-3311
Hours: 11:00 AM – 12:00 AM
Parking is free at adjacent San-A at all branches.
Address: 468 Esu, Uruma
Google Maps Coordinates: 26.3534796661, 127.825217772
Directions: 
From Kadena Gate 1 (hwy 58):
Head north. As you approach Kadena Circle get in the right lane. Make a right on route 74 (the road behind Kadena). Keep going straight and pass Kadena Gate 3. Look for a sign that says 85. You are going to make a LEFT onto 85. The left is at the white pedestrian overpass (not to be confused w/ the highway overpass…it's after that one. Another landmark to look for for where to turn is a cardealership w/ a crazy clown.) Continue on 85 about 5-8 min. (you'll pass the big Co-op store and the Yellow Box) and you'll see the big yellow San-A sign on your right.
From Kadena Gate 2 (I stole these directions from Kaho's post. Arigato, Kaho.)
Directions to San A Gushikawa from Kadena Gate 2 (Two directions)
1. Leave Kadena Gate 2 and proceed straight all the way to the junction of Gate 2 Street and 330. Turn left onto Route 330. The Route 330 changes into Route 75 after a while. Drive until you hit the junction of 75 and Hwy 85. Take a left. San A will be on your left.
2. Leave Kadena Gate 2 and turn left at the first stoplight. You go down a ramp to merge onto 85. Drive until the T-junction for Loop 85. The landmark for this is a pedestrian overpass. Turn right onto Hwy 85. Drive for about 5-8 minutes until you see the San A sign on your right.