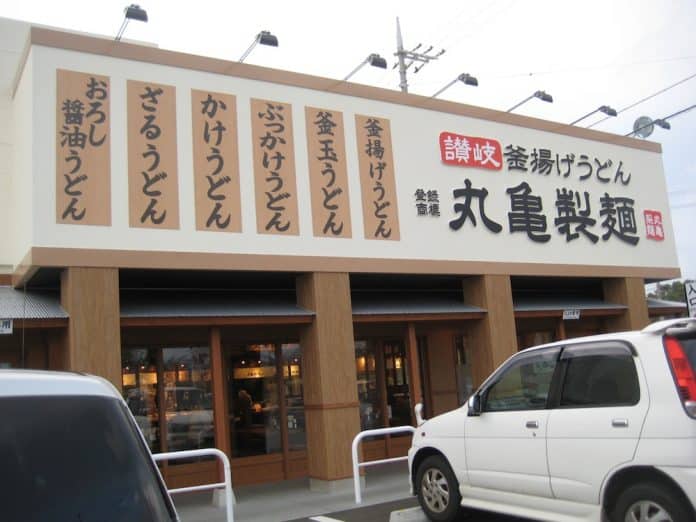 Marukame Front

Marukame Line
CONTRIBUTED BY CALYN PAQUIN
One of the first restaurants we ate at when we arrived in Okinawa was MOS burger on 58 next to the Kanehide grocery store. I remember eating the burgers with "rice" buns while living in Singapore and wanted to try the ones here. After that, we haven't been back because there are so many other places to eat! Then we saw it being torn down but since there are other branches, I didn't panic. We couldn't help wondering what they are building. So I have been eyeing that spot for months until the building came to life with all Japanese/Kanji words. The only kanji I could recognize is noodle but what attracted me most were all the banners with 280yen on them!
The restaurant always looks packed because I could see people standing in line through the windows whenever I drive by. But when we finally went there, I found out why. The cooks behind the counter couldn't speak English, but the one who was at the cashier did a little. She told me the restaurant is called Marukame Noodle. She also gave me a Japanese website for the restaurant so for those who has a translator tool can find out more. This is a self-service udon restaurant. There are three tatami seating areas at the back of the room, but plenty of tables available as well.

Marukame Tables
There is only one way in and another door to exit. As you enter, you will see the udon menu overhead. There is no explanation in English but they do have the items in romanji so you can say it to the cook behind the counter. There are pictures to show you what comes with the udon. The prices are in kanji which ranges from 280yen – 530yen. Each item has a lower price for medium size and higher price for large bowls. Almost all of the udon can be served hot or cold.

Marukame Menu
If in doubt, order the kake udon – hot. They will boil your udon, put it in a bowl and you can help yourself with as much broth as you want at the end of the counter. I ordered torotama udon which came with a half-boiled egg on top of the udon in broth. There was also a dollop of white paste which I assumed is pureed radish. *After you paid, you can garnish your noodles with scallions and deep-fried onion strips.

Marukame Kake Udon

Marukame Torotama Udon
If you didn't want just udon, after you get your bowl, you move on to the counter with a variety of tempuras and rice balls. There have English tags and how much they cost a piece. They have shrimp, chicken, squid, pumpkin, sweet potato, eggplant, half-boiled egg just to name a few. Prices range from 80 – 130yen a piece. We didn't try the rice balls but they range from 100 – 130yen a piece. There is also a drink station where you can help yourself to water and hot tea.
We ordered way too much food but only paid 2160 yen for our family of 4.
Hours: 11am to 10pm
Payment: Yen only
Directions: From Foster, head north to Kadena. After you pass American Village and then Obbligato restaurant, you will see Kanehide grocery store. Get ready to turn left into Marukame Noodle's parking.  The girl also told me there is another branch in Misato as well as Okinawa city.