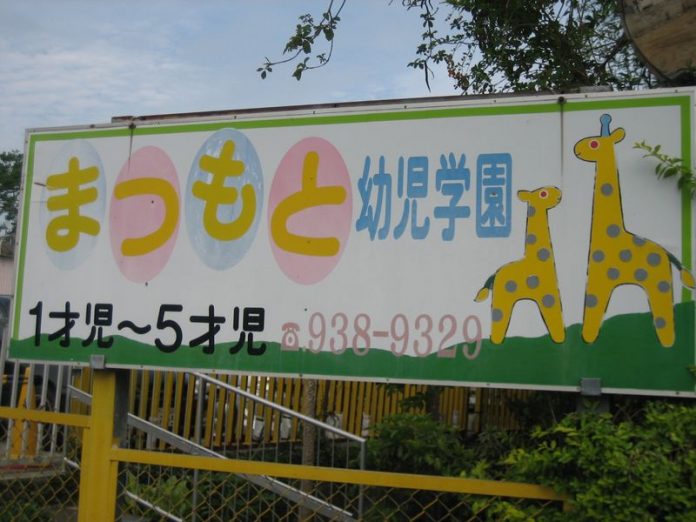 Editor's Note: According to the original post author, while Matsumoto Daycare and Preschool is still operating, as of November 2012 they will no longer be enrolling new English speaking students, due to a reorganization of staff at this facility.
For all you parents looking for a preschool that suits your kids, we're hoping to add a little something to aid in your search. Parents of children who attend various preschools on island have filled out a series of questions about the schools for the benefit of the rest of us. We welcome more than one voice on each school since everyone has a different experience, so please feel free to add in your two cents in the comments.
If your child attends a school that has not been reviewed on this site, please contact our Submissions Manager for the template.
CONTRIBUTED BY KATHERINE MOORE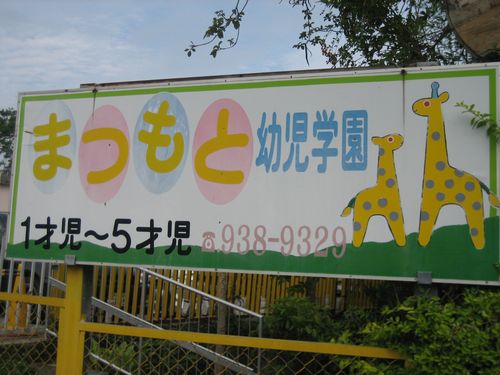 Name of the school: Matsumoto Daycare and Preschool
Address: 1-20-5 Matsumoto, Okinawa-shi
Phone: Hiroko Ooshiro 098-938-9329 or 090-5724-7416
Ages Accepted: 1 and 6 years
Ages of Your Kid(s) in this School: 2 years old
Admissions/Enrollment: 
What is the maximum number of students that your school has?  1-2 year olds = 22, 2-3 year olds = 22, 3-4 year olds = 18, 4-5 year olds = 22, 5-6 year olds = 18.
What is the current number of students?  1-2 year olds = 10, 2-3 year olds = 22, 3-4 year olds = 14, 4-5 year olds = 18, 5-6 year olds = 9 (as of May, 2010).
Is enrollment open/year-round enrollment or per semester? The enrollment is once a year, but will admit students on space available basis.
Does my child have to be potty-trained to attend?  No, they will actually potty train them for you
Can I bring my child in for a pre-enrollment visit? Yes, but only for a half day between 7:30am to 12:00noon.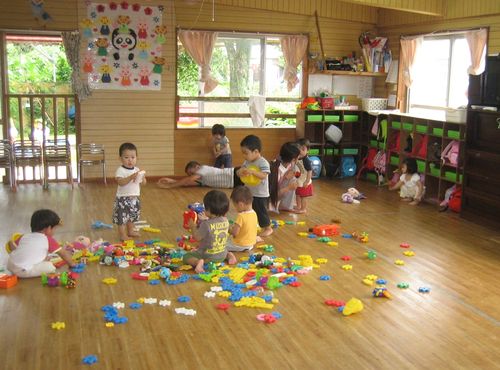 Days and hours:
What are the school's hours?  Monday to Friday 7:30am – 7:00pm, Saturday 7:30am – 6:30pm.  Yes, they are open on Saturdays for no additional fees.
Is the school on a Japanese or American schedule?  Japanese schedule.  The school year starts in April.
How flexible is the school with pickup and drop-off times?  Very flexible.  It is recommended that you drop off your child no later than 10:00am though, so they can count your child for lunch.  Also, pick up is recommended after nap time, which is around 3:00pm.
Costs:
What are the registration fees?  12,000 yen per child
What are the tuition fees? 1-2 year olds is 26,200yen, 2-3 year olds is 24,200yen, 3-4 year olds is 24,200yen, 4-5 year olds is 23,200yen, 5-6 year olds is 21,200yen.  These are monthly tuition fees.
If any, what are the assessment and school supplies fees? There is also a monthly supplies and medical fees which range from 1,970 yen and 2,550 yen depending on your child's age.  This includes books (they get to take them home every month), art crafts, English and music lessons, twice a year physical examination (the doctor comes to the daycare), and once a year dental examination (the dentist comes to the daycare as well).  They also charge 1,000 yen for the month of June, September and October for air conditioning fees, and 1,500 yen for the month of July and August.  Transportation is also available for 3,000 yen round-trip and 1,500 yen one-way.  They usually work things out if you live on-base, such as picking your child at one of the gates.  They do have radius where they can pick up your child though, so please ask for more information if interested.
Are any discounts offered for referrals, siblings, volunteering, working there, etc.? Second child is 10% off, and third child is 20% off.  Only one transportation fee is required per household.  There are no other discounts beside these.
Is there a late-pickup fee? They usually don't charge for late-pickup, as long as they are not frequent.  Make sure to call the daycare if you think you will be late, so somebody may stay with your child while you're on your way.  If you do have frequent late-pick up, they may charge 500yen per 30 minutes.  Make sure to stay on time though because so far, nobody has been charged these fees.  They are open until 7:00pm on weekdays and 6:30pm on Saturdays.
How and when does the school require payment (in yen, dollars, etc.)? Fees are due no later than the 10th of every month for that month in yen only.
Parent Involvement and Interaction:
Does the school encourage spontaneous visits from parents? They recommend what would make you feel comfortable.
How do you communicate with parents? They have a daily report, so you know exactly what your child did for that day.  Everything is written on the daily report book.  The report even includes your child's temperature (for ages 1-2) twice a day!  They also provide a yearly schedule and monthly calendar that shows all the activities for the month and the food menu for the month.
Are there parent/teacher conferences? There are two a year.
Classroom Structure and Size:
How are the kids grouped? Mixed ages / grouped by age? Grouped by age: 1-2 year olds is Tulip class, 2-3 year olds is Sakura (cherry blossom) class, 3-4 year olds is Tampopo (dandelion) class, 4-5 is Himawari (sunflower) class, 5-6 years is Pre-school.
What's the teacher-child ratio in each group? 1-2 year olds is 1:6, 2-3 year olds is 1:6, 3-4 year olds is 1:18, 4-5 year olds is 1:18, 5-6 year olds is 1:18.  Although this is the ratio, they usually have at least this number of teachers per class.  They seem to have more than enough teachers around.  The daycare principal also helps out a lot.  Japanese regulation is 1:30 for children from the age of 4, so this daycare actually is doing better than what is required.
How many full-time teachers do you have? How many assistants? All 11 teachers are full-time.
What is the school's educational philosophy? Is the school program developmentally-based or does it have an academic focus? Their goals state: "A child who is physically and mentally healthy.  A child who is positive and open-minded.  A child who can play comfortably.  A child who can think and express positive and negative emotions."
Is there a playground for the children to play on? Yes, they have a backyard with a playground.  They also have children's swimming pool for the summer right on the backyard.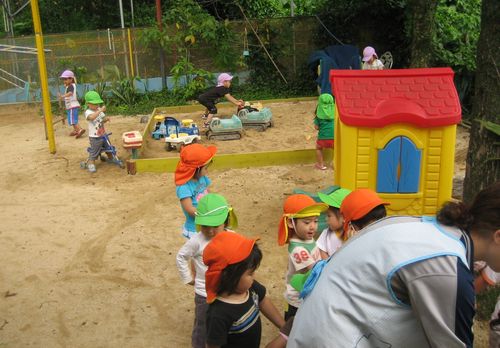 What do the children do on any given day? This depends on the age group.  Our daughter, who is two, usually arrives at the daycare around 9:00am.  She has breakfast at home since the daycare does not provide breakfast.  You are more than welcome to bring something though if you do not have time, and they will give it to your child.  I recommend something easy like bread, pop tarts, maybe some onigiri (rice balls)?  They usually start the day reading and doing some arts and crafts (our daughter made me a flower for Mother's day) or music.  They eat lunch around 11:30am and then go to nap around 12:30pm.  They wake up between 2:30pm and 3:00pm (It's highly recommended that you pick-up your child before or after the nap.  You don't want a cranky child with you!).  They then eat their snacks and play with the rest of the class.  The whole place opens up as one large area after snack time.
Are there extracurricular activities or field trips? This also depends on the age group.  There are two main fieldtrips for the whole school per year.  These fieldtrips are optional, but if the child goes, at least one parent needs to go with the child.  There are also a few that are just the children.  These are usually near-by.  All Okinawan and Japanese festivals are also celebrated during the school year.  These are things that your child will do with his or her schoolmates and teachers.  You will receive some pictures later.  All events are written on the yearly and monthly calendar.
How does the school discipline children? Teachers talk to the children regarding what they did wrong.  They explain them why it is wrong, and what they should do about it (such as apologizing).  There are no time-outs.
How does the school comfort children? For children who do not feel comfortable (at least yet), the teacher stays with the child throughout the day.  They usually transfer a teacher from another class (a class that can be managed by less teachers) if there is a child that needs more attention.  They also try to separate the child from time to time from the class if it is too overwhelming.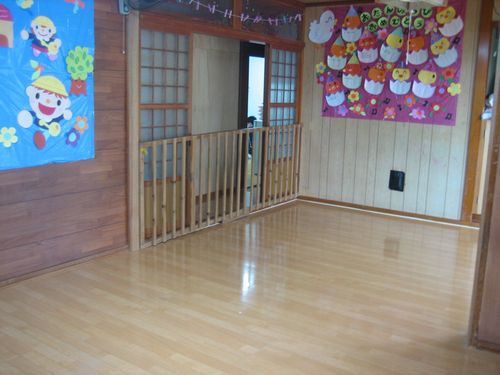 Final Comments or Observations about the School:
Our daughter goes to this daycare.  She loves being there!  She usually asks to go to school when she's home, which makes me sad but glad at the same time (you know that guilt thing).  She goes to school full-time, and is learning so much.  They are potty training her right now, and she is doing incredibly.  Who knew that I wouldn't have to do potty training?  I'm not disappointed to skip that part!  She seems to listen very closely when I'm saying something.  The teachers usually make sure that the children are looking at them when they are teaching/saying something.  This helps them understand/learn better.  They keep the children busy, which is helpful when going to bed at night all worn out.  The teachers are very nice and love children in general.  You will be surprised that even teachers from other classes know your child!  They believe in making it feel like home for the children.  The daycare itself looks like a house with a large playground and a swimming pool in the back.
They are open Monday to Saturday, which is very nice for Saturday couple's dates.  Your child will be exposed to Japanese culture including festivals and holidays.  There are sporting events (little kid's Olympic), performances, graduation ceremony (for all classes), monthly birthday party, and lots of activities.  The school is very flexible and is willing to work things out with parents as much as possible.  I highly recommend this daycare for all the effort that they do to make life easier for both the children and parents.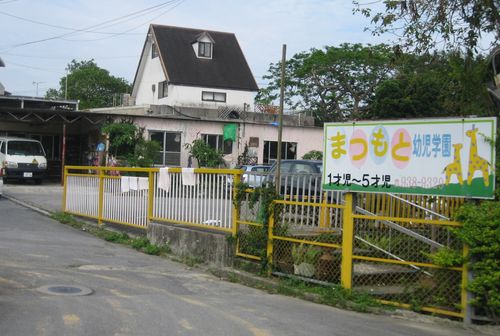 Directions:  There are a few ways to go there, but here's the direction from Kadena gate 3.  Turn right immediately after exiting the gate (this road is 74). Turn left on 74, which is the second light (Ikento) with the overpass.  The sign will show that 74 is straight and 85 is right, but you actually need to turn left to stay on 74. Turn right on the third light (Chibana) where Eneos gas station is. Turn left on the second light (Matsumoto) right after passing Suzuki dealer. This street is narrow. From here, try to stay straight as possible. There is one curve that might confuse you, but just stay on the right side.  You will end up on the parking lot of the daycare with the yellow giraffe sign and yellow fence as shown on the picture.  The first row of cars is employees', so you are allowed to park behind them.