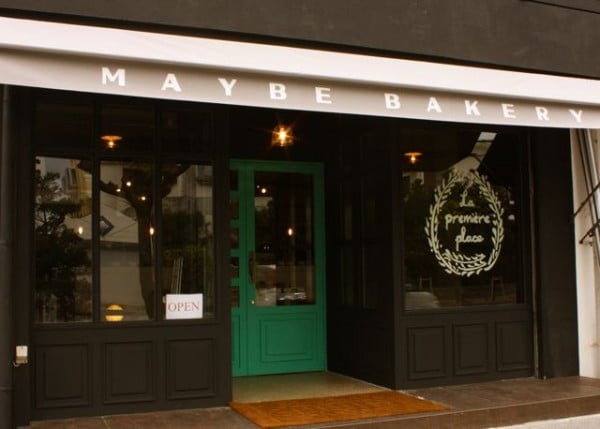 CONTRIBUTED BY CHRISTOPHER DONG
Maybe Bakery recently debuted in the Chatan area, and not a moment too soon.  The quizzically named shop opens daily at 7 am, displaying a host of glazed, buttered, fruited, sandwiched, and toasted delights, just in time for the morning drive to work. If you're like me, health and food awareness occupy no less than 97 percent of conscious thought at any given time; after hopping out of bed at six in the morning, "salutating the sun" and downing a fresh green smoothie, I'm ready for something buttery and crunchy to grease the gears for a long and productive day.
This bakery stands a diamond in the rough amongst Chatan's Araha Beach storefronts. Large glass window panes, dark wood and tile porch, black walls, and a turquoise framed door offer a freshly European-styled landmark along the beach's main drag, with ample parking to boot. Evident in its taste and design, what Maybe offers is anything but standard fare. From rustic breads to black cherry Danish, refreshing sandwiches to sweet bean rolls, this bakery pleases both the classically Parisian and locally inclined.
Perusing the bread and pastry-laden tables and countertops, I reminded myself not to get overexcited, often the victim of 'stomach too big for the eyes'-itis. Quality usually comes with price, but I was pleasantly surprised by how far my pocket change went. After bringing my first selections to the register for tally and bagging, I made a second tour of the shop, salivating over the almond cream pain perdu that I had somehow overlooked. The owner appeared from the kitchen with towel at the ready.
Osawa Masayuki, owner and head baker at Maybe, is no stranger to the art and science of baking. Having worked and consulted in Tokyo and France throughout an extensive professional career, Osawa was inspired by the beauty of this island, and decided to relocate his family and talents. When asked about the peculiarity of his bakery's name, he replied, "Well, it's a bakery… maybe, but I want it to be more, a café, a deli." True, Maybe can comfortably seat two families, and serves up fresh meats and vegetables for its croissant and bâtard sandwiches. What is most fetching about this shop, though, is its variety, accommodating all manner of tastes; semi-sweet brownies, savory egg and bacon, crusty pain des amis, all playing harmoniously within Maybe's wide repertoire.
There is nothing better than a warm baguette, possibly a tab of butter for the morning commute. Light yet crispy exterior, spongy sweet and salty interior, frothy butter melting its way through the network of pockets and crevices, such simple pleasure can make even the worst Okinawa traffic laughable. Working my way along streets congested with motorists finishing their morning primp and trim, fumbling with cups and lids, wrappers and bags, I happily wave my half eaten baguette towards them, good morning and a nod. Maybe is the tastiest, and quite frankly, the safest way to start the day.
Hours:  0700 – 1900; Wed closed.
Pay: Yen
Wesbite: https://www.facebook.com/pages/Maybe-Bakery/2798323854530
Address: 2-18-6 Chatan, Chatan-chō, Nakagami-gun, Okinawa-ken, Japan
GPS Coordinates: 26.3062259, 127.7608233
Directions: From Foster Commissary Gate, turn right onto highway 58. Continue North on the 58 for ¼ mile, turn left at the San A Hamby Town Shopping Center intersection. Continue straight until the T-intersection, turn right. Continue North until just before the Araha river crossing, bakery is at the right.