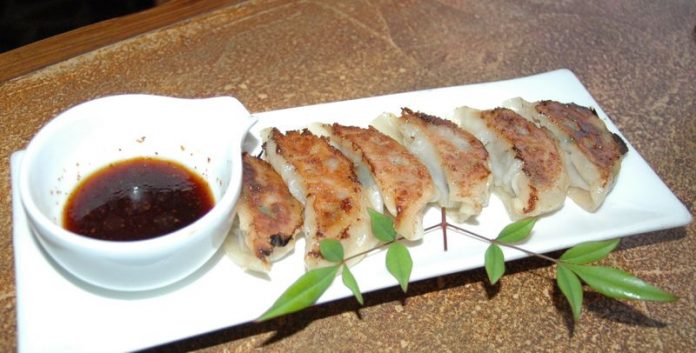 CONTRIBUTED BY LARISSA TRAQUAIR
I love eating out – clearly a fact known by all my friends.  It's even better when eating out in Okinawa becomes more interesting than eating out in the U.S.  Have you ever had to ask what Cracker Barrel means?  Or why Chipotle's named themselves after a pepper?  Have you ever even thought of the reason behind the name of any of your favorite U.S. eateries?  I hadn't until I moved here.
Now, I hardly have a clue as to why we have a restaurant named Coco, a bakery named Coco's and a popular salon named Cocok's.  And, I'm not so sure I have totally grasped the name behind today's post.  It has been explained to me that it means surprise – as if the scales were coming off of your eyes.  Not sure what that has to do with eating yummy food on the sea wall but I will go back no matter the why behind the name!  I have a friend who calls this the "eyeball" restaurant, next to Transit Cafe.  That works for me, too!!
Whatever you call it, this restaurant, with a view of our beloved sea wall, is worth a visit or two.  They have an extensive drink menu to start your evening off and an incredibly tempting, English menu.  You can enjoy a bottle of pineapple wine for Y2,500 or sip it by the glass at Y600.  The drink menu is separated by types of alcohol – beer, awamori, whiskey, etc.
Their food menu is equally organized with items being separated by appetizers, Okinawan food, fried food,salads, etc.  One item on the menu that we did not try was Tofuyo – a traditional Ryukyu Royal Delicacy for Y380.  I'd love to know what I'm missing – or not!!!
Fried Garlic Gyoza Y580 – in my opinion, all restaurants on Okinawa should serve this yummy dumpling.
Seared Beef with Garlic Sauce Y680 – my husband enjoyed this dish.
Pie Pizza is what this is called on the menu.  You have three choices – Teriyaki Chicken (pictured above), Tomato Basil or Spicy Sausage.  The crust on this pizza was incredible.  It is best described as a pastry crust.  At Y1,100 it was worth it and a fan favorite with our crowd!
If that isn't enough to get you off-base then they also offer a Caesar salad, a shrimp and avocado salad, a variety of fish, other meat dishes and dessert.
This hip place competes for both the let's-meet-for-drinks-crowd and the meet-us-for-dinner-crowd.  Either crowd will leave satisfied.  Happy Eating!
---
Me Kara Uroko
Payment:  This restaurant takes Yen, American Dollars and credit cards.
Hours:  They are open 7 days a week from 6 p.m. until 1 a.m.
Location:  2-218 Miyagi, Chatan
Google Maps Coordinates: 26.329638545052, 127.7438379896887
Directions:  Me Kara Uroko is located along the Sunabe Seawall.  From Kadena Gate One take a left onto 58 and then your first quick right by Family Mart. Follow that road until you hit the sea wall and make a right.  Me Kara Uroko is right next to Transit Cafe.  Pass Transit Cafe and step into the courtyard area where you see the "eyeball" sign.