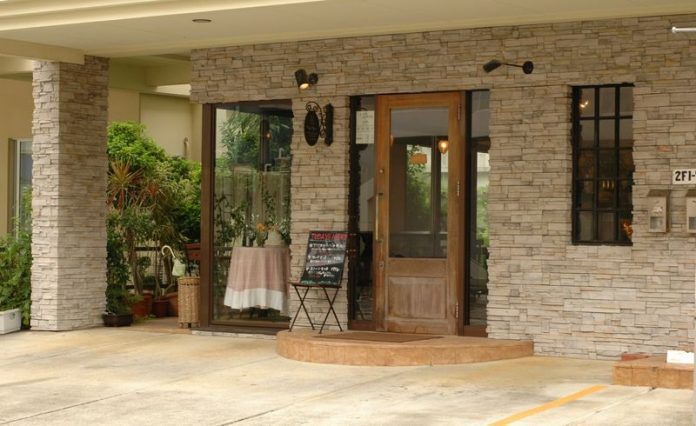 CONTRIBUTED BY BRYAN WINZER
As Okinawa's rainy season enters full force, I often find drizzly weekends nix beach and hiking plans, leaving me stuck indoors.  The grey sky and pitter-patter of rain often calls for a cup of tea or coffee, a good pastry, and, if lucky, a conversation with a good friend. Okinawa has several secret cafés that are perfect for such an occasion, and Miche Miche is a hidden gem worth seeking out. Perfect for providing a British-esque tea-time, Miche Miche offers a variety of cakes and small snacks, coffee, and tea.  Their menu is in English and Japanese.
We opted for an afternoon tea set for two, which ran about 1500 yen. It came with small crustless sandwiches, a small salad, two slices of cake, and small selection of fruit – all presented on a two tiered platter – and two pots of tea (we chose Earl Grey, which was one of the most fragrant and flavorful versions we have ever had, though they had many other varieties of English tea). The small cakes were rich in flavor, yet not overpowering with sugar.  While the miniature scones were a little too cake-like, the cucumber sandwiches were crunchy and refreshing. As we nibbled on the small delicacies and sipped our tea from china, I felt, momentarily, Victorian.  While not quite the Peninsula in Hong Kong, the crisp tea and lovely presentation lent a feeling of refinement, and deliciousness, to an otherwise dreary day.
We enjoyed the cakes so much that we decided to take a few home as well. The pictures only hint at how good they tasted.  Go see for yourself!
---
Miche Miche Cafe
Hours: 11:00 to 21:00
Address: 1 Chome-7-23 Hiyagon
GPS Coordinates: 26.31637239390297, 127.8236872712746
Directions:  Take the 329 to the intersection of Caleb's Furniture and McDonalds (Takahara Minami). At that intersection, head toward the Awase Shopper's Plaza (toward the 227 or also known as Awase Bay Street).  At the second light (the road before the Awase Shopper's Plaza), turn right. After you pass Bulldog, take another right onto a smaller street (perpendicular to Awase Shopper's).  At the end of this short street, take a left. There is parking in front of the shop.
Photographs by Shu Lan Tang