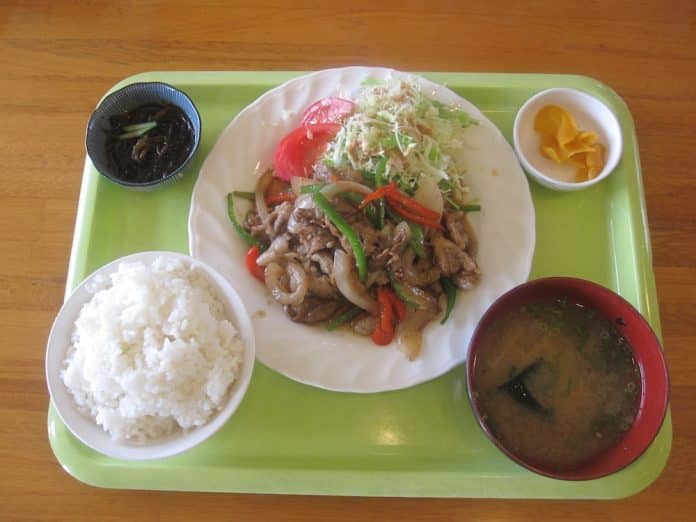 CONTRIBUTED BY MONETTE EAMES
On a recent camping trip to Okuma, we decided to see what the sleepy outskirts had to offer. We came across Michi No Eki Yuiyui Kunigami, the shopping center looking area right next to Family Mart (it's actually a road station/rest stop). You can't miss it. It has a red tiled roof which is inspired by Yonaha-Dake Peak, the highest peak in Okinawa. This place has a few restaurants (one being a shabu-shabu restaurant), a little garden shop, a tourist information center, a pretty good-sized souvenir shop with a corner dedicated to thrift shoppers (I found three nice boy's polo shirts for 100 Yen each), an ice-cream and a shave ice shop. There was also a shop for Kunigami donuts.

Kuina View
We enjoyed our time exploring and stumbled upon Restaurant Kuina. This restaurant is known for serving inobuta. We've been on island for a year now, and have never heard of this delicacy. Apparently, according to their menu, inobuta is a hybrid of wild boar and pig. Inoshishi is the Japanese word for wild boar and buta means pig and there you go! Inobuta!

Kuina Food

They found many ways to use inobuta. The rest of the menu consisted of the typical Okianwan sets. Tofu, pork, taco rice, soba, and curry rice. The veggies that were used in all the dishes were SO fresh. It tasted as if they were just picked after we ordered our dishes. The prices range from 450 Yen to 1000 Yen.
Also, don't forget to check out the stuffed Yanbaru Kuina (the Okinawan Rail). These birds are only found in Yambaru, the northern part of Okinawa Island in the Ryukyu Islands of southern Japan and is considered endangered.
Directions: Head north on 58 through Nago towards Okuma. Pass the turn for Okuma and make a left at the shopping center right after Family Mart.
From Okuma: Head out the gate and turn left on 58. Turn into the shopping center right after Family Mart.  
Hours of operation: 11:00 – 17:00
Payment types: Yen