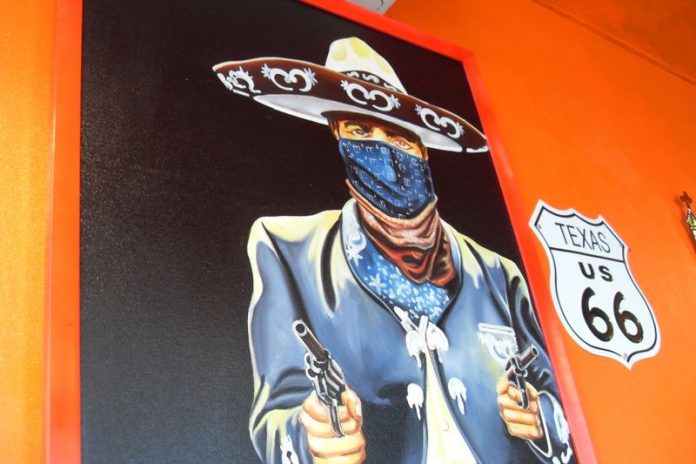 CONTRIBUTED BY DASHA GARIEPY
Bandito says, "Eat here… or else!"
I'd been here a year before I realized there was a delicious TexMex place in my neighborhood. How this little gem has missed being featured on Okinawa Hai, I'll never know. It has been mentioned in the comments on other posts, but today Mikes Tex Mex is in the spotlight.
Mikes has several things going for it: fun atmosphere, easy location, great food, and authentic Mexican beer and tequila. I know it's authentic, because I took a friend from Mexico with me the other day and she was suitably impressed with their selection. If I was a drinker, I would have paid more attention to the names that she liked in particular. Here's a sampling:
If alcohol is not your thing, never fear – the food at Mikes is muy bueno. There are not enough "yummy" adjectives to describe the food! I'm going to let the pictures below do the talking:
The chips are so fresh, I don't think they are fried until you order them. The salsa is loaded with garlic – you'll want to eat it with a spoon!

Cheese Enchilada set is Y790, which includes a drink. Yum, yum and more yum.

I would have paid fifteen bucks for these scrumptious soft tacos. Thank goodness the set was only Y890!
Lunch sets include the main dish, and your choice of either soup, salad, or drink. Large pitchers of ice water are complimentary.
One of the fun things about eating at Mikes is the atmosphere. From the life-sized cacti that beckon you in with their painted goofy grins, to the velvet sombreros reminiscent of "Three Amigos" you're sure to arrive inside with a smile on your face. And no matter what you order, you're sure to leave Mikes as another satisfied customer.
---
Mike's Tex Mex
Hours: Lunch 11 a.m. – 2 p.m. Dinner 5 p.m. – 10 p.m (Sun.-Thu.), 5 p.m. – Midnight (Fri. & Sat.)
Phone: 098-936-1022
Address: 1 Chome-11-24 Chatan, Chatan
Google Maps Coordinates: 26.307873, 127.76183430000003
Directions: A block off 58 by Camp Foster.  Traveling on 58, turn towards the ocean at the Blueberry Cafe. (Left if you're coming from the south, right if you're coming from the north. Take your first left, and then your first left again. Mikes will be on your right. It's hard to miss.