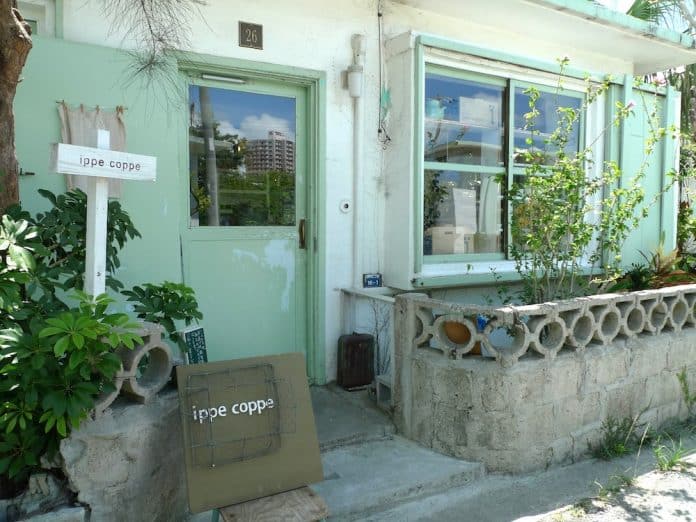 Minatogawa Address
CONTRIBUTED BY ANGI BRZYCKI
Hidden away from the chaos of the 58 in Urasoe City is an area called Minatogawa. What once was military housing for families-has become a neighborhood of restaurants, cafes, bakeries, and little boutiques. The houses are chipped and the paint is faded, but the unique and antique businesses are full of charm.
Each narrow street has been named after an American state including; Arizona, Michigan, Kansas, Nevada, and Florida. When I walked into the cafes,I couldn't help but feel like I was walking into someone's home.
Ippe Coppe Bakery has slippers at the entrance so you don't walk in with your outdoor shoes.

Minatogawa Ippe Coppe 1

Minatogawa Ippe Inside

I highly recommend the cafe/restaurant Rat & Sheep. The first time I went, the menu was all in Japanese, but the food was so good I made reservations for six of my friends the following week. When we arrived the owners created menus in English for us.

Minatogawa La Vita
I also recommend the restaurant/cafe, La Vita. There are three separate rooms in restaurant. I had a group of 14 and they accommodated us in one of the rooms. The service was great. Mostly italian food, pasta, pizza, salads. The menu is mainly in Katakana -がんばって.
 Minatogawa Bakery
Minatogawa Bakery Inside
You could spend a great afternoon exploring the various treasures of this area of Urasoe.
Which place will be your favorite?

Minatogawa Cafe

Minatogawa Cafe Outside
Address:  Rat & Sheep, Urasoe City, Minatogawa 2-13-9 〒901-2134
Phone: 098-963-6488
Hours: 17:00~24:00, Closed Sunday
Payment:  Yen Only
Address:  La Vita, Urasoe City, Minatogawa 2-15-3 〒901-2134
Phone: 098-878-9808
Hours:  Lunch 11:30〜15:00/CafeTime 15:00〜18:00/DinnerTime18:00〜22:00,  Closed Tuesday
Payment:  Credit Cards Accepted, Yen
Address:  Ippe Coppe Bakery, Urasoe City Minatogawa 2-16-1 〒901-2134
Phone: 098-877-6189
Hours: 12:30 – 18:30 Thu Fri Sat Sun, Closed Tuesday& Wednesday

Minatogawa Turn 1
Directions:  These are a bit tricky…. From Kadena head south on the 58. Once you are in Urasoe be on the look out for the かねひで (Kanehide Grocery Store) on the right hand side. On the left side of the street is the SGI (Soka Gakkai Center). Make a left at that light. Follow the road up hill and it will curve slightly to the left. This is the entrance into the Minatogawa neighborhood.

Minatogawa Turn 2
Side street parking is available all along the neighborhood. Recommend exploring the area by foot. Cafes/ restaurants/ bakeries/ salons are hidden along the narrow streets.