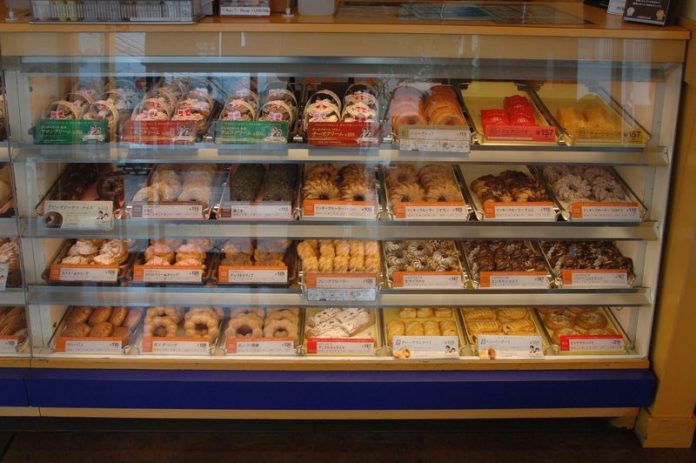 CONTRIBUTED BY LARISSA TRAQUAIR
Hands down the coolest place to get a donut on-island.  If you love good food, a fun place to eat and convenient locations on the island then Mister Donut is the place.  We discovered this sugar shack back in 1999.  This was one of our favs that we missed once we were stateside again.  What I didn't realize was that this little gem actually started in the U.S.  and was once an American icon.  This large franchise now operates mainly in Japan, the Philippines, other Asian markets and El Salvador.

What's fun about eating at Mister Donut?  For starters, the entire inside is a fun yellow-orange.  It's very clean, the service is great and you can enjoy "free" refills on your regular coffee.  You will not find a glazed, powdered, sprinkled, or regular donut as you peruse the donut case.  I love that because I can get a Dunkin Donut on base and I can visit a Krispy Kreme when I return home but I have yet to find a restaurant that serves an Angel Cream, Shrimp or Curry donut outside of Mister Donut's walls.
The donuts vary in price from Y115 – Y189 and every bite is worth it.  The regular coffee, with free refills, is Y262.  They do offer other coffee options, like iced coffee, but there are no "free" refills unless they are running a special.  Which Mister Donut has been known to do.  They also have a points system card to be turned in for Mister Donut "stuff" when you accumulate enough points.
They have also been known to stop carrying your favorite donut, without notice, and replace it with a hamburger shaped donut served with fries.  I didn't have my camera the day we saw this work of edible art and I was bummed not to catch this crazy meal digitally.  Mister Donut was working on a campaign with Mos Burger and the mini-burger donut was so cool and delicious.  The patty was made out of a Kit Kat consistency and was all things chocolate; the lettuce was green tea flavored and the ketchup tasted like berries.  The fries were a hash brown consistency and they were irresistible.  The only thing missing was a soda, which we could have ordered!
Like the mini-burger donut, some of their donuts are seasonal.  My personal favorite, the curry donut, isn't always available and this makes your eating experience different every time you walk into a Mister Donut.  I think this is what keeps us coming back and we have found friends that will change any plans they have to join us when we call.  Mister Donut is fun to visit with the hubs but it becomes a real treat when you take friends and their kids along.  We always try the "new" donut and since they usually have several flavors available we all get a different one to share.  This is a great way to get to know your friends!

If you don't have a sweet tooth like Cookie Monster or myself, then you can still enjoy some of their donuts.  They are not as sweet as their American counterparts.  The choco fashion has a great chocolate flavor without all the sugary sweetness.  I have this on authority from a sweet-toothless friend!!!
This is not just a haven for donut-lovers.  There are lunch and dinner options as well.  Many Mister Donut stores in Japan house Yamucha sub-stores that serve a small variety of dim sum. These sub-stores are usually advertised with the phrase "San Francisco Chinatown," reinforcing the chain's American image even while selling Chinese food.

Happy Eating and don't forget your camera!! 
---
Mister Donut
Special Note:  This store takes Yen only.
Hours:  Open 7 days a week from 9:00 a.m. until Midnight.
Website: misterdonut.jp
Location: There are several locations. At the corner of 75 and 224; in the American Village Jusco and out gate 5 of Kadena just before A-Price. Mister Donut is on the right.
Address: Japan, 〒904-2244 Okinawa Prefecture, Uruma, 江洲450-1
GPS Coordinates:  26.3527561, 127.82563089999996
Directions: From the Courtney area travel South on 75 and make a left at the intersection of 75 and 224 – the 224 closest to Kadena.  From Courtney it will take you approximately 15 minutes to get there.  You can't miss the brightly colored building on the corner.  Once you've turned left onto 224 you will pass Mister Donut and make a left into the parking lot.  The American Village Mister Donut is inside the Jusco on the left side of the "mall" when facing the main entrance.  This one does not open until 10a.m.