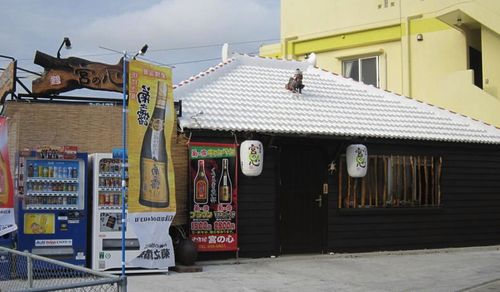 CONTRIBUTED BY AMBER PLATZ
Trying new restaurants here in Okinawa is not hard with so many choices. But I have to admit, when a new place popped up in my neighborhood that looked interesting, I got giddy with excitement to try it.  I checked the place out really quick one day just to see what it was about. I walked in and looked over the menu and knew instantly I would be back with my family within the week.
A few days later, my husband and I with our two kiddos walked to the place called Miya is Heart.  The restaurant is small and quaint. They had several of the tables with the holes in the floor and a few seating areas along the bar where you can watch them prepare and cook your food. The waitress didn't speak much English, but she really didn't need to.
They had an English menu and everything was very reasonably priced. They had food items that ranged from fried, stir-fry, broiled, salads, sashimi, sushi, Okinawan food, and rice dinners.  They also had an extensive drink menu: beer, cocktails, awamori, Chu-Hai, soda, juice and tea. We ordered quite a bit of food and everything was delicious!
The food came out relatively fast too-taco spring rolls, gyoza, fried potatoes, buttered sautéed spinach, edamame, spicy tuna roll, tuna sashimi, and onigiri.  I also had a grape Chu-Hai and my husband had two Orions. Our total bill was only ¥4000.
They had signs with Orion Beer advertised for only ¥250. I asked them did they have a happy hour, but I found out that it is an ad for Orion Mugishokunin and not Orion draft (¥450). My husband ordered one of each to investigate. He said you could definitely tell the difference. It was not as smooth, and he would probably spend the extra money to order the draft.
On a closing note, my youngest son has a fetish of going to the restroom in every restaurant he goes to. I would have to say I'm glad he did this time, only because it was cool to see. The hallway there has a glass floor with sand and shells in it. Very neat. We will definitely be heading back to this place!!
Additional note from reader, George:  The owner, Sato, used to work at an izakaya called Ufugi in Yomitan.  He is a very charasmatic sushi chef with a great relationship with U.S. Soldiers.  He recently moved and opened up Miya is Heart.  It's off the beaten path and very traditional.  You won't typically find Americans inside but sure to find very friendly locals willing to share a drink and possibly a song with you.  The sashimi is as fresh as I've ever tasted and I've lived on Okinawa since 2004.  His Orion beer is very cold and Sato is full of magic tricks.  He doesn't speak English very well but understands enough that once the Awamori kicks in you guys can communicate just fine.  This guy will give you the shirt off his back once you get to know him.  His wife and two daughters help Sato run the place.
Hours: Monday-Friday 5:30pm-1am
Payment:  They take Japanese yen and US dollars only. No credit cards.
Phone: 936-0801
Address: 169 Sunabe, Chatan
Google Maps Coordinates: 26.335353, 127.747751
Directions: From KAB Gate 1: Take a left out of gate, take your first right at the intersection with Family Mart and Pizza Inn (going towards seawall). Take a right at the first stop light (Santa Monica International School will be on your left hand side).  Continue down that road until near the end (about 1/2 km??).  It will be on your right hand side. There is a huge rock in front of the restaurant.