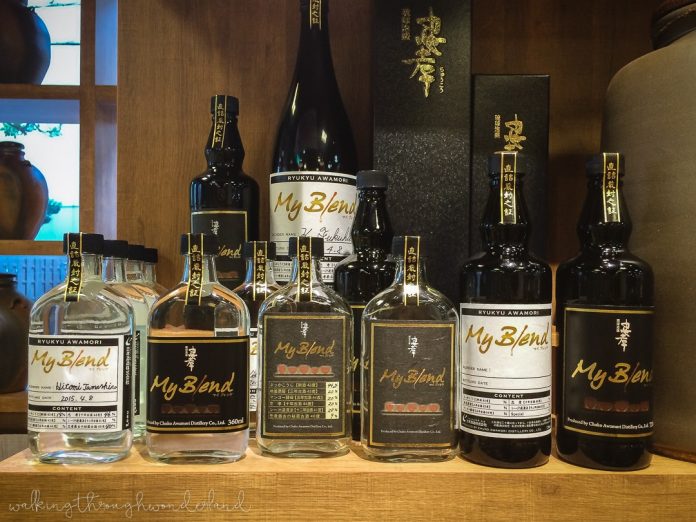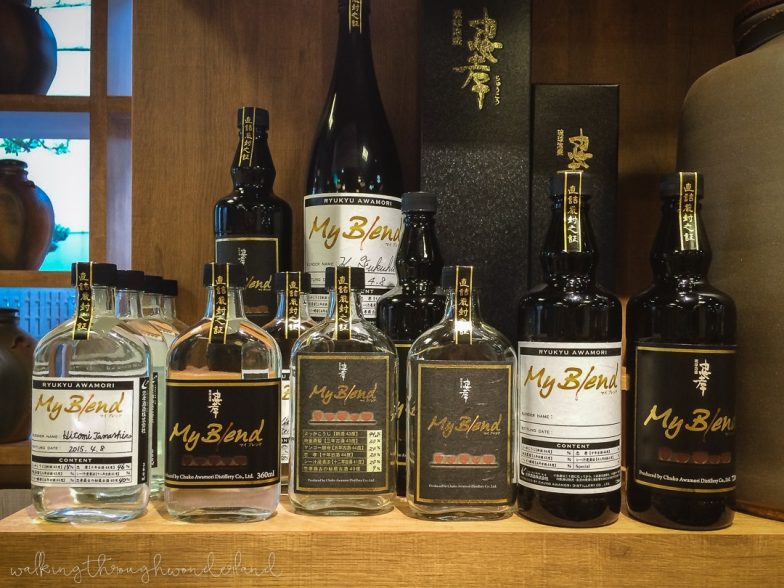 CONTRIBUTED BY MINDY MORRIS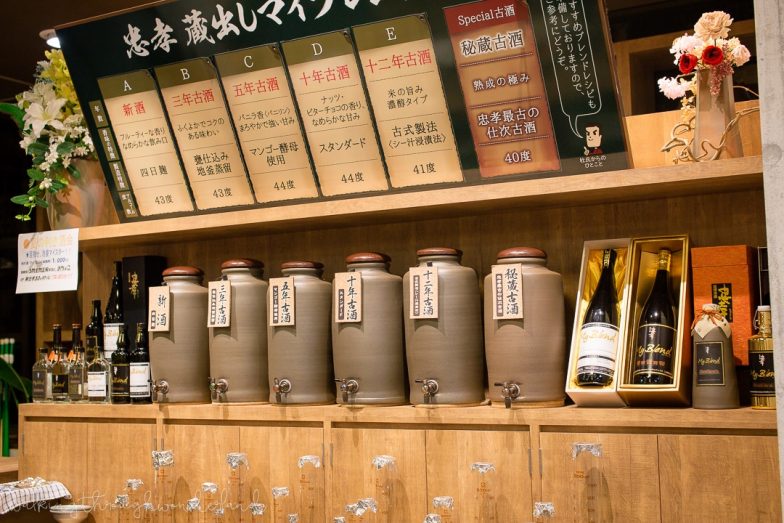 We discovered My Blend accidentally. (To be honest, I think accidentally is probably how most people find this place!) This awamori tasting shop is tucked away in the back corner of the HAPINAHA building, located on Kokusai Street in Naha.
We'd ducked in to the very kid friendly HAPINAHA one afternoon to escape the rain, and there, hidden beyond the Pokemon store and souvenir food shop, this little treasure was just waiting to be discovered.
My Blend is the first of its type on the island and a brilliant idea for those of us who balk at the shelves of awamori with no idea what to buy. For ¥ 1,000, you get to sample and blend six different types of awamori, all made locally at the Chuko Distillery and aged to a different maturity.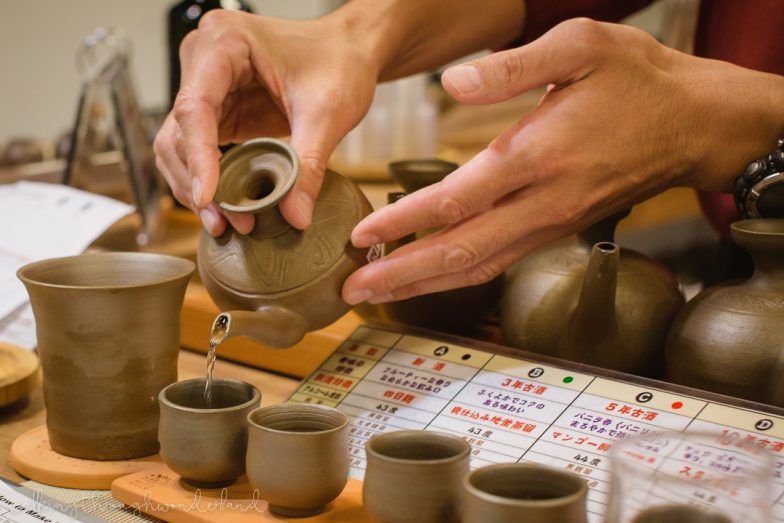 Awamori is an Okinawan variety of sake that is distilled similarly to shochu. Awamori is traditionally aged in clay vessels and served from clay pots with a long spout, called a Kara Kara. Falling in love with the pottery? I was! The sales associate told me it is all handmade at the Chuko Distillery and that it's possible to buy it there.
When you arrive you will be served five different types of awamori in clay cups, called "chibuguwa". Each cup is marked with a colored dot that corresponds with a letter. You will also get a stack of tasting cups, a pipette for blending, water, and a "Spirits Evaluation" worksheet to help you keep track of all you are tasting.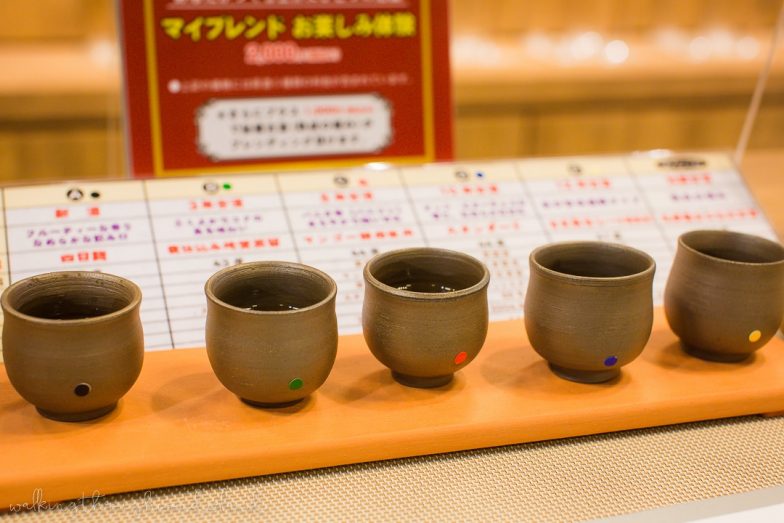 You begin by rating each of the 5 awamoris by scent. Then, use the pipette to transfer several milliliters of the awamori from the clay chibuguwa to your tasting cup and rate them again, this time, by taste. They recommend blending two milliliters of water to two milliliters of awamori, but of course this is up to you. I found myself mixing water almost 3:1 for some of them, while my out-of-town friend, who had recently discovered that she loves awamori, preferred some without any water at all.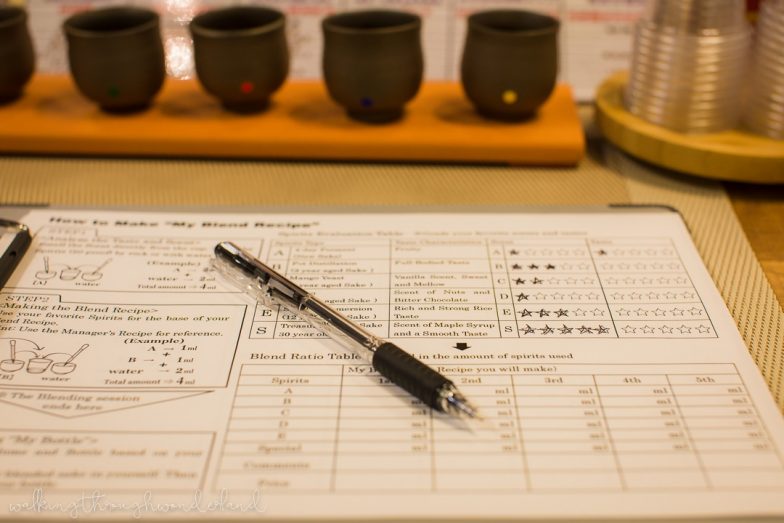 Just when you think you have a handle on your favorites… they pour the "Treasured Sake", a 30-year-old cured awamori. This one is served in a glass rather than the clay cups. I still cut it with water, but my friend sipped it as-is and loved it.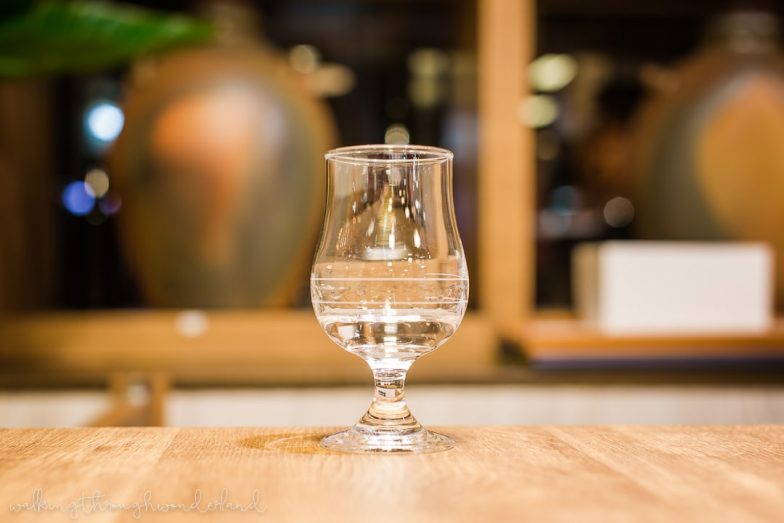 Now that you have sampled each, the educational tasting turns into a full awamori experience, as you begin blending your favorites. It's remarkable the way the tastes change as you blend the different types and vary the ratios.
The knowledgeable staff will help you create popular blends by providing you with recipe cards, but you are also free to mix and match them according to your own rating system. I blended everything I had given a four or five star rating for one blend. My favorite blend was 3 ml of Awamori B (Pot Distillation Sake aged 3 years), 1 ml of Awamori C (Mango Yeast Sake aged 5 years), and 4 ml of water.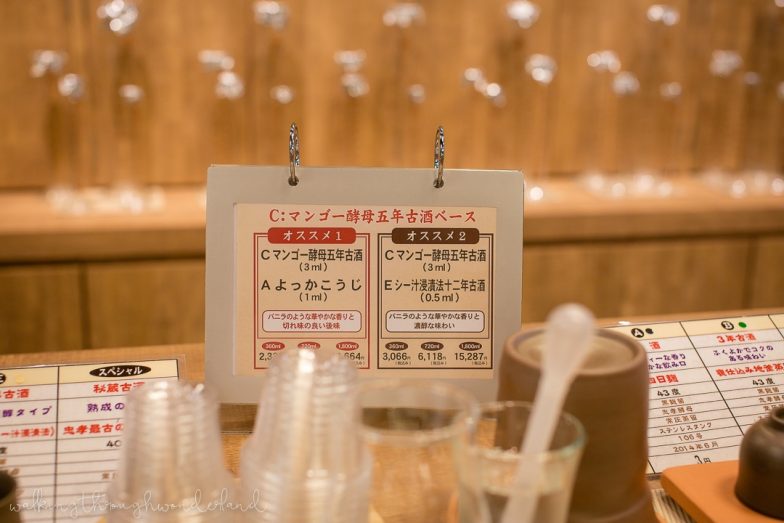 We had so much fun that a couple of weeks later I dragged my husband and one of our friends back down to Naha, promising that for ¥ 1,000, they'd have a good time and walk out with lots of new awamori knowledge.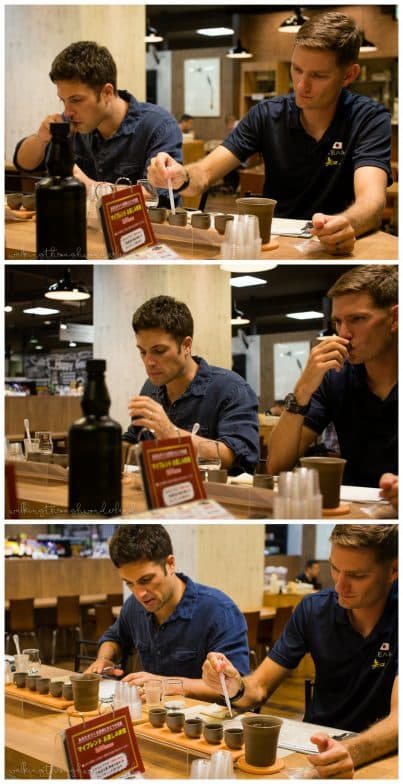 This time around we kept much more detailed tasting notes and I was impressed how seriously the boys were taking their recipes. We sat at the bar for well over an hour sampling different blends. I was snapping photos and the guys were deep in conversation with Fukuhara, our server, when my husband started circling one of his ratios and said "I'm buying this one!"
I was a little bit surprised. It's a very no-pressure kind of place, so on my first visit they had never really even encouraged us to bottle anything, and it hadn't occurred to me that we would be walking out with a bottle. Our friend also decided to buy his favorite blend. I was concerned that it might be a bit pricey, especially because they both included the "treasured sake" in their recipes. Prices are determined by the amount of each awamori (all priced differently according to age) and the volume of the bottle you select.
As Fukuhara input the formula my husband had created into the iPad, we all had our fingers crossed. After he selected the 360 ml bottle, the price came to ¥ 4,080 (about $35.00) Not bad for a custom blend! And just like that: we were in the blending business!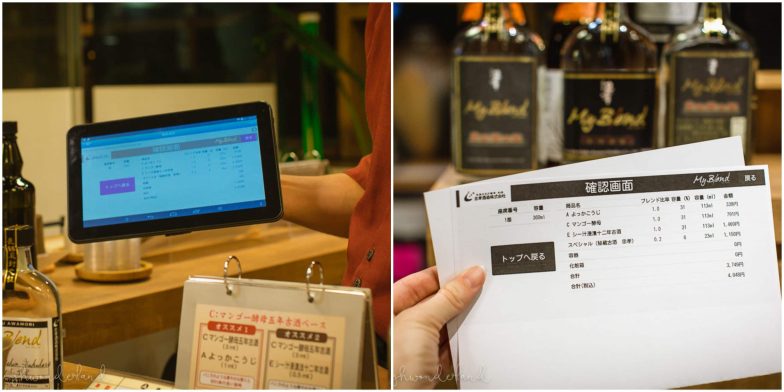 Turns out, the blending is just as much fun as the tasting. Fukuhara filled beakers from the giant clay vessels behind the bar, while the guys picked out labels for their bottles, (they have five to choose from, so you can customize the look of your bottle).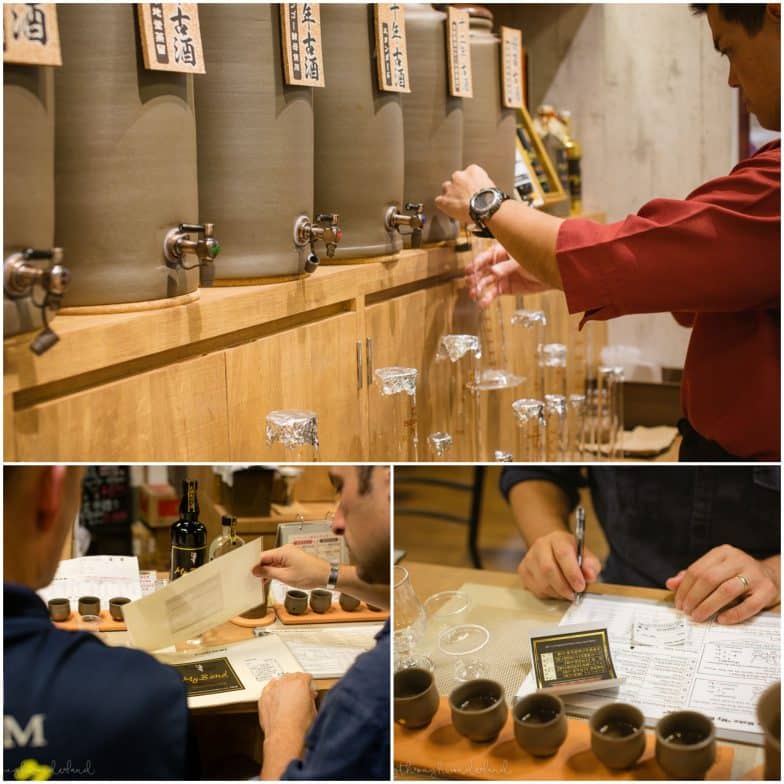 Then Fukuhara lined up the beakers and the guys poured them through a funnel into their respective bottles. Insider trick: pour slowly and try to pour directly into the bottle without letting the awamori touch the funnel. Every drop matters… especially when you're blending with the treasured sake!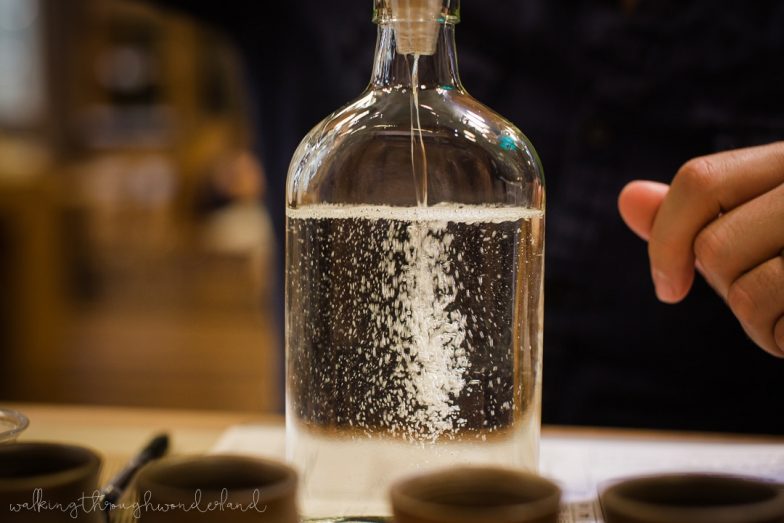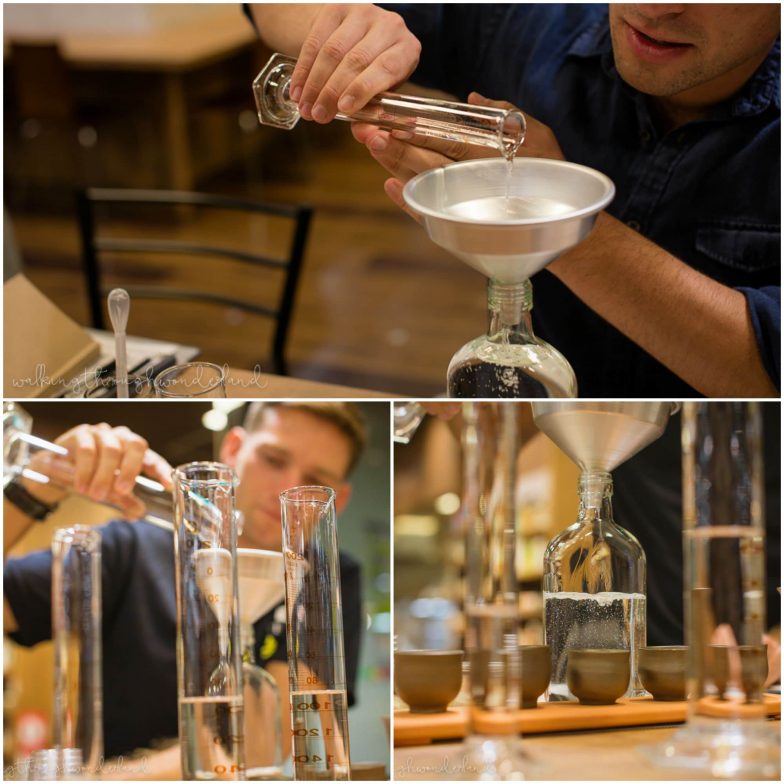 We walked out with two custom awamori blends for about ¥ 8,000! The whole experience was so much fun and I know that every time we open that bottle we will feel a certain amount of ownership knowing that this bottle would never have existed had we not spent an evening at My Blend.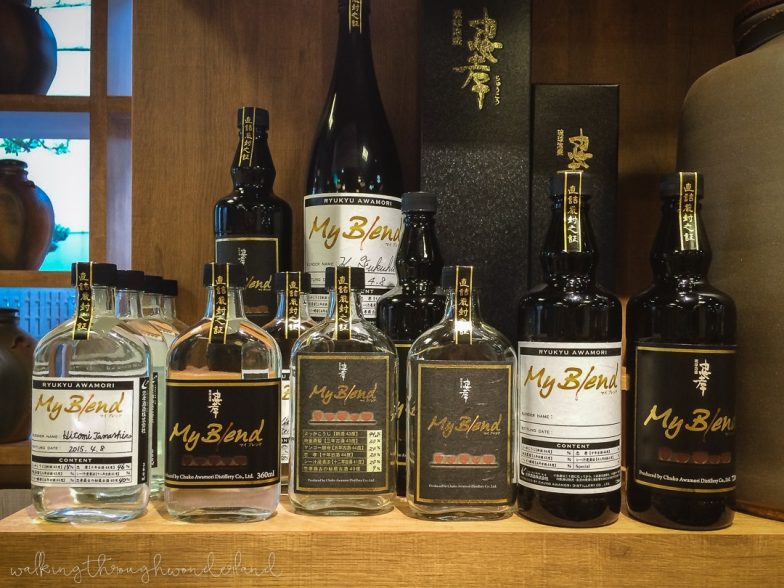 Address: 2 Chome-2-30 Makishi, Naha-shi, Okinawa-ken 900-0013, Japan
Directions: HAPINAHA is located in Kokusai Street nearly across the street from Don Quixote and a large covered market. Kokusai Street runs parallel to Highway 58 in central downtown Naha. From Camp Kinser travel south on the 58 until you see a red modern art looking sculpture at the Highway 58 and route 42 intersections. Turn left at this intersection and follow the signs for the underground parking.
Coordinates: 26.2164927, 127.68849469999998