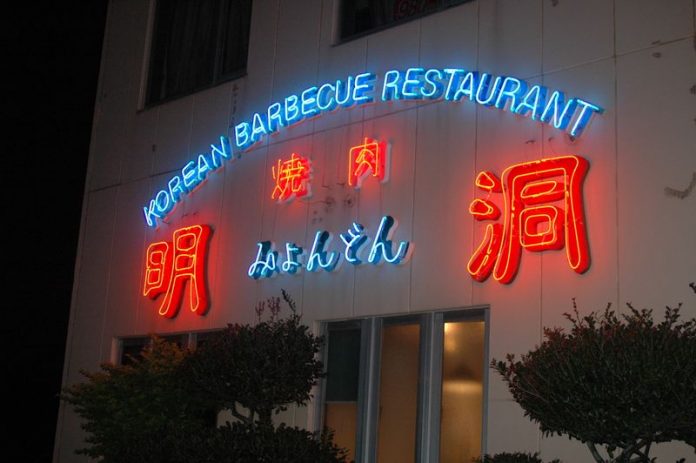 CONTRIBUTED BY LARISSA TRAQUAIR

As far as I know this restaurant was the first of its kind on Okinawa before the new kid came to town.  We were stationed here back in 1998 and we were introduced to Myung Dong our first week on-island by our sponsor.  We use to live down the street, so this restaurant was both good and convenient.  Back then I don't remember them having the ever popular all-you-can-eat option that they do now.  And that so many yakinuku restaurants offer.
The atmosphere in this neighborhood spot is very family-oriented and inviting – you can sit at your table for hours because you are not held to time limits.  And our crew likes that!  This is a great place to mingl in Okinawa and have fun.  This restaurant is a great alternative to the fast-pace, highly excited environment at most yakinuku restaurants.  And you still get to "cook" your own food!
Dinner Sets Available: The Special Dinner set includes the Kalbi meat and Prime Roast; Namul set, Hakusai Kimuchi, salad, wakame (seaweed) soup and rice for Y2,500.
Kimchi, Ariran Sprouts and Senchy
The Kalbi Dinner set includes the above items minus the Prime Roast for Y1,800. The Prime Roast set includes everything above minus the Kalbi meat for Y1,500.
Most of your food comes to your table raw and you cook it to your liking.  Items like the soup and rice are obviously cooked and ready for you to eat when they arrive at the table.
You order drinks separately and you use the push-button bell to request service.  Your bill will come in the form of a hard-plastic credit card on steriods and you take it to the register to pay.
Thanks, Jenny, for giving us a great visual of what to expect!
Side Dishes:
Sang Chu is Korean lettuce and at Y470 I highly recommend it as a great addition to your meal.  Back in the states we would grillbulgogi meat at home and buy the red-tip lettuce to use in the wrap-style eating.  We add steamed rice and a sauce of our choice – it's easy to make and really yummy.
Myung Dong has a large menu of items to choose from – you are only limited by your stomach's capacity! And if great food isn't enough to get you out of the house then bring along some fun friends to make the meal even more enjoyable.
Happy eating and mingling!
---
Myung Dong – Korean Yakinuku Restaurant
Payment:  This restaurant takes Yen, American Dollars and credit cards with English menus.
Phone: 098-926-1388.
Hours:  Open 7 days a week from 11:30a.m. until 11p.m.  The lunch menu is slightly different from the dinner menu.
Address (updated from the comments below):  4 Chome-6-1 Makiminato, Urasoe-shi, Okinawa-ken, Japan
Google Maps Coordinates: 26.2649425, 127.72678329999997