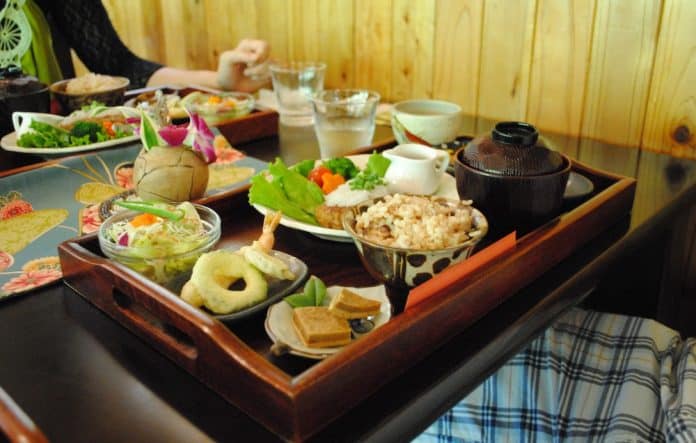 CONTRIBUTED BY ASHLEY MORALES
My friend decided to take me out to lunch for my birthday. She chose the restaurant Nana Iro no Niji.

Nana Road
The restaurant is hidden in a valley surrounded by a range of small mountains in northern Yomitan. The scenery around Nana Iro no Niji is refreshing. There is a pond that customers can walk around and over (by bridge). Inside the restaurant, there are large windows for seated customers to view the beautiful nature around them. My friend stated that tourists like to visit this restaurant, as it is advertised by travel companies.

Nana Food
Meals are traditional Japanese sets. The set that we ordered had the following: hamburger steak with daikon, miso soup, cooked brown rice, a few pieces of tempura (shrimp and vegetable), cooked pumpkin, salad, and steamed seaweed. Each member of our group commented on the deliciousness of his/her set.

Nana Sign
Directions:  To get to Nanairo no Niji, drive north on route 58. Next, you will turn left onto route 12. Follow route 12 until you see a Coco grocery store (on the left). Turn right at the small road across from this store. The sign for Nana Iro no Niji is at the front of the road and is in Japanese; it should look like this: 七色の風.) (There will be a yellow apartment building on the left side of this small road as you are making your way toward the restaurant.) Follow this road and it will lead to Nana Iro no Niji.
Hours:  This restaurant is open everyday (except Monday and Tuesday), from 11:30am to 5:30pm.
Phone:  090-3797-3022.
Prices:  Meal set prices range from Y 1,380 to 1,580 yen.
Payment:  Yen