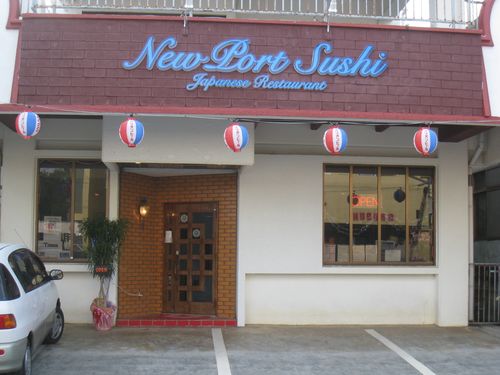 Editor's Note: Newport Sushi was originally reviewed on Okinawa Hai on March 23, 2001; you can read a PDF copy of that original review HERE. The post below is an updated take on this attraction, published September 22, 2016.
CONTRIBUTED BY NICOLE RUSSELL
Newport Sushi is very close to Kadena with English speaking staff and delicious sushi. My husband and I recently came to the island and loved this place!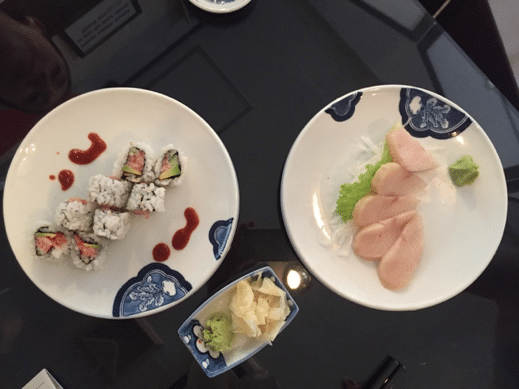 The food was absolutely delicious and reasonably priced. The menu was extensive with plenty of choices of sushi, as well as salads, and hot dishes (soba noodles, and other typical Japanese cuisine). We chose sashimi and sushi rolls, trying salmon and tuna rolls, and yellowtail sashimi. The yellowtail tasted so fresh!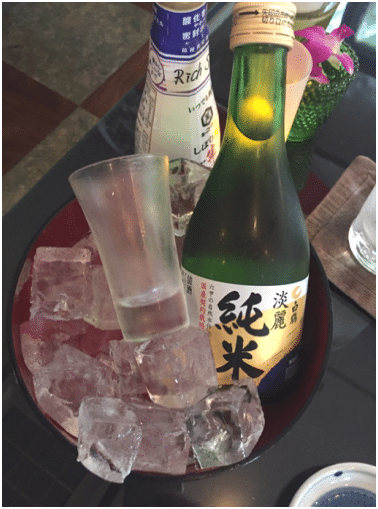 There are alcoholic and nonalcoholic beverages available. I've never seen saki presentation like this and they did not disappoint. The saki bottle that we ordered came out in an ice bucket with a saki glass laying on top. They gave us a great recommendation based on our preferences. I also had the iced green tea and it was delicious.
The service was great and our waiter gave us great recommendations. They do take reservations, walk-ins are welcome, and take out is available. Family-friendly with highchairs available. This is a bigger sushi restaurant than many in the area with dining in the front and a bar in the back. Very clean and modern feel.
We would definitely go back again.
---
Newport Sushi
Hours:
Mondays: 14:30-22:00
Thursdays: 16:00-22:00
Fridays-Sundays: 14:30-22:00
CLOSED Tuesdays and Wednesdays
Payment:  AMEX, Visa, Mastercard, Discover, and Yen
Phone:  098-926-0537
Facebook: https://www.facebook.com/newportsushi/
Address: 614-6 Kuwae Chatan Cho
Google Maps Coordinates: 26.3227744, 127.7706778
Directions: Turn left out of Gate 1 Kadena.  Head south on Highway 58, turn left on Kokutai road (Hwy 23). You will come to a white pedestrian overpass. Turn right at this traffic light and "NEWPORT SUSHI" will be located on your right (past Yoshi Hachi's restaurant). 614-6 Kuwae Chatan Cho.
Parking: There is a small parking lot with 4-5 parking spots in front of the restaurant. We opted for a Panda Cab since we hadn't even bought a car yet and we were planning to drink a little saki!