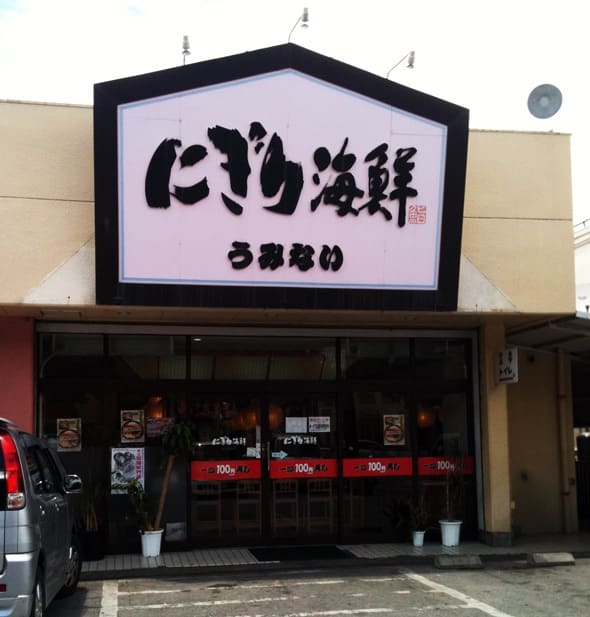 CONTRIBUTED BY KATIE CLARY
When I lived in Okinawa as a kid, I thought that Sushi-go-Round restaurants were the coolest thing in the world. What an inventive idea! I love being able to see my food before I choose it, and sushi is already one of my favorite foods. Coming back to Okinawa as an adult slightly changed my perspective. I visited an old favorite "Kaitenzushi" (the Japanese word for Sushi-go-round) restaurant in American Village, and it was a lot more expensive than it used to be (when my parents were paying!). Plus, it takes about 40 minutes to get there from my house, and I tend to forget I'm hungry until I'm ravenous.
I thought we would never go to a Kaitenzushi restaurant again, until my husband and I heard about the ¥105 Sushi Go Round. Not only is it less than 10 minutes from Courtney AND McT, but it's cheap, and has really good sushi!
The full name of this restaurant is Nigiri Uminai. The first word, Nigiri, is the name of the style sushi that has a piece of sashimi sitting on a little ball of sushi rice. The second word, Umi, means ocean. To be completely honest, I have no idea what the last part of it means. If anyone speaks more Japanese than I do, please feel free to let me know! To keep it simple, I just call this place Nigiri Sushi, for short.

Nigiri Sushi
Like any sushi-go-round, Nigiri Sushi has both a bar area and booth tables organized around a moving track full of individual plates of sushi. You are free to grab whichever plate catches your eye, and at the end of your meal, your price will be calculated by tallying the number and type of plates on your table. There is also ice water and hot green tea available at your table, via tea packets and a hot water spigot at the table.
If you sit in the bar area, a sushi chef in the middle of the tracks can take special requests for you, and make them right in front of you. If you sit at the booths, however, there is a really neat touch screen computer system that will allow you to special order sushi, drinks, desserts, and even some assorted side items. Everything is written in both Japanese and English, and it's really intuitive. Even better, when your order is ready, it wheels out to your table on a little race car or airplane!

Nigiri Screen
This is a great family friendly restaurant to go to. It's better if everyone going likes sushi, but there are a few other things available as side items. They usually have small bowls of soba, fried chicken pieces, potato wedges, and some assorted dessert items. There are a few things on their menu that are a little more than ¥105, but they are still fairly cheap. (Sometimes the desserts are expensive, and they offer beer for a higher price as well.) We usually leave completely stuffed for under ¥2,000 for two adults, including a few sodas.
Directions:  From Camp Courtney, simply take a left onto Route 75. You'll cross through 3 stop lights before seeing Nigiri Sushi and the Tsutaya movie/music store on the right.  From McTureous, take a right out the gate onto Route 8. From there, continue straight for a while. Take a left onto Route 75 just past the KFC and Lawson. Drive one block north, then turn into the Tsutaya parking lot on the left, and Nigiri Sushi will be at the far end of the parking lot.