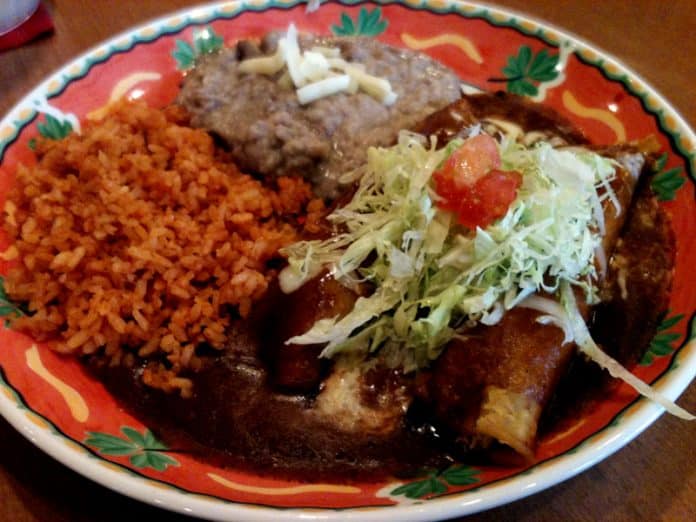 CONTRIBUTED BY KATIE CLARY

Obbligatos Front
I remembered from my first stay on Okinawa that Mexican food is few and far between in Japan. Other than the numerous taco joints scattered around, the only authentic Mexican restaurant chain is Obbligato. They have several branches: one in Uruma, one on 58 between Kadena and Lester, an Oblee in Yomitan near Torii, and a new restaurant called the Tortilla Factory near Foster. I was very pleased when I found out that my apartment on Courtney was less than 5 minutes away from the Uruma store! Depending on where you live, you could even walk there on a nice day.
For as long as I can remember, I have been a huge fan of Mexican food. I've been fortunate to have spent most of my time stateside in Oklahoma and Illinois, both of which have very good, authentic Mexican food. That, combined with my fondness for good tequila, makes me a bit picky about Mexican restaurants.
I'll be the first to admit that Obbligato is a little bit Japanesey at times. For example, most of the lunch menu items include an egg over easy, and some white rice. My friends and I all think that the salsa tastes a bit like marinara sauce, too. Their biggest faux pas (in my opinion) was the fact that their margaritas are made with whiskey, and not tequila. (Shenanigans!) But for the most part, the food is pretty good; probably my favorite Mexican food on Okinawa. 
Some dishes are more authentic than others, like the Enchiladas Mexicanas that I had for lunch today. The enchilada sauce is a bit milder than you would normally expect, but I like it, and the meat inside is well seasoned. This particular set cost ¥650, and includes two enchiladas, one ground beef and one shredded chicken; a choice of beans or mole; and Mexican rice.

Obbligatos Food
They have a good variety of food to choose from, and all my favorite Mexican foods are included. They have chimichangas, tacos, taco rice, mole, carnitas, and a lot more. Everything is reasonably priced, too. Lunch items tend to cost ¥800 or so, and some of the bigger meals are a little pricier, but usually aren't more than ¥1,200 or so.
Obbligato also sells their fresh, homemade flour tortillas at all of their locations. They come in packages of 6, and there are two sizes that I'll call taco sized and burrito sized because I forgot the measurements. They are definitely more expensive than the El Paso brand at the commissary, but sometimes it's nice to splurge on fresh stuff.

For take-out, you can phone your order in ahead.  The staff speaks very good English, and usually your order will be ready by the time you drive over there.
Website:  http://www.obbligato.co.jp/
Payment: Dollars and Yen
Locations:  

Uruma (Location mentioned above):
Directions: From Courtney, turn left onto Route 75. Obbligato will be on the right just past the first stop light at the Family Mart.
From McTureous, turn right onto Route 8. When you come to Route 75, turn left. Obbligato will be on the left.
Phone: 098-972-4220.
Hours: 11:00 am – 10:30 pm every day.
Oblee in Yomitan:
Directions:  From Torri, take a right on 6 out of the main gate. Follow the first signs that say "To 58" Obllee will be on the left side of the road.
From Kadena, take a right on 58 out of gate 1. At the light past McDonalds take a left. After you cross the bridge, Oblee will be on your right.
Phone: 098-956-7420
Hours: Mon-Fri: 10:00 am – 11:00 pm; Sat & Sun: 7:00 am – 11:00 pm
 
Chatan:
Directions: From Kadena, take a left on 58 out of gate 1. Obligato will be on your right before you reach American Village. 
From Foster or Lester, take a right on 58. Obligato will be on your left after you pass American Village. 
Phone: 098-926-1888
Hours: 11:00 am – midnight every day.