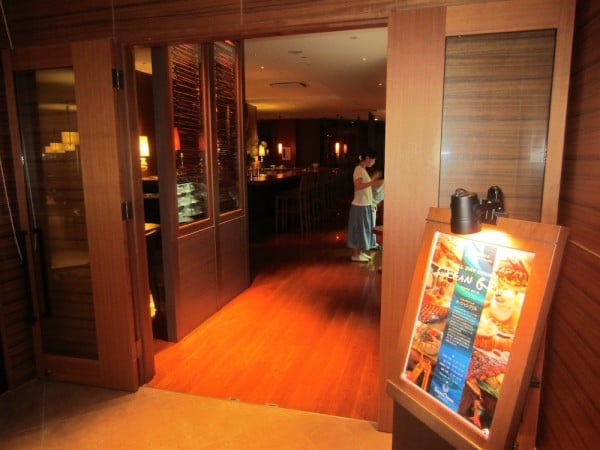 CONTRIBUTED BY MARIE LEWIS
The upside to my husband's participation in so many golf tournaments is that sometimes, he wins something really cool. This time it was a free night's stay at Moon Ocean Ginowan for us and two of our friends in a two-bedroom suite. The room was exceptional, and since our accommodations were free, we thought it would be okay to spend a little more than usual for dinner and try out the hotel's Ocean Grill, located adjacent to the lobby on the hotel's first floor.
Before going to dinner, we were treated to a free Hawaiian luau show in the courtyard for all the hotel's guests. It seemed to cater more to the children in the audience, but it was a charming prelude to our meal and the atmosphere was quite relaxing.
Walking into the restaurant, we first passed the pristine-looking bar.
We were led to a comfortable table away from the few other guests. With plenty of available tables, I felt like we had our own little private corner of the place.
The menu gave me a little bit of sticker shock: 4250 yen for a steak seemed pretty steep to me, but I figured we would pay the same at a fancy restaurant in the states. And we had the free room … rationalization accomplished.
Other items on the menu fell into the following price ranges: appetizers 800-1600 yen, salads 900-1200 yen, "Ocean's Favorites" (i.e. ribs, burgers, kebabs, other steaks) 1450-5500 yen, meat & seafood combos 2850-2950 yen, seafood 1600-1950 yen, desserts 380-1200 yen.
My husband ordered the sirloin steak. He had no complaints about the way it was cooked. Not the best steak he's ever had, but satisfying nonetheless.
My friend and I both ordered whitefish topped with tomatoes and cheese (although the cheese seemed more like a sauce to me, it was slightly sweet and I loved it).
The last in our group ordered grilled mahi mahi with herb sauce.
Soup, salad, and a (noticably small) side of vegetables were included with the entrees. All in all, we thoroughly enjoyed the food. We did, however, spend significantly more than we normally would for dinner (roughly $80-90 per couple). We did order two appetizers for the table to share, and we each had a glass of wine with dinner.
There were two highlights for me: one, the wine I ordered was delightful. I have had a terrible time trying to order wine at local restaurants, finding that many places (at least those I've visited) serve watered-down "wine" that's barely drinkable. Maybe I'm a bit of a wine snob, but if I spend 600-800 yen on a glass, I expect it to be decent. This place, for me, was one of the few places that actually delivered.
Second, although I wouldn't be comfortable spending that much money on dinner on a regular basis, I really enjoyed the atmosphere of the restaurant. It felt spacious and quiet. It was a great time to unwind and enjoy good conversation with close friends. At times I tend to feel cramped in small, crowded restaurants with loud patrons (albeit with great food), but Ocean Grill was a nice change of pace.
If you're looking for a quiet date night spot and the prices aren't a deal-breaker for you, I would recommend Ocean Grill. The full menu is in English and Japanese, the service was prompt, and I left feeling satiated and relaxed.
Final note: the buffet breakfast was fantastic! I don't recall what the price was per person because brunch was included in our free stay, but there was a wide variety of hot and cold food, both Japanese and American-style. I was too busy stuffing my face to take any photos, but that's how much I loved it! (There was also a much larger crowd of patrons in the restaurant for breakfast.)
Hours: Breakfast 7:00 a.m. – 10:00 a.m. (Last order 9:30 a.m.); Lunch 11:30 a.m. – 2:00 p.m.; Tea 2:00 p.m. – 5:30 p.m.; Dinner 5:30 p.m. – 11:00 p.m. (Last order 10:30 p.m.); Bar open 5:30 p.m. – 11:00 p.m. (Last order 10:30 p.m.)
Payment: Yen or credit card
Phone: 098-890-1110
Directions: From the Foster commissary gate, turn left onto route 58. Drive south on 58 until you reach the Ginowan bypass. Make a slight right onto the bypass. You will pass Round 1 on your left and the Convention Center. Moon Ocean Hotel will be on your left just after the Convention Center.  At the intersection where you see Moon Ocean on the left, make a left at that light and then turn right into the hotel parking lot (you should see a sign). The restaurant is inside to the right, past the reception desk.
 Website: Moon Ocean Ginowan Hotel (Ocean Grill information included here)