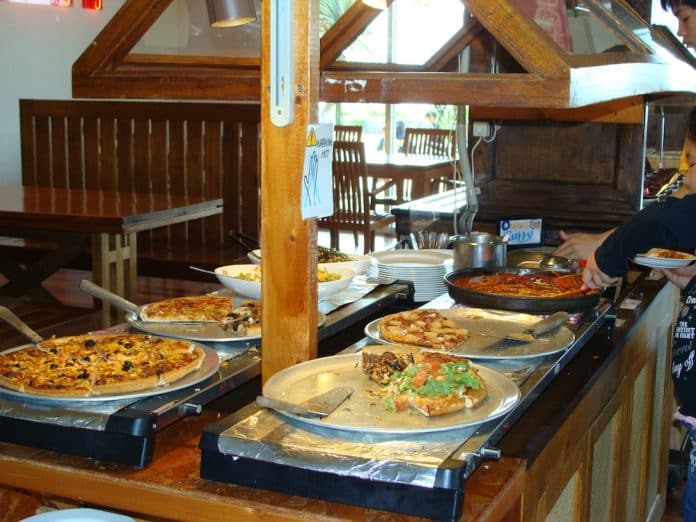 CONTRIBUTED BY MELISSA NAZARIO

Oceans Pizza Booth
Suppose you met a couple of Okinawa newbies (or, you're that Okinawa newbie), still bubbling with excitement and ready to explore and find adventure on this tropical island. And, suppose at the top of their To Do List was to try some Japanese interpretation of American cuisine, to be able to eat a lot of yummy food without spending a lot, and to check out one of Okinawa's beautiful beaches. All at the same time. Oh, and they don't want to "pull out yen" from the ATM. Very particular newbies, aren't they? There are two possible responses:
"Nay, nay, you aim too high. Such a place exists only in myths and dreams, and the occasional popular fiction novel."
or
"Aye, my dear newbies, I know of the most perfect place, in the village called Yomitan. It sits next to the ocean, indeed, is named after the ocean, and as you sit on the patio and drink in the atmosphere, you can fill your gullet with all-you-can eat Japanese-American fare, for the cost of a crisp Andrew Jackson between the two of you. There's a salad bar and soup for starters. Taco rice and pasta and the main attraction, pizza. Green tea, iced tea, coffee and soda. Grape juice and Shikwasa lime drinks. The mini muffins are tasty and the fruit is sweet."

Oceans Pizza View
You, of course, being the experienced Okinawa excursionist that you are, choose the latter response. But you don't even tell them how amazing this pizza is–that the thinner crust is both crispy on the outside, and chewy under the cheese. Just hint that they can find typical American toppings, like pepperoni and sausage, favorites like ham and Okinawan pineapple-topped Hawaiian pizza, and more exotic flavors, like Teriyaki (which has ham, potato, onion, Teriyaki sauce and mayo, and seaweed strips), or even dessert pizza (with cinnamon, fruit, and cereal).

Oceans Pizza
DO tell them to bring American dollars, since the exchange rate is favorable ($1.00 = 100 Yen). DO also tell them that they should get a ticket for the buffet at the register before they eat, but pay at the end (they may BE newbies, after all, but they don't have to LOOK like newbies). Also, DO mention that they can ask the staff to make more pizza for the buffet, if it's run out or if they don't see Teriyaki or Hawaiian pizza (which are a MUST TRY), or some other flavor they make. And, DO suggest they go a little before sunset, not only for the spectacular view, but also to avoid the heat during the day.

Oceans Pizza Pasta Bar
Website: /www.oceanspizza.com
Phone: (0)98-958-7711; English (as per website): (0)90 3794-5459
Hours: 10:30 am — 9:00 pm. Seems to be open every day.
Payment: Cash only, dollars or yen. Their exchange rate is really good: $1.00 = 100 Yen. They only give change in yen, so there is some rounding that happens if you pay in dollars.

Oceans Pizza Sign
Buffet Prices (includes salad bar, pizza, pasta, soup, taco rice, curry, and free refills for more than 10 kinds of drinks):
Adult: ¥980 or $10 USD
Senior (65 years or older): ¥800 or $8
Child Age 10-12: ¥735 or $7
Child Age 7-9: ¥630 or $6
Child Age 4-6: ¥525 or $5
Child Age 3: ¥250 or $2
Beer, margaritas, gourmet coffee (such as lattés and macchiatos), cookies and other menu items cost extra. Gourmet coffee items range from ¥300 to ¥420. Cookies average around ¥150 each. Pizza can also be ordered for takeout, but is pricey–ranging from ¥1575 for a small to ¥2940 for a large.

Oceans Pizza Exterior
Directions: From Kadena Gate 3, make a left at traffic light onto 74. Drive for 2 km, then turn right at the intersection with the big dragon statue and street signs pointing toward Kadena Town. Go until you get to the intersection of 58 (you'll see a Starbucks and a Caremax gas station on the corners), and make a right on 58. Follow down until you get to 6, where you must turn right or left; make a left (toward Zanpa Beach). Pass Torii Station and keep an eye out for a Lawson convenience store next to a blue highway sign that reads "Zanpa Beach, Zanpa Lighthouse, Zakimi Castle Ruins, Nirai Beach". At the next traffic light after that sign and Lawson, you want to follow the road that veers left (there will be a sign at that light for "Gala"). Follow this road until you see an intersection with a white billboard for Gala and a lime green arrow pointing left; make that left. You're pretty much following the signs for Gala from here on out, as Gala is next door to Ocean's Pizza. There will be a right 90 degree curve in the road, another intersection with a sign to turn left for Gala, Ocean's Pizza, and Hotel Murasaki Mura, and after you pass the red Hotel Murasaki Mura, another spot to turn right with signs for Gala and Ocean's Pizza. You'll start to see the ocean to your left and eventually, a long plaza of shops and restaurants to the right. Ocean's Pizza and their parking lot are at the very end of this long plaza, next to Gala.