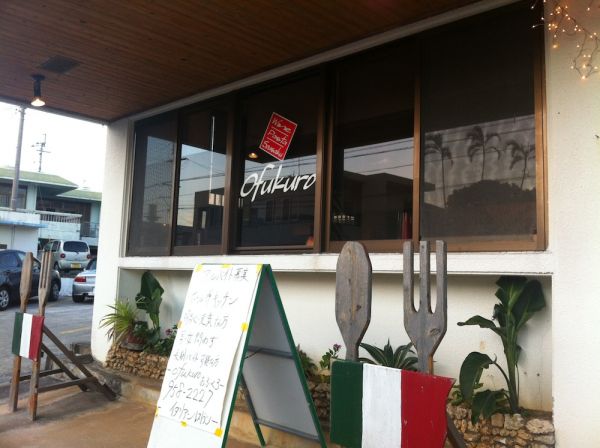 CONTRIBUTED BY LAURA WALKER

Ofukuro Exterior
Craving that Italian bistro from back home? I've found the perfect fit in Yomitan. Ofukuro is a chic restaurant that is full of metropolitan charm. I drove by this place so many times staring at the big window wondering what kind of cuisine might await me.
When I stepped inside, I was not disappointed. The décor is similar to a rustic bistro including a bar full of various liquors. Ofukuro has an extensive menu in both English and Japanese. Options range from a collection of compari cocktails, many European wines, (including the house wine by the glass for 500 JPY) and a fabulous menu that will please any foodie.

Ofukura Interior

Ofokura Special
Appetizers include avocado dip, bruschetta, cheese plates, and more. Besides the special entrees of the day list on a chalkboard menu, they always serve salmon, beef, chicken, pasta, and pizza . I noticed several people dropping by just to get their carry out pizza. I couldn't help but stare at the boxes in envy as they carried that heavenly aroma out of the door.
We decided for the evening to enjoy a cheese plate, the greatest Caesar salad of my life, red snapper, and a glass of the house red. Every dish was perfect! The cheese plates had a wide selection for Okinawa and provided dried fruit and savory breadsticks. The Caesar salad was anything but bland. The large stack of greens was covered with a house made dressing, bell peppers, chicken, and hard boiled eggs. I know its not your typical salad but it was awesome!

Ofukura Salad
The red snapper was buttery and cooked to perfection. I am so happy to find this hidden gem of a restaurant. The best part was the total including 2 glasses of wine was 3,000 JPY (entrees ran about 700-900 JPY). The evening was the perfect date night!
Address: 1819-2, Nagahama, Yomitanson, Nakagami-gun, Okinawa, 904-0324
Phone: 098-958-2227
Hours: Open for dinner Monday – Saturday, 5 pm – midnight
Payment:  Credit cards (mastercard, visa, discover) and Yen are accepted.
Directions: From Kadena take the 58 north. Take a left on the 6 and continue past Torii station and the sign for the 12. Ofukura will be on the right with two giant sets of fork and knives (this is before the Mintama target sign). The Sign is in English "Ofukuro" and parking is to the left of the restaurant.
This article was featured on Stripes Okinawa!