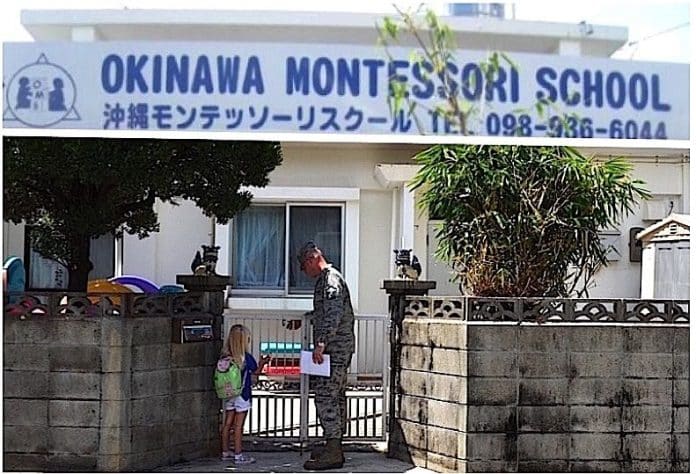 Editor's Note: We published a new post about OMSI in April 2013, and that can be read HERE for a more recent perspective. We have closed comments on this post but welcome your comments on our newer post.  Thanks!
For all you parents looking for a preschool that suits your kids, we're hoping to add a little something to aid in your search. Parents of children who attend various preschools on island have filled out a series of questions about the schools for the benefit of the rest of us. We welcome more than one voice on each school since everyone has a different experience, so please feel free to add in your two cents in the comments.
If your child attends a school that has not been reviewed on this site, please contact our Submissions Manager for the template.
CONTRIBUTION NOTE: This post was originally published on March 5, 2007 with many thanks to LAN for providing the initial information.  On February 1, 2010 ROSIE gave us some updated information and her thoughts on the school as well.
Address: 1-348 Miyagi, Chatan, Nakagami District
Phone:  Ms. Aida (098) 936-6044 or (090) 8911-6044
Email: admin@okinawamontessori.com
Website: https://okinawamontessori.com
Ages Accepted: 2.5 to 6 years
Ages of Your Kid(s) in this school: son, almost 3 years old (Lan);2.5 – 6 (Rosie)
FINAL COMMENTS AND OBSERVATIONS ABOUT SCHOOL: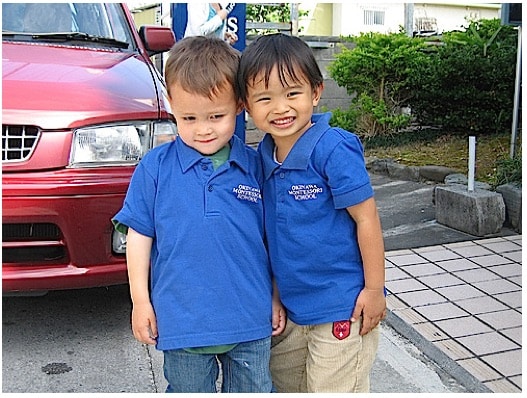 From Lan: After 2 months of attendance, I'd have to give this school a thumbs-up. They dealt with my son's separation anxiety appropriately, he seems to have plenty of stimulation at school, they teach politeness and considerateness, they encourage outside play, and the special events at holidays and field trips are fun.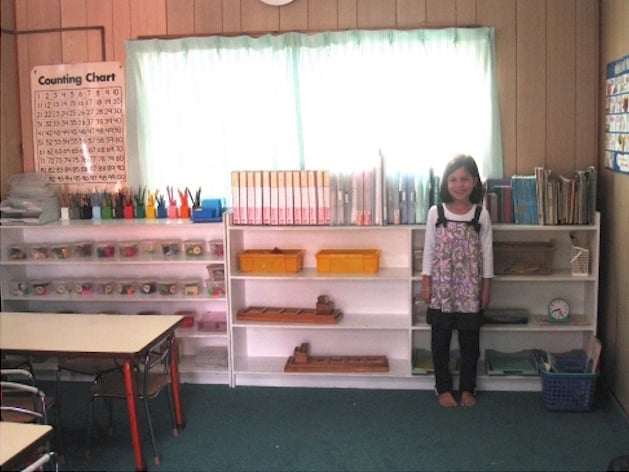 Rosie (February 1, 2010)
The school has two big events during their school year. In the fall they have Sports Day and also have a year end program and graduation. Both are great and the children perform numbers in English and some Japanese. OMS offers summer programs as well.
LLC (March 17, 2011 @7:19pm)
I currently have a child at Okinawa Montessori and could not be happier. We have been there almost a year and a half. My daughter started when she was about 2 and a half. The teachers are very organized and the program is very structured. My daughter has learned a ton both academically and socially while there. I recommend it without hesitation! It is truly the thing I like the most about being on Okinawa.
Tracie (August 4, 2011 @ 7:26pm)
I highly recommend OMS! Two of my children attended over the course of the last four years. They attended 1/2 day which was perfect for developing literacy and math skills through a variety of experiences. It was beneficial for my son because it taught him how to "do school" such as follow the rules, socialize, and follow through with activities. My daughter flourished in the academic atmosphere. OMS helped with everything from potty training to teaching them to read and write. Both kids worked at their own pace and developed a love of learning. I am grateful to the patient, amazing teachers at OMS. Another great feature is the comraderie among parents–from attending various school events: field trips, sports day, Halloween at the Park, holiday program, Easter Egg Hunting, and the End of the Year Program. If you are looking for half or full day school for your little ones, you should check out OMS.
Mom Of SmartKids (February 6, 2012@11:19pm)
There are only 2 authentic Montessori schools on Okinawa. OMS and East-West Montessori School. The term 'Montessori' does not have a copyright, anyone can open a school and call it a Montessori. You need to ask and check that the school is affliated with either AMS (American Montessori Society) or AMI (Association Montessori Internationale). The difference between OMS and East-West (based on my personal inquiry), is that the lead teachers of East-West got their certification via online distance learning. While in OMS, the lead teachers got their certification hands-on and on-site in the US. While online learning may work for other fields, for me, it does not translate well in teaching, particularly, where the need to experience interacting with children is very important.
Okimom (March 14, 2012 @ 7:52pm)
We are about to leave Okinawa after 3 years and Okinawa Montessori is the thing that we will miss the most. The academics are excellent. My 3 year old is reading. And the teachers truly care for the kids. The teachers ensure that the children behave. Hitting is not tolerated and the thinking chair is very effective. The school is small, so they don't encourage parent volunteering, but on party days, parents are welcomed. I would highly recommend OMS. It will give your child an unbelievable foundation for his or her education.
Michele (May 16, 2012 @ 6:29pm)
As an elementary school teacher with a Montessori primary certification, I can tell you I am very pleased with OMS. A true Montessori education means that each child advances at their own rate. For some, that may mean they are ready and willing to read in preschool. It isn't a requirement or an expectation. A quality school has the ability to meet each child "where they are". One of the things that I really like about OMS is that they provide a "prepared environment" to facilitate different kinds of learning. The teachers are traditionally trained, which is important in a Montessori school. All this adds up to the high number of children that leave OMS reading, writing and understanding mathematics. Most importantly, children at OMS are NURTURED in a kind, respectful environment that develops the whole child. This has been my son's first experience with an actual Montessori school since we have not lived near one since he was born, and I am so grateful to have found OMS.
Experienced Preschool Teacher (May 16, 2012 @ 12.25pm)
When kids go to preschool and learn how to do some academics, it always seems like a very ideal situation. Let's face it- Parents love telling others about how their three year old can read or how their four year old can do addition, etc. However, please don't choose OMS because you think your kids are going to leave the school ready to skip kindergarten. Many OMS families seem very happy with their child's whole experience at the school, and that is what is most important. We receive plenty of kids from OMS into our kinder program who are not fluently reading or doing math, but that is NOT what preschool should be solely about. Preschool is a time for kids to learn how to interact with other children in different social situations and explore new and exciting ideas.
OMS Parent (August 4, 2012 @1:36pm)
We have loved our time at Okinawa Montessori. My daughter has been at OMS for 1.5 years, and is currently doing kindergarten there. Academically, my daughter is doing work well beyond the kindergarten level and, more importantly, enjoys her work and enjoys being challenged. She loves her teachers. Socially, she has learned so much about how to be a good friend and about how to interact with all her classmates. Discipline is strict (thinking chair), but the children are in a loving environment and are learning proper behavior. They will not tolerate children disrupting others, and take the time to teach the children this respect for others. As long as the parent is willing to listen to suggestions the teachers have, the children learn this quickly. The school is small, so it really feels like a family community. The children each get so much individual attention so they can grow.
Rowena Papson (February 5, 2013 @ 1:56am)
My three children attended OMS during my three year tour in Okinawa. After being back in the states for a year, and continuing with Montessori education, it has become more obvious how AMAZING and WONDERFUL OMS was for our
children! All three of my children were far advanced for their age group compared to their peers.
Additionally, the teachers truly love and care for each and every child in the school and the admin/staff is concerned for every student. The school finds an amazing balance between education, fun, recreation, arts, physical activity. During it all, the kids are having FUN!
If you are looking for a school for your children, I HIGHLY RECOMMEND OMS for your children.