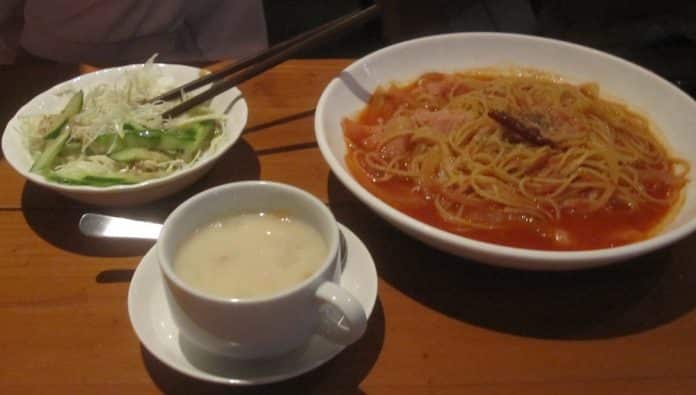 CONTRIBUTED BY MONETTE EAMES

Olive Sign

Lately, I have been craving the Olive Garden back in the states. So when I found out that there was an Olive Restaurant, I immediately started thinking about the Italian favorites and the never ending breadsticks and salads. I knew not to get my expectations too high, but once we stepped into Olive Batake, I immediately forgot about that 'what-cha-ma-callit' American Italian chain restaurant. This place was beautiful. No ocean view or even a mountain view, but there was a huge fountain right in the middle of the entrance. But what really amazed us were the large tree trunks of trees, polished to perfection, but still gnarly and knobby to some degree. They are used as room dividers/ walls.
So there were no Italians here. But there was that warm Italian-like hospitality present. The background music was a song by TLC—one of their sweeter melodies, but definitely not Italian. We removed our shoes and were led to one of their many seating areas. And it was there where we felt that warmth and genuine hospitality that's found whenever visiting an Italian restaurant. Of course, it was coming  from gracious Japanese ladies.
Our waitress was a sweet lady who knocked on one of the pieces of wood and told us, "Tree from Canada," when she noticed our 'touristy gazes' as we looked all around the restaurant pointing out the tree trunks. Then the owner visited us and introduced herself. She also told us the wood was from Canadian trees. Fir, Cedar, Spruce, Maple — who knows? Since the rain was pouring outside, with the logs around, I felt like I was in Old Faithful Snow Lodge at Yellowstone or in this case, a log chalet in Whistler, Canada—we were surrounded by all this wood from Canada, after all.

Olive Food 1

Olive Food 2
The picture menu boasted of pasta, fish, chicken, pork, curries, sashimi, unagi, and desserts. Despite the heavy rain, there was always a constant flow of people coming in. Drinks for kids are free and if you want a salad set, it's an additional 380Y. The prices were very reasonable, most being under 900Y. We told our waitress that our kids were sharing a plate and they divided their meal for us. Everything we ordered was a piece of art. A mound of different types of mushrooms hiding succulent ribs, a cute dollop of whipped potatoes surrounding a gravy lake, a shot of yogurt. Everything was delicious! And… their bread was to die for. Soft, warm, and perfect for a cold day at an Okinawan chalet.
Directions: From Kadena Gate 2, keep driving straight, heading down towards Awase; turn right on 85 and Olive Batake will be on your right.
Payment: Credit Cards, Yen
Hours: 11:00am – midnight daily
Phone: 098-929-4192