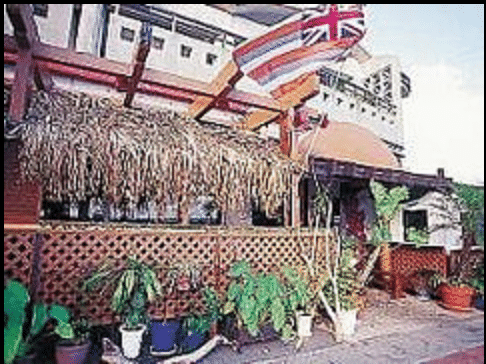 CONTRIBUTED BY JULIE
This Hawaiian restaurant is one of my favorites. My husband comes here once a week for lunch and it's one of the few places our two-yr- old will sit still because he's too busy shoving food into his mouth to wiggle! The atmosphere leaves something to be desired as it's not fancy. I like it however because they don't mind if your kids run around and they're usually not packed. Also they are super close to the seawall and Kadena Gate 1.
The food is very down to earth, home cooked style food. We usually order either the 2 item plate (550 yen) or 3 item plate (750 yen) specil. I find it's important to know what to order here as some dishes are better then others. My favorites are the kahlua and pork, garlic chicken, teriyaki chicken, BBQ ribs, and sho-yu chicken. Their yakitori and soba are pretty good as well. They're very popular on the island with the Americans and lunch tends to be more crowded then dinner.
Hours: They are open from 11:00am-9:00pm seven days a week.
Address: 3 Chome-1-8 Mihama, Chatan
Google Maps Coordinates: 26.3220501, 127.75741979999998
Directions to Ono Kau Kau: From Gate 1 Kadena turn south (left) onto Hwy 58. Turn right at the 2nd light. Make your very next left. Ono Kau Kau will be on your left.
Menu: Here's a link to a translated Japanese site which contains pics and a map