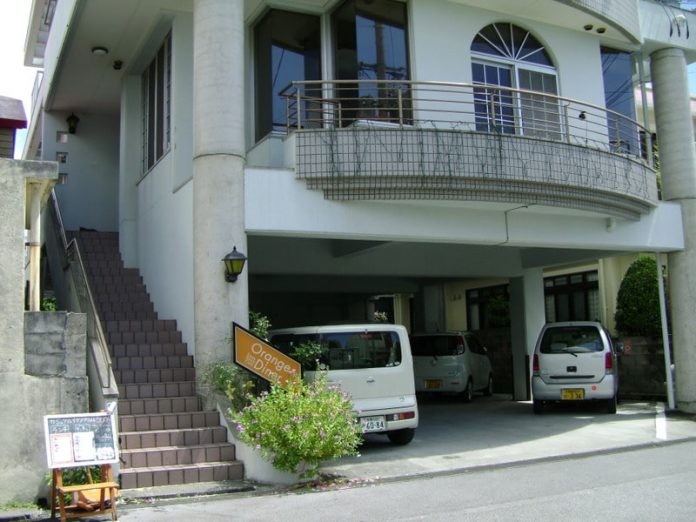 CONTRIBUTED BY ELAINE
I live in this little part of Chatan Town called Minato. Here in Minato, we have a restaurant called Orange Diner. They have a variety of good food that fits every kind of budget – from 500 yen and up. They serve lunch and dinner with different sets of menu for each. Like most places, lunch is cheaper and dinner is a little bit more expensive. They also have a bigger selection for dinner. Both sets of menu include 500 yen dishes.
For lunch, I would recommend the Pork Bowl for 500 yen or the Chicken Bowl (comes with salad and choice of drink) for 850 yen. Drinks are also cheaper during lunch (100 – 300 yen). For dinner, I would recommend the the grilled veggies for 500 yen, the Sauteed Salmon with cream sauce (500 yen) with an order of garlic bread (500 yen) to dip in the sauce. (Note: the Sauteed Salmon is a pretty small serving, but it's very tasty which makes it worth ordering.) They also have a wide variety of alcoholic and non-alcoholic drinks for 500 yen. The atmosphere is very relaxed and they have a very friendly staff.
Hours: Open Tuesdays to Sundays from noon until midnight and they do take outs on most of their dishes. Please note that if a Japanese holiday falls on a Monday, they will be open that Monday but will close the next day.
Phone: 098-995-7000
Address: 10-18 Minato, Chatan
Google Maps Coordinates: 26.322016, 127.7501456
Directions: From Kadena Gate 1, turn left on Hwy 58. Turn right at the third stoplight (you'll see Toyohanten and Sega building). Go straight on this road. Make a left at the street after the second traffic light. Then, turn right on the second street (there's a clothing store and a beauty/convenience store at this intersection). Orange Diner will be on the left side (across the street from a flower shop). You've gone too far if you reach the seawall).