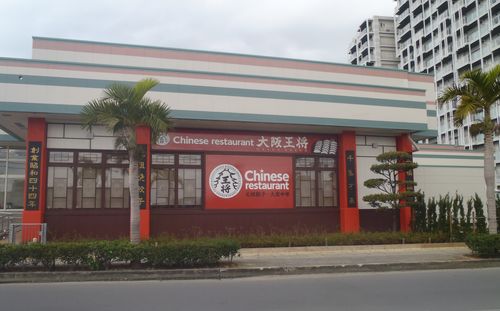 CONTRIBUTED BY KIMBERLY TRIGNANO
I am a bit of a gyoza connoisseur.  Personally, I prefer Me Kara Uroko's pan fried version, while my husband likes the deep fried deliciousness at Kitakaisen.  So when I saw an advertisement for Osaka Ohsho (The Chinese Restaurant), in which they claimed to have The Most Famous Gyoza in Japan, I knew it needed to be the next lunch date for me and my husband.
Osaka Ohsho is located in the new San A strip mall in Sunabe that also houses a drug store, a Baskin Robbins, a family "Super Cuts"-style beauty shop, and a dry cleaners across from the fisherman's wharf.  It's bright and clean and has friendly, welcoming service that's not too intrusive.  Plus, you get to use the little buzzer when you're ready to order or need service, which I am totally in love with.
They have very clear English menus, complete with pictures with a number of different sections.  There are several types of fried rice, a noodle and soup section (soba, ramen), a Chinese section (including Sweet and Sour Pork, Stir-fry), a Specialty section (with dishes like Chili Shrimp and Fried Chicken with Onion Sauce), and a gyoza section, to name a few.  There are also several sets, many of which feature gyozas, for an incredibly reasonable price.  The menu also includes a small selection of beer, awamori, juices, and serve yourself (I think!) sodas.
We ordered Chili Shrimp (delicious, though not as spicy as I would have liked), Fried Chicken with Onion Sauce (great flavor), and the Fried Rice Set with Gyozas for two.  This set alone would have been plenty to feed the two of us!  It included TWELVE of the Osaka Ohsho "World Famous" gyozas, egg drop soup, a hearty portion of fried rice, and two fried chicken thingies with a mini salad.  Only 890 yen for the set!  Amazing! It was all quite good — my husband really loved the egg drop soup. However, the gyozas are truly the star, though — seriously flawless!  They are pan fried to perfection, and though the menu also has a 'pot boiled' and a steamed version, I think we'll stick with the originals.
The gyozas are all made with pork, and all the ingredients are grown and raised domestically.  There were a few vegetarian options, but the majority of the menu was geared toward us omnivores.               We were completely stuffed, and didn't try anything off of the small dessert menu.  Or, we could have easily ambled down to the Baskin-Robbins if we needed something sweet.  As it was, we just needed a nice, long walk to work off those gyozas!
UPDATE: Osaka Ohsho has three locations on Okinawa. While this one is closest to Kadena/Foster/Lester, the other two are near White Beach and Naha. Check out the map here.
Payment:  Osaka Ohsho takes yen, credit cards, and cash — the exchange rate was 79, not too bad with 81 on base.  Casual atmosphere, but didn't see any high chairs — just ask, though!
Hours:  11 am to 11 pm every day
Phone:  098-926-5544
Address: 1-37 Miyagi, Chatan
Google Maps Coordinates: 26.3238937, 127.7512094
Directions from Kadena Gate 1:  Make a left out of Kadena Gate 1 toward Naha.  Turn right at the second light (about a half mile from Gate), toward the Hamagawa Lodge.  Go through first stoplight, then turn right into the San A parking lot.  Only about a mile from Gate 1!