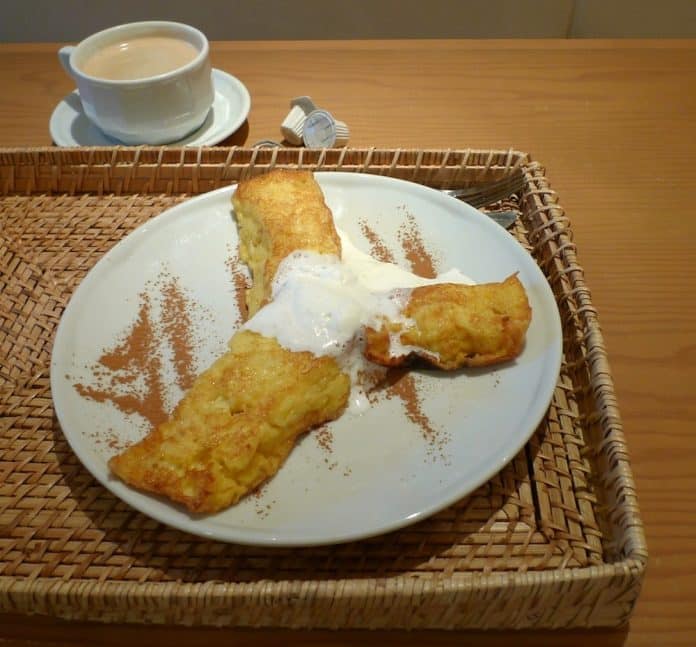 CONTRIBUTED BY ANGI BRZYCKI

Pan Ya Signs
EDITOR'S NOTE 8/12:  This post was written specifically about the Urasoe location.  Unfortunately these shops have closed.  They are still open at their Naha address — map below indicates Naha locations.
Two of my favorite places for french toast in Okinawa are the Sea Side Cafe and Pan-Ya (Bread Shop). Lately I've been going to Pan-Ya because it's in my neighborhood and they open at 6:30 am. Like Sea Side Cafe, Pan-Ya offers free refills on both coffee and espresso drinks. The small bakery/restaurant offers a variety of freshly baked breads/scones as well as breakfast/lunch sets.

Pan Ya Inside
I always order the french toast set for an affordable 530 Yen.

Pan Ya French Toast
Orders are taken at the register and the customer pays beforehand. I make sure to ask for my coffee first, otherwise they bring it out with the food. There is a separate counter where you can help yourself to hand towels, creamer, ice water, sugar, and maple syrup. An English menu is available, but the staff doesn't speak much English (still they are all very nice).

Pan Ya Shop
Attached to the store is a cute built in shop with clothes, shoes, and home accessories. It is nice to look through their merchandise while your meal is being prepared.

Pan Ya Front
Pan-Ya is located below Tida Cafe. This is another great place to try if you enjoy pasta, sandwiches, and pizzas. I prefer to go for lunch. They have a great special that includes salad bar, drink bar, pasta, and a dessert (freshly baked cakes/pies).
Directions:  Pan-YA and Tida Cafe are located in Urasoe City on GAKUEN DORI -学園 度裏 (translates as school street–there are a lot of schools surrounding the area). From Rt. 58 . Heading south toward Urasoe City you will see a Nissan car dealership and JUMBO Pachinko building on your left, on the opposite side of the 58 is a BMW dealership. Make a left at this light. Continue on the street. You'll pass on light and there will be a school on your right. After the light, continue, there will be a school on your left. Once you see the post office on your right, TIDA Cafe and Pan Ya is on your left. It is immediately after the school. A parking lot is available beyond the driveway just before the restaurant's entrance.
Address:  Japan, Okinawa Prefecture, Naha, Ameku, 1丁目9−1
Pan Ya Info —
‬Hours: Open Daily 1000 AM ~800 PM
Phone:  098-861-8778
Payment:  Yen
Tida Cafe Info —
Hours:  8am -10pm 
Phone:  098-861-8712
Payment:  Yen