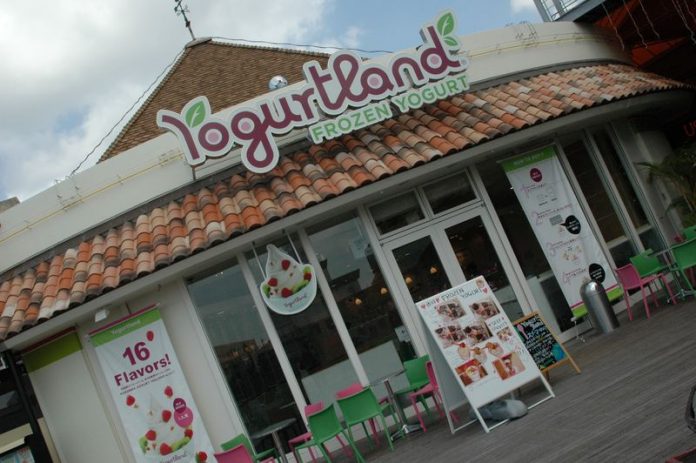 CONTRIBUTED BY LARISSA TRAQUAIR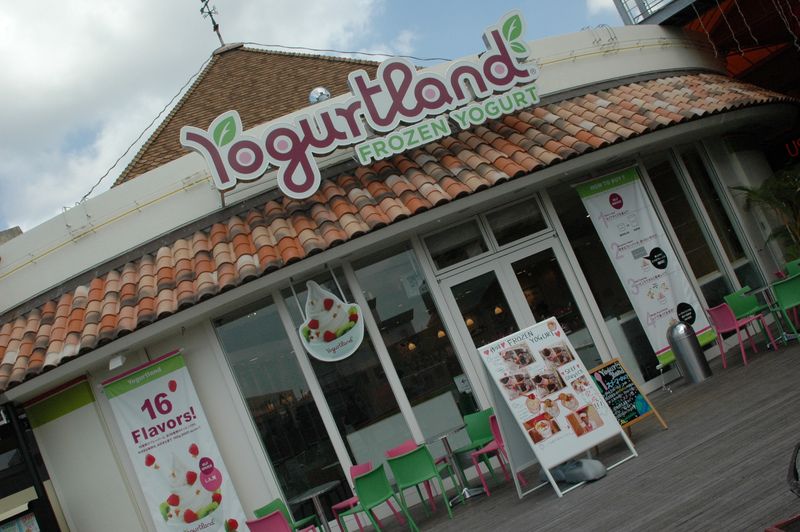 UPDATE: As of the summer of 2011 Yogurtand was bought out and now operates under the name "Partyland." This is true for both the American Village and Kokusai Street venues. The concept and yogurt is still the same, just a name change (the cute spoons seemed to go with the franchise) 🙁
ORIGINAL POST:
Who knew that creating your very own frozen treat could be so fun?  I was turned on to this concept while visiting Southern California recently – make your own frozen treat and you pay by the weight.  This could be a very dangerous new obsession, especially if you have several people in your family.  I thought I was safe because I was visiting California and I live in Okinawa, Japan.  Then Yogurtland arrived!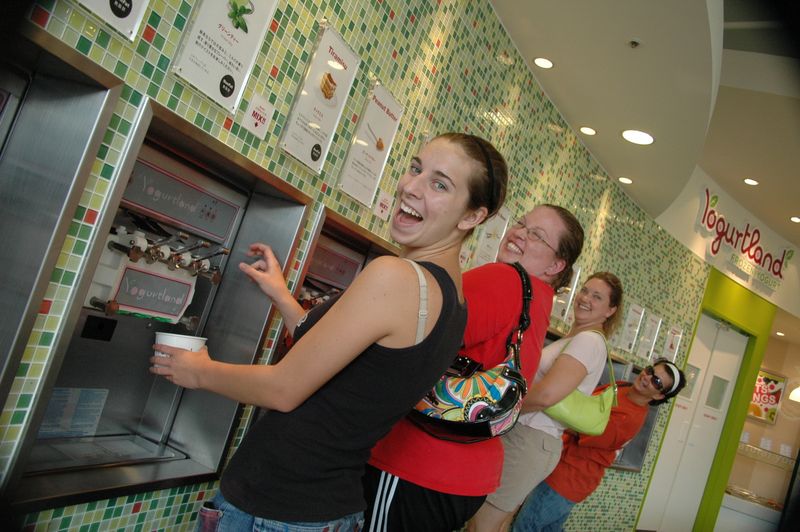 The concept is simple:  Grab a cup, dispense yogurt, add toppings, weigh, pay and enjoy!!!  I love the enjoy part and enjoy we did!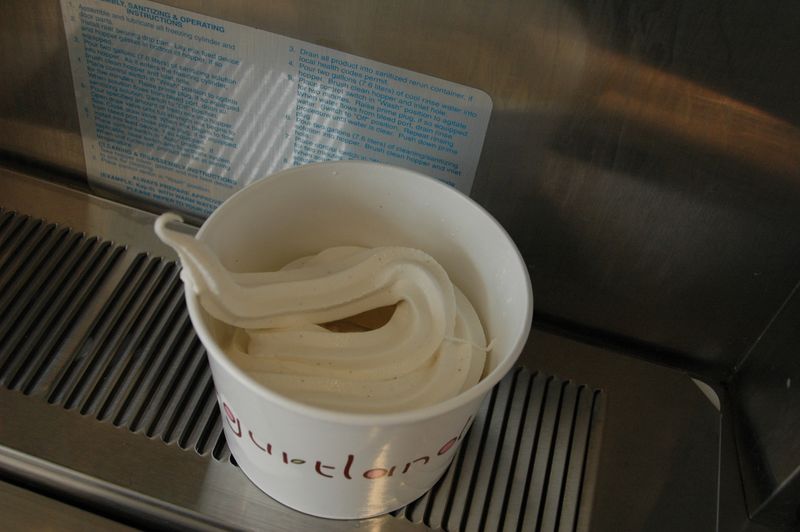 Remember, this isn't 31 Flavors, they only have 16 choices, unless you count the numerous combinations you can create when you pull down the mix lever.  You will be more than satisfied with 16+ choices as each flavor is incredibly intense.
Here were our choices today:  Pistachio, Mango Tart, Green Tea, Tiramisu, Toasted Coconut, Vanilla Wafer, Fresh Strawberry, Vanilla Bean, Vanilla with Salt (I have no idea why), Dutch Chocolate, Peanut Butter, Double Cookie and Cream, Pineapple Tart and Pomegranate & Raspberry Tart.  One recommendation we all had when choosing your flavors is to choose only one.  Two flavors or more, with toppings, can get overwhelming in the taste bud arena.  Just FYI!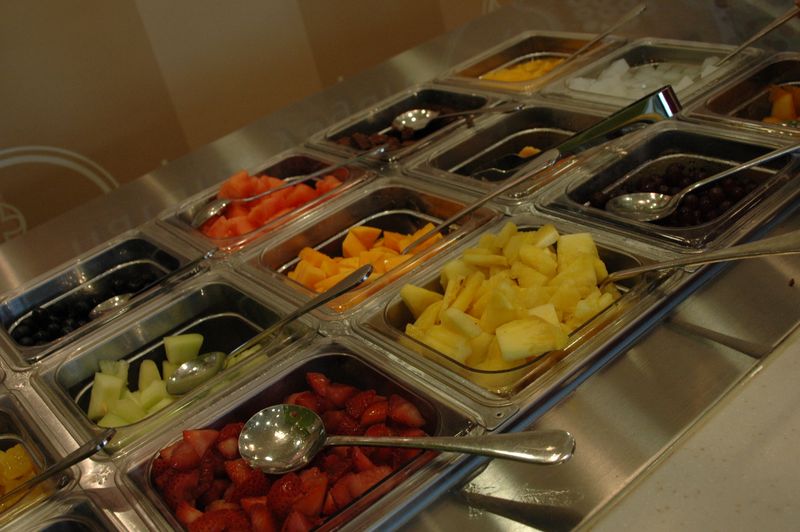 The first time I visited Yogurtland I tried the N.Y. Cheesecake flavor and loved it!  Unfortunately it was not available today.  Also, the first time I visited they were offering samples so you could taste how tart the Pineapple Tart truly was.  Today, they did not have the sample tasting available.  I'm not sure if that was a special deal because they had just recently opened or not.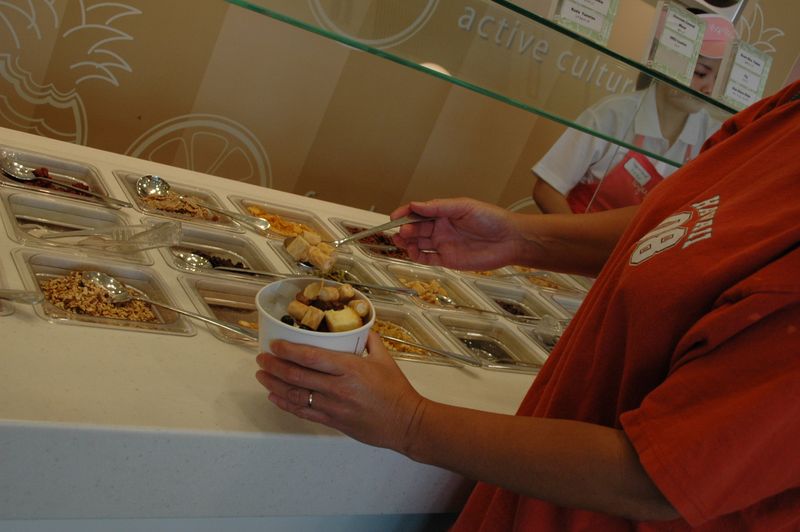 Once you have dispensed your yogurt you move on to the buffet of fresh and dry toppings.  This is when the real fun begins.  My partner-in-crime, Dasha, said it reminded her of the Cold Stone Creamery back home – only this is self-serve.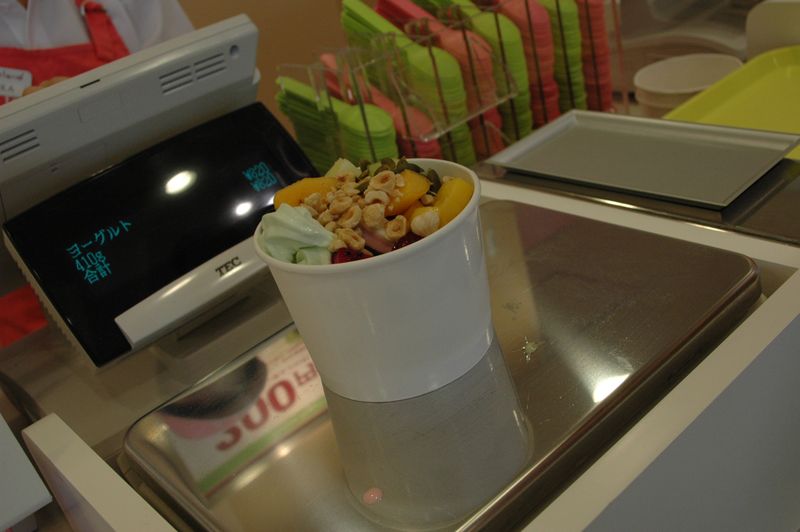 Some of your fresh topping choices included kiwi, passion fruit, persimmons, mango, dragon fruit and nata de coco.  Some of the dry topping choices included brownie bites, cheesecake bites, mocha cake, fig, Oreo cookies and assorted nuts.  My favorites were the cheesecake bites and the Koala Yummies – you can buy the chocolate-filled Koala Yummies at most Y100 stores.  Once you have created your masterpiece you take your cup to be weighed.  You are paying Y200 per 100 grams of frozen yumminess and it's amazing how fast the weight adds up.  Our totals ranged from Y573 to Y827.  Can you really put a price on your own creation though?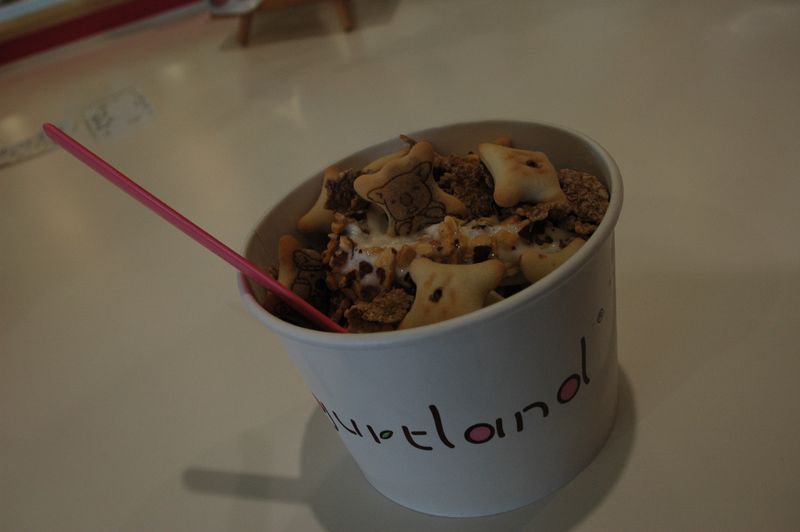 Happy Eating!!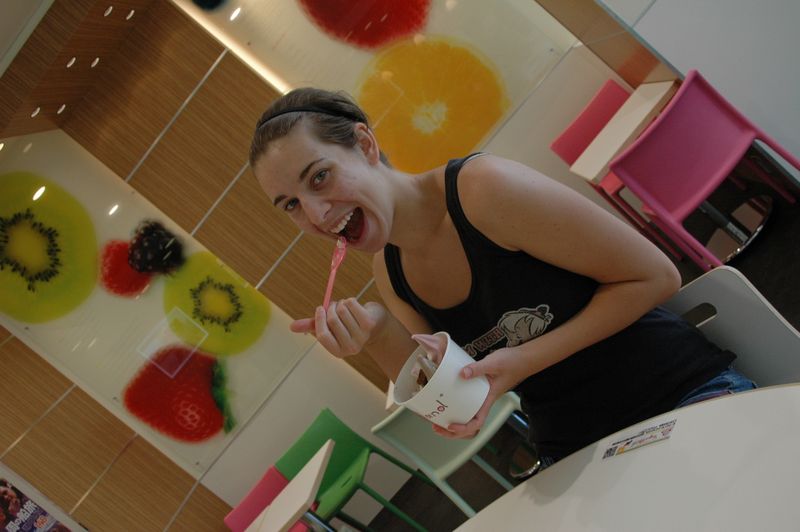 ---
Partyland
Special Note:  Yen, American Dollars and credit cards.
Interesting fact:  Their spoons are biodegradable.  Check out nutritional facts and stateside locations here.
Hours:Open 7 days a week from 11a.m. until 23:00
Location:  On the 2F of the Ferris Wheel area in American Village.
Directions:  Leave out of Kadean Gate 1 and make a left onto 58.  At the Kuwae signal make a right – across from Camp Lester.  Follow a short distance until you get to the large American Village intersection.  Make a right at the signal, heading towards Makeman.  Pass the two-story building with the Ferris wheel and make a right, entering a parking area.  You can park anywhere but this will get you the closest to Yogurtland without having to cross the street.  If you are lucky you will even be able to park in the shade – outside of the Dragon Palace.
Alternate Okinawa location: There is also a Partyland (Former Yogurtland) on the south side of Kokusai street, just east of the McDonalds.