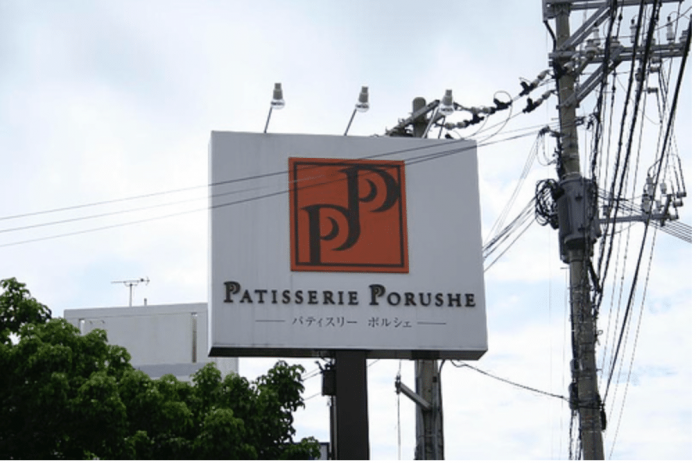 CONTRIBUTED BY JOELLE YAMADA
If you're looking for somewhere to go with "the girls," I have just the place.  About a month ago while I was looking for BOULANGERIE COUQUES (genius that I am, I had left the directions on a piece of paper by the computer), I came across Patisserie Poruche.  It's a lovely little cafe serving the MOST gorgeous tarts & cakes covered in shaved chocolate and/or beautiful fruits that I've seen in years. Their specialty is something called Baumkuchen, but there is a chocolate cake/mousse that is to die for and many other delights! They have full cakes for sale (1500-3000 yen) but also have single tarts and slices of cake (200-300 yen).  You can browse and pick one (or more!) and they will either pack them up for you or bring them over to the seating area for you to relax and enjoy then.  They have gourmet coffees and teas (quite a selection) served in delightful little cups and the area is just really comfy — soft leather chairs, etc.  (I think they serve food during certain hours, but didn't really figure that out.)
Perfect place to take a good book when you leave the kids with dad for a few hours!!
Hours: 10am-8pm
Phone: 098-956-3335
Address: Yomitan, Oki 県道6号線
Google Maps Coordinates: 26.38236123371915, 127.74745511510275
Directions:  Leaving Kadena Gate 1, go north on 58.  Turn left on Route 6 headed for Torii Station.  Patisserie Poruche is on the left about halfway between 58 & Torii. Click the above photo for a shot of the front of the store.
Side note:  Directly across the street from Patisserie Poruche is a little house surrounded by bonsai.  If you walk over, the old man who creates the bonsai will come out and talk to you about them (pretty good English) and happily sell to you!  I got a gorgeous little tree for 1500 yen.  He's truly an artist!