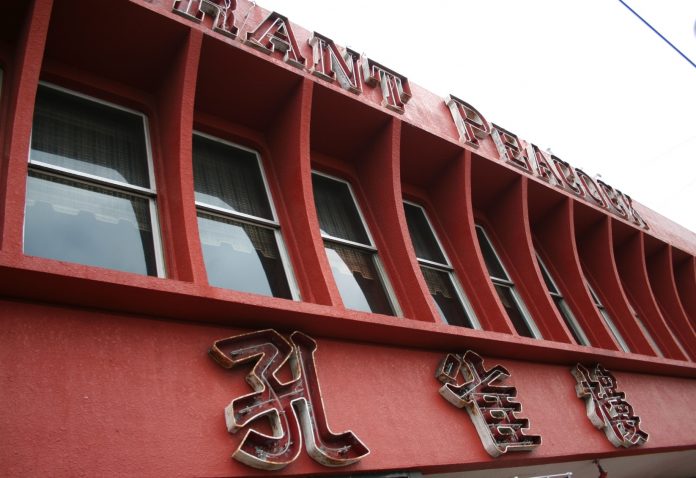 CONTRIBUTED BY KELLY GARCIA
(Sorry, this is a horrible picture of the exterior. My camera skills are not enough to get the whole name in w/out running across a crazy busy street.  But, just so you get an idea of what to look for!)
Last week I went out with a bunch of friends to the Chinese restaurant, "Peacock" out on 58. I was really looking forward to going because A) I was in need of some good socializin' time and B) The Peacock is a Chinese restaurant and I haven't eaten Chinese food in a really long time. I've been having withdrawals; before I moved here, I'd get it a couple times a week. I was single, and not into cooking, and the draw of sesame chicken on the way home was just too hard to resist. Also, the guy at the shop used to flirt with me in Span-Chinese-glish, as any takeaway owner doing business in a Dominican-American neighborhood should, if he's worth his salt. Sometimes you just take your compliments where you can!
Well, The Peacock was a far cry from my beloved corner take-out joint. But not in a bad way. While there's no flirting going on by the owner, she was an extremely gracious and accommodating proprietress. I think she even wore pearls. Her English was fantastic and she told me the restaurant had been around for thirty years.
The dining area was glamorous – red carpeting, Chinese screens, sculptures, and chandeliers. I imagined it having seen a lot in its three decades. Our group was big, so we got our own private room. It had an enormous round table which ten of us sat comfortably around. If food was too far away to reach, it was simply placed on a fantastic table-top Lazy Susan device and spun our way. Here's the main dining room.
The food? Yum. Not quite authentic New York Dominican Chinese, but it certainly hits the spot when you've got the hankerin' for familiar, hearty, and comforting Chinese fare. My friend and I shared our orders – ginger pork and spicy cashew chicken. I was very excited to find cashew chicken on the menu. It's one of my favorites. They were both good, but what I really enjoyed were the big fat homemade gyoza and the delicious egg drop soup. In fact, I'm craving them right now. Here are some food pictures.
I know, you're thinking, "Coffee and egg drop soup?  Who does that?"….Well, me apparently.
Here's the spicy cashew chicken.  Interestingly they put the rice and everything on one plate, American style.  So not used to that anymore!  Don't know why I didn't get a shot of the pork stir-fry
.
Forgot to mention that the egg rolls are very yummy!
Peacock is open for lunch and dinner. I haven't been for dinner but my friend has and says the menu is just more extensive. You can see it on their website 
HERE
along with prices, which for dinner seem to average around 1500 yen. The lunch prices were reasonable at about 800-1000 yen for a meal set.  I picked up a brochure on the way out with pictures of food loaded on platters. They seem to cater as well. Hmmm…Chinese food for a Super Bowl breakfast?
---
Peacock Chinese Restaurant
Hours: Lunch 11:30 a.m. -2:30 p.m.  Dinner 5:30 p.m. -10:30 p.m. (last order 10 p.m.)  CLOSED WEDNESDAYS and holidays.
Phone: 098-897-3548
Address: 1 Chome-2-10 Mashiki, Ginowan
GPS Coordinates: 26.2733148353, 127.740390909
Directions: Head south on 58. Pass Camp Foster. Count two lights after the Futenma intersection (also, look for Jimmy's, which is next to it) and turn left into the Peacock's parking area. The restaurant is on the second floor.
(Cut off on the bottom right is cabbage and pork, sweet and sour pork, and eggplant.)