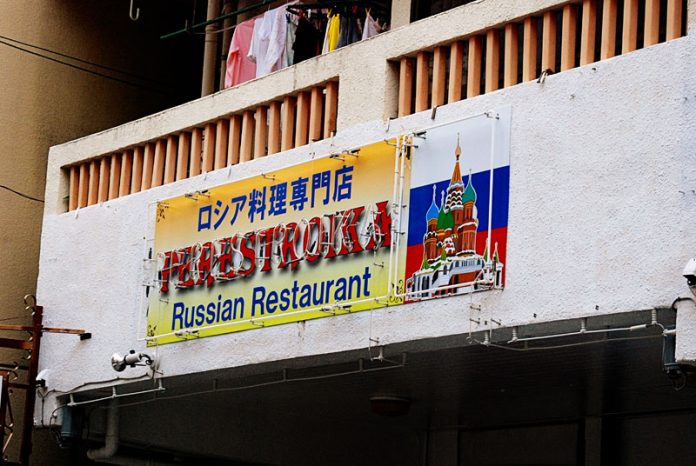 CONTRIBUTED BY STEPHANIE BORUD
When you walk into the Perestroika, you step into a mini version of Russia (like I've ever been!) The music that's playing just makes me wanna squat and kick my legs out! (Stop trying to picture it!)
We're invited to seat ourselves by Chef Ekaterina as she hands us our menus. I opened up the menu to find my favvy…a course menu! I love it when you don't have to make any hard decisions, the menu makes it for you! I had the Moscow Course while my husband chose the Vladivostok Course. Very much the same course except for he got to choose an extra main dish. He chose the Stroganoff..very Russian, right? Yummy!
We are started off with a petit potato salad with tiny treasures of peas and carrots.
A Piroshki follows…mine was delicious with just veggies but his was made with my favorite other white meat, pork!
Next comes the Borscht.
The last time we were there the hostess (I believe her name is Elena) tells us that next we should order something more traditional to the Russian cuisine. She suggested that we order the Borscht. Who am I to argue? Check it out! It's red like Rhubarb but tastes nothing like it! I assure you! It was a bowl full of yummy goodness…can't explain…falling back into the food coma!
Here's my husband's Stroganoff! Da da da da!!! Once again, a bowl full of yummy goodness.
Note: I want to tell you that the bowls were cute and small. But after all those courses, we did leave satisfactory full. I usually like to leave a restaurant full to the point of unbuttoning my pants in the car full. I should also note that we snuck in a piece of Raspberry Cheesecake to top off the meal. But we ate it too fast before I could get a picture of it…my apologies, but it was de-lish!
Our beautiful hostess and I believe she is proprietor of the establishment, Elena (Or so I think her name is).
---
Perestroika
Hours: 1800-2400 CLOSED Mondays (Russian dances 7:30 on Saturdays; call for a full schedule)
Phone: 098-863-2206
Address: 1 Chome-13-22 Izumizaki, Naha
GPS Coordinates: 26.2124957, 127.67672919999995
Directions: From Kadena Gate 1, go south on 58 toward Naha. You will pass Camps Foster, Futenma and Kinser. You will also pass Arin Krin (Garlic) and Kokusai St. Once you pass Kokusai St. you're gonna want to keep an eye out for this sign:
Now, you will see this sign twice! After the 2nd sign, you'll take an immediate left. Once on this street, you are going to look to your right and you find the Park-per-hour thingies. There are a couple of them so take your pick. There is also one of those tall parking garages nearby so you have plenty to choose from. Once parked, you're going to want to walk down the street going south just a little ways and you will see Perestroika on your right-hand side. There will be this sign directly across from Perestoika.

Website: http://r.gnavi.co.jp/f353400/