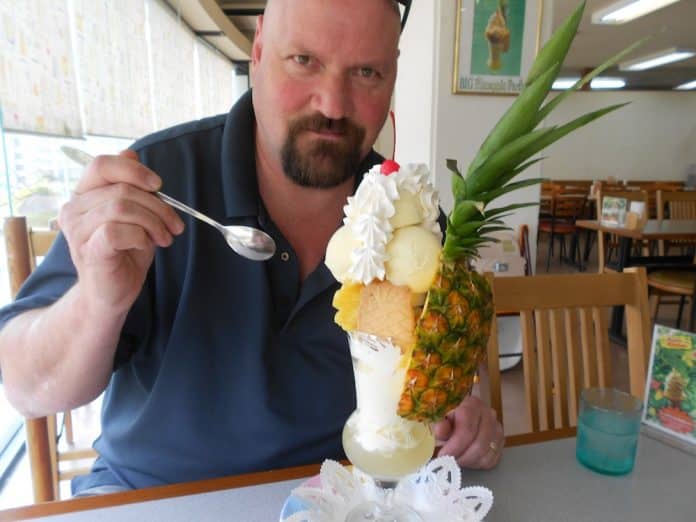 Pineapple Big One
CONTRIBUTED BY AMY MADDOCKS
While taking a drive to the southern tip of the island last weekend, we saw a huge pineapple on a corner at an intersection in Naha. My husband and I love pineapple, so on our way back we decided to stop and see what was going on. Turns out, this place not only has a traditional souvenir and gift shop, but also free samples of delicious pineapple and fruit juice—which is always a bonus! This was a very toned-down version of the gift shop at the Pineapple Park in Nago, but a sweet treat nonetheless.

Pineapple House Front
Imagine our surprise when we headed up the stairs and found a restaurant called the Pineapple Kitchen. Could we handle eating more pineapple after sampling the treats downstairs? You bet! After ordering we picked a seat by one of the large windows overlooking the area. It offered a fun view.

Pineapple House Interior

Pineapple House Soba
We ordered the Soba for 700 Yen, and their big boss of all desserts, the "Big Pineapple Parfait." They have pictures of it all throughout the store, and boast of it being over 37 cm tall. It's true. It was humongous. It was a little pricey at 1300 Yen but well worth the amount. It's chuck full of pineapple ice cream, whipped cream, jello, cookies, a little bit of chocolate, and a whole bunch of pineapple goodness. As you can see from the picture, it's a lot of food—I recommend sharing with someone. My husband didn't want to share in the beginning, but toward the end of his pineapple—induced food coma, he was begging me to help him finish it. ☺

Pineapple Big Parfait
You order your food from a vending machine after looking at the pictures on the menu. The staff is very accommodating and willing to help if you need any explanation.

Pineapple Menu Ticket Machine
A few of them spoke a little English, and in the gift shop when we bought a pineapple to take home, they offered to slice it up for us. They did a much better job than I could have done myself, so we were grateful for the offer!
Even if you don't have time to eat lunch, at least buy a pineapple ice cream cone—those seemed to be their best seller, and it was delicious!
Hours: Monday-Saturday, 9:00 a.m. to 5:00 p.m., Sunday, 9:30 a.m. to 5:00 p.m.
Directions: Follow 58 through Naha as it turns into the 331 across the bridge. Continue following the signs to go to Itoman. As you turn the next corner, you'll see the big pineapple on your right. Turn right at the light and you can't miss it.