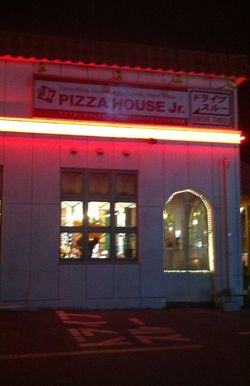 CONTRIBUTED BY DEANNA HAXTON
My husband was craving pizza and I just couldn't justify another night of eating on base when we are still so new to the island. The need to explore was just too great and if I couldn't get him to go out any try new and exciting food I could at least get him to try old favorite foods with a new twist. So begrudgingly (because he really wanted Pizza Hut) we headed out to Pizza House Jr. We've passed this restaurant several times while heading over to Ono Kau Kau, and it always looked bright and friendly so I was excited to try it.
When we first walked in the aroma of pizza was wonderful but I was a little surprised because I had to search to even find the pizza on the menu! There was a lot of food and surprisingly few pizza options for a place called "Pizza House". There were tacos and beef stew, curry and baked lasagna, coffee and ice cream desserts. The variety of choices was great because I wasn't on a mission for pizza like my husband was. I ended up with the Mexican Doria for 600 Yen, which I would tentatively describe as "fancy taco rice." It had beef, mushrooms, tons of melted cheese and half a taco shell tucked in to give it character.
My husband got a small pepperoni pizza for around 900 yen which he said was delicious with "really good cheese".  And when I say small, I do mean small. Think Pizza Hut personal pan pizza small. Don't expect to be splitting this one between two adults if you're hungry.
They have plenty of indoor seating along with two outdoor tables.  There is a drive through and it looked like people were getting "to go" boxes from the register. There is also a small coffee bar.
I'm sure we will be back, I really want to try some of the ice-cream deserts and coffee!
Phone: 098-936-6767
Address: 368 Sunabe, Chatan, Nakagami District
Google Map Coordinates: 26.33092013031414, 127.75076019040648
Directions: From Kadena Gate 1 turn south (left) onto Hwy 58. Turn right at the 2nd light." You will see Pizza House Jr. on the left. There was plenty of parking wrapping around all sides of the building.
Payment: We paid in Yen. I didn't ask if they take dollars or credit cards.  Does anyone know?
Menu:  Click for larger view