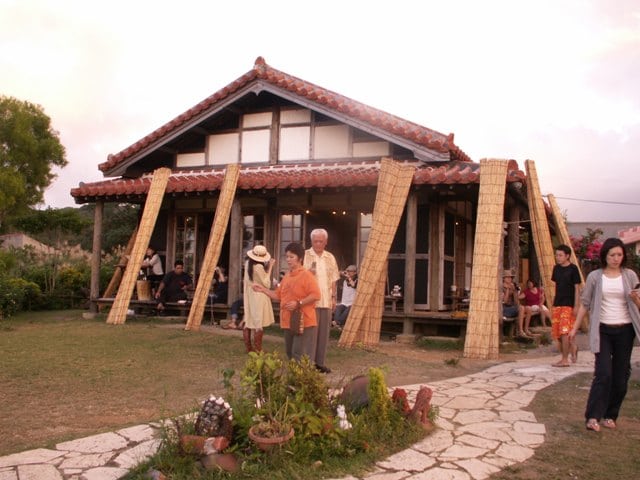 CONTRIBUTED BY JOELLE YAMADA
I traveled a lot in my 20s — and getting to this restaurant brought back all the emotions of wandering aimlessly in some foreign city towards a museum or restaurant or park that had been described to me on some train in some other country by a backpacker who over a 16 hour train trip had become my new best friend… We had to stop three times to ask a simple question, "Kajinho?" Each time we were smiled at and waved and pointed in the correct direction… and finally, just over the rise of the hill, gleaming in the afternoon sun… well, it wasn't quite that dramatic – but I was pretty stoked when we finally arrived!
The restaurant itself appears to be in a traditional Japanese home. There is indoor seating as well as lovely seating on a patio around the perimeter of the house. These tables are low to the ground for traditional floor seating. Also, there is a covered area to the side where there is picnic table-like seating. We were led to a table and given a fan on which is written the simple menu: Large pizza, Medium pizza, salad, and various fruit drinks, teas, & alcohol. There is not a choice of toppings – you just get the pizza they're making that day (ours was corn, sausage & green peppers).
I thought the pizza was great and was glad with our party of 6 that we had gotten two larges so I could have seconds and thirds. The salad was yummy with Japanese dressing and the teas came with a lovely little bouquet of flowers. It was all just delightful!!!
We were there just in time for sunset and the view over the islands was superb. The only negative was the vast number of mosquitoes and no-see-ums that were around. The waitress did bring a coil to burn near our table. (And as we left that night, I realized they had bug spray at the desk where you sign in.)
Basically we all had a wonderful time. I would recommend going after/before a visit to the aquarium or butterfly garden and on a weekday if possible – we had no wait on a Monday evening.
If you've ever watched the little old bald man at the beach with the pulled up socks finally find something hidden on the beach with his metal detector, you might understand some of my joy at finally finding Pizza in the Sky!
Payment: Yen only
Hours: Closed Tuesdays & Wednesdays. Thursday-Monday 11:30-7:00pm (last order 6:30pm)
Phone: 980-47-5537
Address: 1153 Yamazato, Motobu
Google Maps Coordinates: 26.6685117, 127.9008442
Directions: 1.    Take the expressway to Nago.  The expressway will merge into 58.  You can also take 58 all the way to Nago.
2.    Go left on 84 (west) toward Ocean Expo Park (aquarium).  Set the Odometer.  Drive 11.7 km.
3.    Turn right on HWY 115 toward Nakijin.  Drive 0.9 km.  The road is windy and there are a lot of tombs.
4.    Take the road that forks off to the right – there will be a red, white, green sign with a large red arrow marking the turn and it says Pizza in the Sky in large letters.  Drive about 200 meters
5.    Take the 1st Left.  The road goes under the bridge of 115.  There will be another sign marking it.  It is a windy 1 ½ lane road.
6.    Stay on this road as it winds until you reach Pizza in the Sky on the Left.  There will be a construction/gravelyard area on the left about halfway and then the road will bend to the right up a hill.  There are many side roads that fork off, just stay on the main road that has white lines on each side.  Just before reaching Pizza in the Sky you will pass a "key coffee" restaurant on the left, Pizza in the Sky is just up the hill.
7.    There are 3 parking areas one on the left and two on the right.
Website: http://kajinhou.com/english/index.html