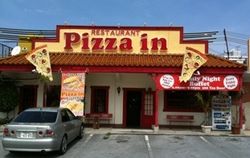 CONTRIBUTED BY JESSICA TIUSECO
With our extension paperwork finally filed we have been voraciously exploring the island just in case we get some bad news (knock on wood.) This month we made it our mission to explore places we had promised we would try during the almost four years we have been here.  While this one was not on our list, I admit I judged. Having taken one look at the location, (it's located right next to U-Time) I cringed at the thought of even stepping inside. However, I am happy to announce that I've been missing out!
Once you get past the location and actually walk through the doors you'll fall in love with the cozy almost 90's style Pizza Hut family restaurant vibe. Inside the Hostess will ask you if you want to order off the menu or if you want the buffet. If you choose the latter, she will hand you a slip of paper, which you give back upon check out. Booths and tables and highchairs are available.
We have always opted for the buffet, but the menu has some great affordable options if you have smaller children.

For the buffet price of $9.80, (that's right, dollars!) you get an endless assortment of Okinawan style (thin crust) pizza, a full salad bar, spaghetti and garlic bread, yakisoba, taco rice, curry and dessert.
There is also a drink bar with the usual favorites like Coke and Sprite.
I love being able to try all the different combinations of toppings that they bring out.  My husband on the other hand, is more traditional and they have yet to disappoint.  They have everything from meat lovers, pepperoni, Hawaiian, cheese, to that famous corn pizza we see all over the island, as well as seafood pizza, and a delicious broccoli pizza. I love being able to try all the options while still being able to fall back on the classics.

 As for the side items, my husband swears by the spaghetti and I love the salad bar, especially the potato salad. YUM!
Additional Information: They are associated with Ocean's Pizza located by Gala.  They Seat 100, high chairs are available.  They also deliver around the Seawall Area.
Hours: 11:00-22:00 (21:00)
Phone: 098-936-7060
Address: 368, Sunabe, Kitayacho, Nakagami-gun, Okinawa, 904-1212
Directions: Located right next to U-Time & GI Bill Pay behind Johnny's Used Cars out Kadena Gate 1.
From Kadena: Turn Left out KAB Gate 1 and make an immediate right at the light. Head a little ways down the road turn right into the entrance. Park anywhere.
From Foster: Head North up the 58 toward Kadena, you will pass Camp Lester, Toyo Haten, AU, and GLBB. At the Light directly before Family Mart & Johnny's Used Cars make a left, go a little ways down and make a right into the parking lot. Park Anywhere.
Payment: Pay in dollars, the exchange rate here is better than anywhere off base. They do take yen.  I don't believe they take Credit Cards.  Don't forget to ask for a member's card.