Pizza Sun, American style Pizza, By Meredith Barber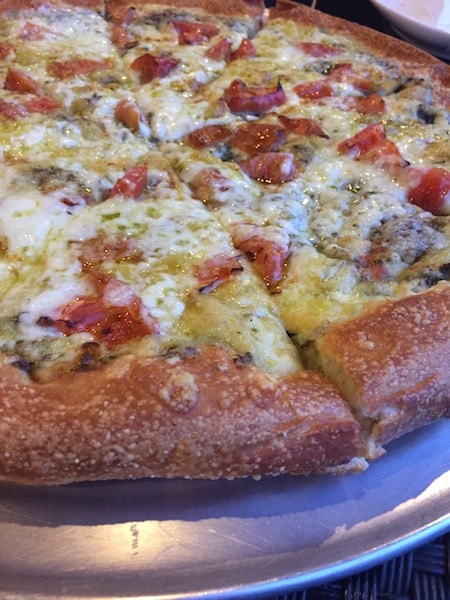 Although it was a rainy day in Okinawa and the sun was not out on the day we visited Pizza Sun, our dinner there was most definitely the bright spot in our day.
Pizza Sun is located in American Village and offers a wide variety of pizza, calzones, appetizers and salads. Their pizzas come in three sizes (Large = 16 inches, Medium = 14 inches, Small = 10 inches) and a large selection of flavors. The pizzas are "California Style" and the crust was crispy and a little chewy and held up to the toppings without being soggy. My husband and I got the medium Genovese Pizza and it was enough for both of us to have 2 slices plus 4 slices leftover. A medium will definitely feed 2-3 adults. The Genovese had a great pesto sauce and fresh tomatoes that added an acidity and lightness to the rich sauce and cheese. Pizza Sun offers classics like Cheese, Margherita, and Pepperoni (their best selling pizza) as well as some unique flavors like Seafood pizza and Southern BBQ Chicken.
The appetizer and salad selection also offers something for everyone. We enjoyed the avocado salad—the greens were dressed perfectly in the house vinaigrette and the avocado was creamy and delicious. They also have a bacon Caesar salad and a traditional Caprese. For an appetizer, we had the fried scallops—five large scallops that were cooked perfectly and served with a black pepper aioli. Other appetizer options are house made Lumpia, fried pickles, garlic knots, and Crack Dip—a combination of sausage, cheese, and salsa which is just delicious.
Pizza Sun offers vegan and gluten-free options on their menu as well. Daily lunch and Café Hour specials are also available. During Café Hours, they make 32 slices of pepperoni pizza and sell them for 300 Yen each, while they last. Café Hours are from 1400 to 1600 and Orion Draft is 500 Yen and a glass of house wine is 200 Yen. A 15% discount is offered on all pizzas all day on Sunday.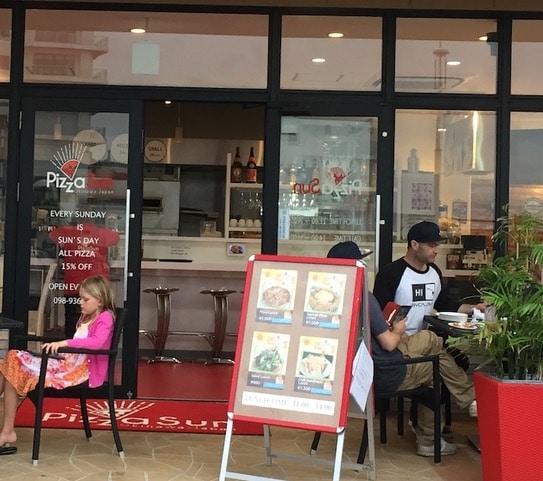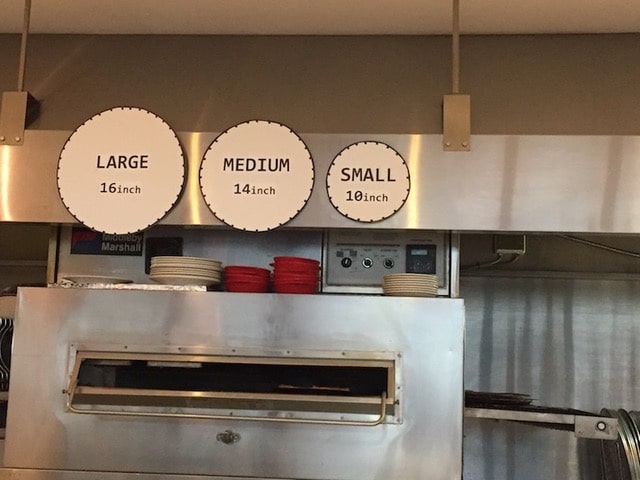 Although the kid's menu is available,  it's not on the printed menu. Be sure to ask about the options—most of which are 500 Yen and served with a drink. My kids had the cheese pizza and loved it. The pizza was a really good size and was served quickly.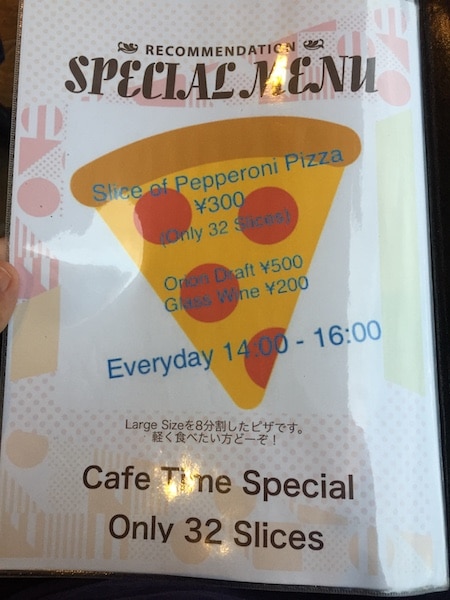 The staff here is very friendly and spoke good English. They were welcoming and the environment was laid back and relaxing. Seating is available inside and outside and a large variety of craft beer is offered in addition to wine, liquor, and Orion draft.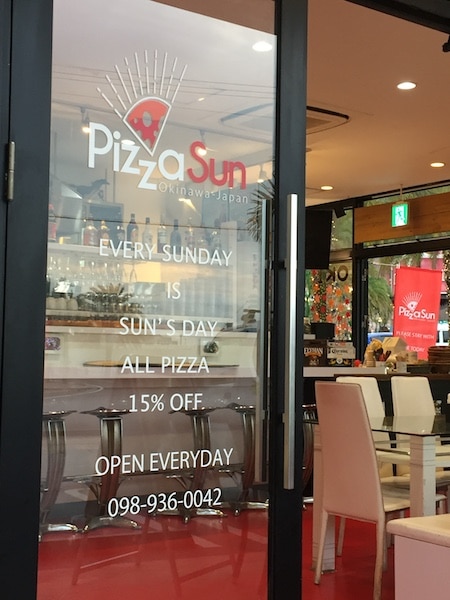 If you are looking for a great place to relax with family and friends and have some dinner and drinks, I'd recommend giving them a try! Also, if you need something sweet, they've opened a Portuguese Bake Shop in the same building so make sure you save room for dessert.
Where: 904-0115 Okinawa-ken, Nakagami-gun, Chatan-chō, 9−17 ATS Chatan 2-1 (American Village, close to the Sega arcade and bowling alley)
Phone: 098-936-0042
Facebook page: https://www.facebook.com/PizzaSunOkinawa/
Prices: Most appetizers and salads are under 1000 Yen. Pizzas range from 1400 to 3800 Yen, depending on type and size. Cards and Yen accepted—a small processing fee is added for credit cards.
Hours: Open every day 1100 to 2200